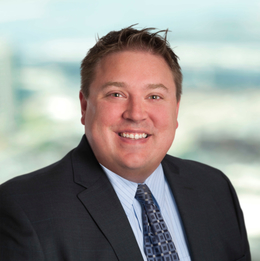 Assisting Families with Special Needs Planning
Ethan Ordog, a partner at Begley Law Group, helps his clients create a long-term plan that will protect their special needs children.
As an experienced attorney and partner at Begley Law Group, Ethan Ordog often works closely with families of special needs individuals, so finding inspiration on a daily basis is never a challenge.
But for those really tough times, his thoughts always go to one of his own family members. His cousin is the parent of 11-year-old triplets, one of whom has cerebral palsy, and her ability to constantly beat the odds is motivation enough for Ordog to overcome any obstacle in his path.
"Whenever I think I'm having a hard day, she often comes to mind along with our clients who have disabled children, because I know that tasks that may seem insurmountable are really not," he says. "It's just a matter of devoting time and effort to it, and ultimately I know it's going to resolve itself.
"My cousin's daughter does amazing things with certain limitations. She's presently pursuing acting, and she's just a very smart and glowing child. She's always happy and always has a smile on her face. When I come across adversity in my job, thinking of her gives me additional strength so I can continue on a good path."
A South Jersey native, Ordog is proud to be making a difference in an area that means so much to him. He always dreamed of becoming a lawyer, and after earning his undergraduate degree from Moravian College and graduating from Roger Williams School of Law, he began a clerkship with Judge Ronald Bookbinder in Burlington County before embarking on his career.
"My goal was to enter a field that would allow me to give back to the community," he says. "I knew I wanted to work in the estate world and my practice now primarily consists of estate planning, estate administration, trust administration, guardianship and planning for individuals who have disabilities.
"I believe that has really allowed me to fulfill my ultimate goal of not only continuing my overall development as a lawyer but also giving back to the community in which I grew up. The exciting part of what I do every day is being able to help people tackle major life issues."
In terms of working with the special needs population, Ordog found the perfect fit at Begley Law Group, which he has called his professional home for more than a decade. Tom Begley Jr., whose father founded the firm, has long been a supporter of the special needs community.
"I feel fortunate that Tom and I have developed such a relationship over the years that we work very well together," Ordog says. "One of the reasons I love the firm is that we are very collegial and spend a lot of time discussing things to try to find the best solution to a problem. There's a great support system from the staff and the other attorneys who have their own experiences and knowledge."
Since many of his clients are parents of special needs children, Ordog stresses the importance of planning and thinking about the future as soon as a diagnosis is made. An experienced attorney can be crucial to the process.
"I think it's very scary for a lot of individuals, because a lot of these situations are not commonplace," he says. "We help bring peace of mind and it's a great relief for them to know they're not in it alone."
A significant step that many of his clients must address is filing for a legal guardianship when their special needs child turns 18 years old. It is usually the parents who act as guardians initially, but as they grow older or face their own health issues, a sibling or other family member may take over the role.
"Some individuals with disabilities are very high functioning and can maybe have a power of attorney or their own estate planning documents, which will protect them," Ordog says. "However, in a lot of instances we have to expand it to a guardianship filing.
"The guardianship ensures that while the parents are alive they have the ability to assist their child and make decisions in their best interests. When the parents pass away at least there is an established arrangement in which another individual can step in and make decisions for the child."
Another big aspect of Ordog's work is helping create a special needs trust, which will protect the special needs individual's assets while also ensuring they remain eligible for certain benefits, including Supplemental Security Income and Medicaid.
Although there are certainly mountains to climb for families of special needs individuals and the journey isn't always easy, Ordog is pleased to help his clients along the way. The admiration he feels for them is obvious.
"Whenever my clients talk about their children, like most parents they get excited and smile," he says. "But it's a different type of smile because doctors have told them their children would never be able to do certain things, and they've been able to do all of those things and more. They're often active in Special Olympics, school programs and doing volunteer work. You can see how the parents are so proud of the accomplishments of their disabled children, and they'll tell me how much they've learned about themselves from having a disabled child because it puts into focus a lot of the things we take for granted."
Begley Law Group
509 S. Lenola Road, Building 7
Moorestown
(800) 533-7227
BegleyLawGroup.com
Published (and copyrighted) in Suburban Family Magazine, Volume 10, Issue 4 (June 2019).
For more info on Suburban Family Magazine, click here.
For information about advertising in Suburban Family Magazine, click here.
To find out where to pick up your copy of Suburban Family Magazine, click here.