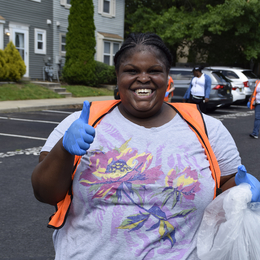 A Part of the Community
Families of adults with disabilities can count on the Occupational Training Center of Burlington County to turn life's challenges into triumphs.
Parents and guardians of adults with disabilities likely have many concerns when it comes to their child's future—one being how to navigate life after high school and what lies ahead. School is a safe environment, and now that it's no longer available, they face the working world.
"[Families of those with disabilities] often talk about the obstacles to find work, if they'll get taken seriously at a job, the concerns of being out in the community without any sort of support and that's where we come in," says Lauren Goldner, outreach coordinator at the Occupational Training Center (OTC) of Burlington County. "We offer support systems for individuals through employment, day programs and residential services. We can provide that safe haven that they're used to while helping them reach their goals and, in many cases, earn a paycheck."
The OTC's mission is to assist adults with disabilities in reaching their maximum potential through job placement and job training services, day programs and residential services. The facility works with adults exclusively; most programs are geared toward adults 21 and older, but some programs are available to those as young as 18.
The facility was originally created in 1964 by a group of parents and volunteers motivated by the insufficient employment opportunities at the time. Growing from its beginnings of training a mere eight individuals, the OTC now trains over 700 individuals in a variety of vocational disciplines.
In the vocational program, individuals complete an intake evaluation to determine goals, capabilities and passions. They are then put into a program that can be best tailored to fit their needs and help them achieve their goals. Some opportunities include recycling operations, food services, custodial maintenance, crew labor and supported employment, which gives the individual an opportunity to work at companies such as Sam's Club, Wawa and Virtua Hospital.
"We really are also focused on helping individuals develop soft skills, such as: communicating effectively, following directions, completing assignments and workplace conflict resolution," Goldner says. "Individuals can learn these skills in our job placement program that can be used in integrated community-based employment.
"We also have annual events every year because, while our clients enjoy coming to work, there is a lot of value in providing a social experience," she adds. "It's how you can make friends and build relationships that go beyond the workplace."
In the day program and group homes, adults learn daily living skills from meal prep and cooking to laundry and how to use a computer. Adults learn these skills to help them in their everyday lives, whether at home or on the job.
Trained professionals are a key asset to the success of the OTC. Staff members go through an extensive training process, which includes learning CPR, first aid, how to work with individuals with disabilities and the laws in place to protect those individuals.
"We truly focus on what it means to be an advocate for individuals with disabilities and what it means to provide opportunities for them," Goldner says. "Sometimes you're working with individuals who are nonverbal, so they can't communicate in a traditional way. You have to find ways to be that advocate, be their voice and communicate what they want without them necessarily being able to do it themselves."
The staff is dedicated to working day in and day out with the adults and in a lot of cases, as Goldner says, develop not only a relationship with the individual but with their family as well. They are able to grow together and share moments as you would with a long-term friend.
"I think we're all looking for friendship, support and encouragement, and what the OTC is able to provide is that community for individuals with disabilities," Goldner says. "Encouraging these individuals and their blossoming friends is a key aspect for us."
Occupational Training Center of Burlington County
2 Manhattan Drive | Burlington Township | (609) 267-6677 | OTCBC.org
Published (and copyrighted) in Suburban Family Magazine, Volume 10, Issue 4 (June 2019).
For more info on Suburban Family Magazine, click here.
For information about advertising in Suburban Family Magazine, click here.
To find out where to pick up your copy of Suburban Family Magazine, click here.