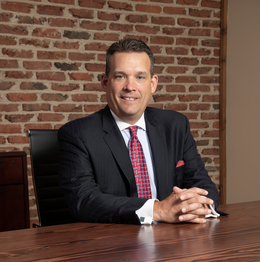 5 Ways to Handle Financial Decisions During a Divorce
June 2019
FOR SPOUSES WHO HAVE MADE THE DECISION TO PART WAYS IN THEIR MARRIAGE, THE GUIDANCE PROVIDED BY A FINANCIAL ADVISOR WILL SET UP THEIR PATH FOR A FUTURE AS INDIVIDUALS.
Jim Turpin, an independent financial advisor with Chelsea Wealth Management, has 25 years' experience, the last eight of which have been on his own. His firm handles financial and legacy planning for individuals and small business owners, including retirement services, estate planning, college savings, long-term care and major life events. Turpin's independent business model allows him to approach each client uniquely, looking at their goals and needs then tailoring products and plans to fit.
Every situation will have its own variables, but Turpin says divorcing at age 35 should be approached differently than divorcing at 55. He spoke with Suburban Family about what financial decisions need to be made concerning assets and future income.
1. When to meet with your financial planner
Once a couple has made the decision to move forward with a divorce, their first calls are usually to attorneys. Turpin says the very next call should be to their financial advisor(s) to identify assets and any possible tax implications. "We want to make sure their fiscal life is put back together after the divorce. Many times there are kids involved, there is financial stress of not knowing how income will be generated—especially if you've been a stay-at-home spouse—where you will live if the house has to be sold and if the kids will need to switch school systems," he says.
2. Knowing your finances
It's not uncommon in marriages for one spouse to be the breadwinner with knowledge of the family finances and the other to have limited knowledge of the details about how retirement was being covered or how much is in savings. If a marriage is in jeopardy, both parties should consult an advisor to achieve the best outcome.
3. Divorcing in your 30s-40s
"In younger couples today I see a lot of debt—student loans and credit cards, or they are 'underwater' with their mortgage," says Turpin. "It's hard to pay for everything while married, much less being single, so sometimes my job is to figure out if someone can keep the house or if it needs to be liquidated."
In these cases, Turpin looks at the financial strategy "holistically" and discusses with the attorney how to pare down the shared debt, followed by creating a savings plan for the spouse he is representing moving forward.
Child support will come into play at this age range too, and Turpin says it's not uncommon to see the wife making more than the husband. "The wife may get custody of the kids but she may not be eligible for child support if he is not financially able to pay it, so we need to make a plan for the wife to save for college and retirement. Quite often the conversation means telling the client that the kids will be limited on where they can go to school," he says.
4. Divorcing in your 50s-60s
At this point in their lives, couples have amassed more considerable assets and are likely paying for college tuition and eyeing retirement. Not only must assets be protected, but they should be divided fairly. "If the wife has been out of the workforce because she stayed home to raise the kids, then we're going to be looking for a greater sum of assets because it's unlikely she'll be able to get back to the work environment and make the same living," says Turpin. "We'd want those assets to fill in the blanks to support her lifestyle post-divorce."
5. Added value for clients
People may not know what to ask for in a divorce and Turpin says that's OK. "I work directly with the attorney to come up with numbers and options," he says. "I present what's fair and equitable and it's the attorney's job to fight for those details. I always look at myself as a value-add to the client and the attorney. I'm not costing the client any additional money to provide my services during the divorce. It's all part of being their advisor."
Chelsea Wealth Management (CWM)
Jim Turpin | President
41 Grove St. | Haddonfield | (856) 685-7825
jimturpin@1CWM.com | JimTurpin1CWM.com
Photography by GARY MATTIE
Published (and copyrighted) in Suburban Family Magazine, Volume 10, Issue 4 (June 2019).
For more info on Suburban Family Magazine, click here.
For information about advertising in Suburban Family Magazine, click here.
To find out where to pick up your copy of Suburban Family Magazine, click here.