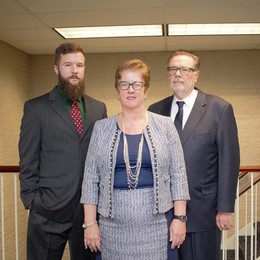 Committed to Clients
Cordry Hartman is a South Jersey-bred, family-owned law firm that fights for its clients.
HAPPILY EVER AFTER—that's what every couple thinks when they go to the altar to get married, but today, divorce is the end result for quite a few marriages. Many things factor into getting a divorce and couples that decide to end their marriage need a lawyer who will be there to consult them, guide them through this difficult process and make sure they make the right decisions. Look no further than Cordry Hartman LLC—a full-service law firm that resolves complex family disputes. In addition to divorce, other family law areas Cordry Hartman practices include child custody, child support and DCP&P (Department of Children Protection and Permanency) and the preparation of prenuptial agreements.
What makes Cordry Hartman unique isn't just how it handles each case with care and attention to each client, but it's a family-run law firm with more than 78 years of experience between Richard Cordry and Frances Hartman. The husband and wife team first practiced together in Kansas. In 1997 they moved back to Moorestown where Hartman was born and raised and practiced with her sisters and father, Francis J. Hartman. Then, in 2007 Fran Hartman formed her own firm, soon to be joined by her husband and finally, by their son Frank Cordry.
Frank Cordry worked for the firm in college and joined the firm as an attorney, after he graduated from Rutgers School of Law in 2013. Now, he is a partner and the firm is known as Cordry Hartman.
"I have been around dedicated lawyers my entire life which I believe gives me greater insight and ability to identify clients' issues and how to help them resolve those issues," Cordry says. "I am lucky to be able to talk through my cases with my parents almost any time. As a result, our clients frequently get two lawyers for the price of one."
"It is important when handling matters relating to custody and handling divorce, that people have the right information and understand their rights and responsibilities from the beginning," Hartman says. "Divorce is emotionally and financially draining and impacts every aspect of an individual's life; it is important that they receive accurate information from the start so they can regain a feeling of control and well-being."
Another family issue Cordry Hartman focuses on is domestic violence. Cordry says substance and alcohol abuse often play a factor in domestic violence cases and Cordry Hartman is able to handle those matters.
"We have unique experiences in handling any kind of family matter that has a substance abuse or alcohol issue," he says. "We address these issues in the context of domestic violence, custody and divorce—anywhere drugs and alcohol can touch, we've dealt with it and settled cases. We've done a lot of work with addiction issues and understand how those issues affect and impact everyone in the family relationship."
Cordry Hartman always represents the individual, not institutions, such as insurance companies or the state. "Whether you were hit by a car, discriminated against by your boss or you receive a speeding ticket—that's what we address," Hartman says.
The lawyers at Cordry Hartman take care of your every need from start to finish with your best interest in mind and are confident in how they handle each case. It's no surprise they represent many clients in general practice litigations.
"Resolving your issues outside of court is always the desired goal, but often in order to get a settlement most favorable to you, you need an attorney who is capable of litigating issues," Hartman says. "You have to be ready to go to trial in order to get the best settlement possible.
"We are more confident handling these types of cases than many other lawyers," she continues. "Many don't want to deal with litigation."
The attorneys at Cordry Hartman are caring and compassionate, but tough as nails at the same time and won't stop working for their clients until they get what they deserve. Combine that with their wealth of knowledge and years of successful litigation experience, and Cordry Hartman stands apart from the rest.
"You want someone like us who can litigate," Hartman says. "We fight for our clients."
Cordry Hartman LLC
505 S. Lenola Road
Suite 224 | Moorestown
(856) 482-8711
DivorceLegalHelpNJ.com
Published (and copyrighted) in Suburban Family Magazine, Volume 10, Issue 4 (June 2019).
For more info on Suburban Family Magazine, click here.
For information about advertising in Suburban Family Magazine, click here.
To find out where to pick up your copy of Suburban Family Magazine, click here.