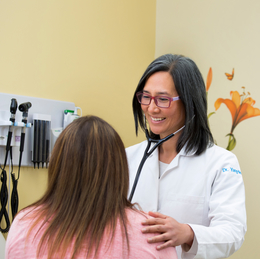 Convenient and Comprehensive
Inspira Primary Care of Haddon Township services the whole family with a range of treatments under one roof.
THE STRUGGLES OF A PACKED CALENDAR ARE ALL TOO REAL FOR MANY FAMILIES. Kids are juggling multiple activities while parents balance work and home life. Among all the things to keep track of are visits to health care providers—pediatricians, primary care physicians, gynecologists—it's a lot of bouncing around from office to office.
Inspira Primary Care of Haddon Township has turned that traditional health care model on its head and has placed a full continuum of services under one roof. Part of Inspira Health, a health care organization that has been serving South Jersey since 1899 with over 150 access points, the Haddon Township location offers treatment for acute illnesses, chronic illness management, health care screenings, in-office lab draws, joint injections, imaging and routine gynecologic exams, among many others. Urgent care is also available at the same location.
The primary care office is led by Sue Yang-Novellino, DO and Stephanie Flaherty, DO. Dr. Flaherty treats patients from newborns and up, while Dr. Yang-Novellino treats ages 5 and up. Both are homegrown physicians, having attended what was the University of Medicine and Dentistry of New Jersey (now Rowan School of Osteopathic Medicine). Dr. Yang-Novellino joined Inspira three years ago after running her own practice in Collingswood. In addition to the Haddon Township office, she also sees patients at the primary care location in Washington Township. Dr. Flaherty completed her residency at Inspira Medical Center Vineland where she became chief resident and she additionally sees patients who may be admitted for a hospital stay to maintain the consistency of care.
"In everything we do, it's about making it more convenient for the patient," says Dr. Flaherty. "We are that old-school family medicine physician in a newer location. Our goal is to partner with the patient and maintain their overall good quality of life and have them grow with us. We're able to do that because of everything we offer in house."
It's unusual to find so many services in one location. "The setup of this practice is special because we have an imaging center right next door and we work closely with them. People are surprised at how much of a one-stop shop this is," says Dr. Yang-Novellino.
"We really do get to customize the services here as the community demands. It is about these overall 'wow' expectations for patients," Dr. Flaherty says. "We want everyone to have individualized care and that's the priority."
She highlights certain services not found at a traditional primary care location, such as pap smears, cervical cancer screenings, IUD and Nexplanon contraceptive implants, lab services for Quest Diagnostics and LabCorp, MRI, mammograms, ultrasounds and some dermatological procedures.
Some patients find the doctors' holistic approach appealing. As doctors of osteopathic medicine, Drs. Yang-Novellino and Flaherty provide a more hands-on approach to health care with osteopathic manipulation, which includes stretching and applying pressure to relieve pain. "An osteopath treats all systems of the body— skeletal, muscular, neurological, cardiovascular and the organs—and encourages it to move and function the best it can," says Dr. Yang-Novellino, who conducts most of the manipulations at the Haddon Township office. It can complement patients dealing with chronic pain, migraines, arthritis, sports injuries, ear and sinus disorders, as well as pregnancy-related complaints.
"The pediatric and obstetric population are the groups in particular that this approach would be a fit for," Dr. Yang-Novellino says. "Pregnant women are limited to the medication they can take but can achieve pain relief with manipulation. And others are not as interested in taking a lot of medication and looking for more natural means."
Ultimately, each practice is a representation of the community it serves, and Inspira is experiencing rapid growth. Its biggest presence is in Salem, Gloucester and Cumberland counties, but it is expanding north into other counties, something both doctors see as a benefit for South Jersey.
"The more access to high-quality, all-encompassing medical care, the better," says Dr. Flaherty. "Additional Inspira specialists will be coming into Camden County and primary care is the first step."
Inspira Primary Care Haddon Township
400 W. Cuthbert Blvd. | Haddon Township | (856) 559-4277
InspiraHealthNetwork.org/primary-care/haddon-township
Photography by ALISON DUNLAP
Published (and copyrighted) in Suburban Family Magazine, Volume 10, Issue 4 (June 2019).
For more info on Suburban Family Magazine, click here.
For information about advertising in Suburban Family Magazine, click here.
To find out where to pick up your copy of Suburban Family Magazine, click here.