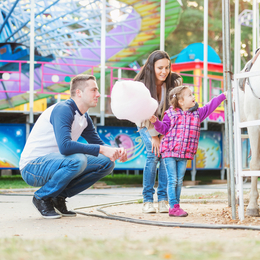 Suburban Family Bulletin
Community news from around South Jersey
COMMUNITY CONNECTION
News from around South Jersey
By Joe Metz
Rowan University students will be able to relieve their stress and homesickness by visiting therapy dogs this fall. The program comes from a $3 million donation thanks to businessman Gerald Schreiber of J&J Snack Foods Corp. of Pennsauken. The campus will host five certified therapy dogs for five days a week.
Relay for Life of Marlton raised more than $150,000 for the American Cancer Society. The event was one of hundreds around the world to help raise money for the organization. More than 700 people participated in the relay, which took place at the Cherokee High School field.
Next Cherry Hill Planning Board Meeting: July 1, 7:30 p.m. at the N. John Amato Council Chambers, Room 208
Next Voorhees Township Committee Meeting: July 8, 8 p.m. at the Voorhees Township Courtroom
Next Evesham Township Zoning Board Meeting: July 16, 7 p.m. at the Evesham Municipal Building Meeting Room
School Dates
July 1-2 Rowan University Freshman Orientation Session IV
July 4 Rutgers University-Camden Closed
July 8 Rowan College at Burlington County Summer Classes End
July 13 ACT Testing, Lenape High School
Bulletin Board
Updates and announcements about your local schools
By Joe Metz
The LRHSD Board of Education has approved a resolution to fund more than $1 million for damaged turf fields at Shawnee and Cherokee high schools. The replacement has been described as necessary after engineering and testing consultants found that both fields were not correctly designed and manufactured to begin with, making the fields unusable.
Bracelets for Change was formed at the beginning of the school year by Haddonfield Memorial High School sophomores Evelyn Ellis and Salena Chacon. The nonprofit club raises funds by making friendship bracelets out of embroidery floss to sell them at local schools and community events. Their donations will help Virtua Child Life Center in its effort to normalize a child's stay in the hospital.
Seneca High School students, staff and parents participated in the Autism Speaks South Jersey Walk and surpassed their goal, raising more than $1,300. The event helped generate funds for autism research and services, and students from Seneca's Buddies, Psychology and Community Service Clubs volunteered at the event.
Police Blotter
By Joe Metz
A lawsuit was settled for $580,000 after a woman sued Camden, the state of New Jersey and city officers/state troopers in the fatal shooting of her son in 2011.
A Cherry Hill man was charged by police with damaging Verizon communication lines and equipment, which left South Jersey customers with disrupted internet, landline phone and television services.
A woman was accused of stealing 60 doses of fentanyl from her employer, an Evesham Township fertility clinic. She was also accused of prescribing herself pain medications by using a doctor's electronic account.
The Locker Room
By Matt Cosentino
Roster Beat
Team, player and coach news
The Moorestown girls lacrosse team repeated as Group III state champions with a 9-8 win over Mendham. Ashley Nutt and Rylee Brown each scored three goals and Logan Lillie made six saves. The Quakers went on to reach the Tournament of Champions final before dropping a close game to Oak Knoll.
Kingsway jumped out to a 7-0 lead in the first inning on its way to a 13-3 win over Shawnee in the South Jersey Group IV softball final. Theresa Reed had four hits and drove in three runs for the Dragons, who claimed their first sectional championship since 2012.
The Eastern baseball team knocked off rival Cherry Hill East, 7-2, to win the South Jersey Group IV championship. It was the first sectional title for the Vikings since 2014, and they went on to reach the state final before losing a heartbreaker to Ridgewood, 2-1.
Cade Hunter, a senior catcher on the Lenape baseball team, was selected by the Colorado Rockies in the 35th round of the MLB Draft. Thirteen other players with South Jersey ties were also chosen in the draft, including Cherokee graduates Nick Snyder (Arizona Diamondbacks) and Matt Stil (Kansas City Royals) and Eastern graduate Matt Woods (Los Angeles Angels).
Star Athlete
LUCCIANO PIZARRO
CHEROKEE
Pizarro, a senior on the Cherokee boys track and field team, broke his own school record with a throw of 60 feet, 11 inches to win the shot put title at the Meet of Champions. Pizarro made great strides in his final season and also won Cherokee's first Group IV state crown in the shot put since 1999.
Star Team
CHERRY HILL WEST BASEBALL
Cherry Hill West claimed its first sectional championship since 1993 in dramatic fashion, as Scott Shaw hit a two-run home run in the top of the seventh inning to spark a 6-3 comeback win over Triton in the South Jersey Group III final. The Lions were ranked in the state top 20 for most of the season and ended the year with a sterling 25-4-1 record.
Published (and copyrighted) in Suburban Family Magazine, Volume 10, Issue 4 (June 2019).
For more info on Suburban Family Magazine, click here.
For information about advertising in Suburban Family Magazine, click here.
To find out where to pick up your copy of Suburban Family Magazine, click here.