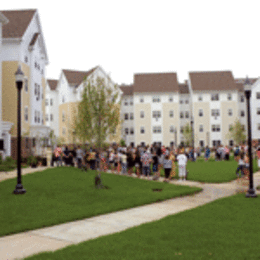 Outward Bound?
Some college-bound high school seniors are looking for colleges anywhere but in South Jersey, yet local institutions offer plenty of incentive to study closer to home.
…From the pages of Suburban Family…
Some college-bound high school seniors are looking for colleges anywhere but in South Jersey, yet local institutions offer plenty of incentive to study closer to home.
For some South Jersey college-bound high school students, the lure of living away from mom and dad may be too hard to resist. For others, the program of study they want to pursue might only be found far from home. But, before you write that out-of-state tuition check, consider that area colleges and universities may have more to offer than you think. All four of South Jersey's state institutions of higher learning are busy investing in their facilities to entice students in search of independence, excellent academics and a rewarding career, promising to turn them into the leaders our local businesses and communities need.
Not so far from home
Given that living away from home is a priority for many newly independent students, local institutions have been working to upgrade their offerings. In Glassboro at Rowan University, what once was a small state teachers college is now a thriving university campus. The transformation began in 1992 when Burlington County industrialist Henry Rowan and his wife, Betty, donated $100 million to Glassboro State College—at the time, the largest gift ever given to a public college. Currently, a $300 million public-private partnership with the borough and a private developer is underway to create a quintessential college downtown known as Rowan Boulevard. Off-campus housing is already up, and plans are underway for a Barnes and Noble Collegiate Bookstore—set to open this November—as well as a hotel, restaurants and retail stores. "This project addresses many of our most pressing needs," says Rowan University President Donald Farish. "Students, both prospective and current, are demanding safe, upscale apartment-style housing—which Rowan desperately needs more of. They want something to do beyond our borders, but close to campus. And, those who want or need to work while enrolled here want to have more opportunities nearby. This project provides it all."
Meanwhile, at Rutgers University—Camden, what used to be just a commuter outpost for the larger state college is now on track to be a home away from home for many undergrads. At the top of Chancellor Wendell Pritchett's priority list is increasing enrollment, specifically among residential students. Currently, about 550 students live in Rutgers—Camden's two dorms, and another 250 are estimated to live within walking distance of campus. For those who do choose to commute, the school is creating reasons for them to linger on campus, such as the athletic center that opened last year, or mentoring groups among students. "Things are going well," Pritchett says. "People are generally happy about what's happening on campus." This December, the university intends to announce plans for a graduate dorm that could open in time for the fall of 2012 and increase the residential base. The college's enrollment at the start of this semester had jumped from 6,000 to 6,600; Pritchett's goal is to reach 7,500 by 2014.
Jason Marsdale, a graduate of Cherokee High School in Marlton, will graduate from Rutgers—Camden this December with a marketing degree. He says he chose the campus because of the diversity, the smaller class sizes than at the New Brunswick campus, and the chance to get involved in the local community. "You have much more of an opportunity to make an impact [here]," he says.
The Richard Stockton College of New Jersey, tucked away in the southern pocket of the Pine Barrens in Absecon, offers several on- and off-campus living arrangements. About 25 percent of the college's 7,600 students live in either residential halls or on-campus apartments. Now, the college has added a new style of housing, called Living/Learning Communities. Open to upperclassmen in good standing, the housing separates students by their interests such as sustainability, diversity, positive living and global citizenship. Next year at Stockton when the Campus Center is expected to open, students will have a one-stop shopping area with meeting spaces, dining facilities, a book store, Wi-Fi and retail shops. It's part of what attracted Cherry Hill High School East Class of 2009 alum Louis Kramer to the college. Kramer, who is a pre-med biology major, says, "The campus is beautiful, and there are a lot of developments, like the new student center, which made the choice easy," Kramer says. "Every time I visited Stockton I just felt this home-like feeling."
Jersey locals
Thanks to Henry Rowan's own engineering background, he intended his gift to the school for the creation of an engineering program that would specifically serve this region. To that end, Rowan, is now not only ranked by US News & World Report as among the nation's top values in education for 2011, it boasts the country's No. 2 chemical engineering program. Haddonfield resident George Lecakes Jr. chose Rowan's engineering program because, "Contrasted against the larger schools I was considering, Rowan provided a more personal experience, where class sizes were kept small and professors actually knew the undergraduate student's names." Now, Lecakes has his Master's degree in electrical engineering and manages the virtual reality lab at the South Jersey Technology Park in Mantua. In addition to its engineering facilities, Rowan's Samuel H. Jones Innovation Center opened in 2008 and houses academic research and development programs, as well as incubation space for start-up businesses. And Rowan in partnership with Cooper University Hospital, has already broken ground on a $100 million four-year medical school in Camden.
Stockton has a distinctly international component to its curriculum: the school's Sara and Sam Schoffer Holocaust Resource Center is a one-of-a-kind facility, focused on academic research of the Holocaust. However, as a state school, there is also a mission to serve the local community: The William J. Hughes Center for Public Policy shines a light on various Jersey-specific issues, ranging from politics in Trenton to tourism at the Jersey Shore. Capitalizing on its proximity to Atlantic City, tourism and hospitality are also big at Stockton College. A $20 million investment made this year will enhance that further: the college purchased the Seaview Resort, which includes a hotel and golf course. Stockton intends to use the resort to give hands-on experiences to the students in Hospitality and Tourism Management Studies. "As Atlantic City evolves to a destination resort, the training we provide will play a significant role," says Stockton President Saatkamp. "This helps area businesses and opens career possibilities for our graduates worldwide." But if our area college graduates choose to employ their global perspective right here at home, who better to work with and lead South Jersey than the people already from here?
Say Your Good Buys
If you decide to keep your college-bound kids close to home, here's how the numbers break down:
Four-Year Schools
Rowan University (Glassboro)
In-state tuition: $11,676
Room/Board: $10,158
Enrollment: 11,392
Teacher/student ratio: 15:1
Number of clubs/athletics: 130 clubs; NCAA III
Most popular programs: Engineering, education, business, communications
Rutgers University—Camden
In-state tuition: $9,926
Room/Board: $10,906
Enrollment: 6,350
Teacher/student ratio: 17 to 1
Number of clubs/athletics: 250 clubs; NCAA III
Most popular programs: Pre-law, business
The Richard Stockton College of New Jersey (Absecon)
In-state tuition: $7,165
Room/Board: $10,280
Enrollment: 7,879
Teacher/student ratio: 19:1
Number of clubs/athletics: 90; NCCA III
Most popular programs: Hospitality services, environmental studies, political science, Holocaust studies
The College of New Jersey (Ewing) In-state tuition $13,549 Room/Board $10,549 Enrollment 6,315 Teacher/student ratio 13:1 Number of clubs/Athletics 150 clubs; NCAA III Most popular programs Education, business, culture and society studies
Two-Year Schools
Burlington County College
In-county tuition: $2,760
Enrollment: 10,100 Teacher/student ratio: 23 to 1 Number of clubs/athletics: 38 Most popular programs: Allied Health, Technology, Professional Development
Camden County College
In-county tuition: $2,880
Enrollment: 16,588
Teacher/student ratio: 28 to 1
Number of clubs/athletics: 24
Most popular programs: Pre-nursing, business administration and elementary/secondary education
Gloucester County College
In-county tuition: $2,550
Enrollment: 6,609
Teacher/student ratio: 25 to 1
Number of clubs/athletics: 34
Most popular programs: Nursing, education
Two-stepping
If you're not ready to commit to a 4 year school, community colleges offer advantages
Through the state-run NJ Stars program, high school students who graduate in the top 15 percent of their class can receive free county college tuition. In the 2008-2009 school year, more than 5,700 students received NJ Stars scholarships. It's a great way to begin a four-year degree, but at only half the cost. That's because the community colleges in Camden, Burlington and Gloucester counties all offer partnership programs with regional four-year colleges and universities.
At Camden County College, academic advisers work with students to help plot a course of study to meet graduation and transfer requirements. Transfer workshops are also offered to give students a jump start in navigating the process. This year, Gloucester County College opened the Career and Academic Planning Center, which offers tools to students to work toward another degree, and provides resources for career exploration and job seeking skills.
On average, more than 50 percent of Gloucester County College graduates transfer to four-year universities and colleges. Of the more than 1,000 degrees handed out at BCC in 2009, 73 percent of them were to students in transfer programs. Through matriculation agreements with four-year schools, community colleges can make sure their programs line up with what's required to earn a bachelor's degree, reducing the need to re-take courses.
Ashley Paul, a Voorhees resident who graduated from Eastern High School in 2010, decided to start her college education at Camden County College because of the affordability. She's currently enrolled full-time, majoring in physical education, and when she graduates next year, she plans to transfer to Rowan University. "It's a good school for teaching," Paul says. "The benefits of going to a community college is that, one, it's closer to home and work, and two, you don't have to travel too far to get to school. It's affordable and they offer a lot of activities and a wide-range of majors, so there's always something there for someone."
Published (and copyrighted) in Suburban Family, Volume 1, Issue 8 (October, 2010).
For more info on Suburban Family, click here.
For information about advertising in Suburban Family, click here.
To find out where to pick up your copy of Suburban Family, click here.