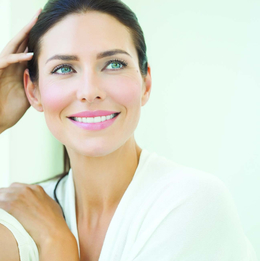 Best Face Forward
Beauty industry experts answer the most frequently asked questions about trends and treatments for your face, skin and hair.
It seems like the world of beauty treatments is introducing new services before we can catch up on the last one. But not all trends and treatments are one-size-fits-all, so Suburban Family asked local experts to talk about the most effective services available and how people can benefit. We hope their advice leads to the perfect treatment just for you.
DR. INGRID WARMUTH
WARMUTH INSTITUTE OF DERMATOLOGY
What is platelet rich plasma therapy and what makes it a cutting-edge beauty treatment?
This treatment is a cutting-edge modality for full-face rejuvenation and for hair-loss restoration involving a three-step medical treatment in which an individual's blood is drawn, processed and then injected into the face or scalp. Platelet rich plasma promotes tissue healing and regeneration and forms new cell growth, stimulating new collagen, which leaves you with a glowing and more youthful complexion.
DR. AHKIAH SEKHON
PRECISION FACIAL
How does the use of dermal fillers in places like the hands, neck and earlobes improve the look of these areas?
Dermal fillers can reduce the signs of aging in areas other than the face. They can eliminate prominent veins in the hands or wrinkles and bands in the neck. They can even be used to tighten earlobe holes that have been stretched due to longtime use of heavy earrings.
KARA LYONS
Medical Aesthetician
COSMETIC SURGERY CENTER OF CHERRY HILL
What is microneedling and how can it be used to treat acne scarring?
Microneedling creates thousands of microscopic channels gently into the skin creating an increase in collagen production. We use the first FDA-approved Skin Pen that softens and flattens the acne scars creating smoother skin. A series of six treatments is necessary for best results, which can be seen in three to four weeks and best appreciated within three to four months.
NANCY KELLY
Owner, AMAZING LASH STUDIO
What are featherweight lashes and who is a good candidate for them?
Our new Featherweight Lashes offer clients a very dramatic, textured look. They are incredibly light weight which offers clients many benefits; improved retention, lashes can hold longer lengths, less likely to cause breakage to naturally thin lashes. The Featherweight Lashes are exclusive to Amazing Lash Studio and allow us to enhance our custom looks we offer our clients.
ROSE MARIE BEAUCHEMIN-VERZELLA, CMI, CPCP
Founder, BEAU INSTITUTE OF PERMANENT & CORRECTIVE COSMETICS
Why has microblading become such a popular treatment for eyebrows?
Microblading is a safe and conservative option for beautiful and full brows, showing individual hair strokes that are soft and very natural in appearance. Microblading is less committal than regular permanent makeup and it frees women up from the stress of drawing on matching eyebrows every morning, saving them time.
DIANE HAZELWOOD
Owner, PERSONAL EXPRESSIONS
In what ways is the beauty industry becoming more sustainable and what are the benefits to the environment?
At Personal Expressions Hair Studio, 95 percent of the waste we produce is recyclable, so recycle we shall! We have partnered up with Green Circle Salons to collect, recycle and repurpose all of our salon's hair clippings, used foils, color-tubes, excess hair color, papers, plastics and glass waste in an effort to divert them from landfills and waterways.
DR. GREGORY SCIMECA
Director, LUMIERE MEDSPA
What are cosmetic tweakments?
These are small affordable treatments that have a large impact on the appearance. At Lumiere, we love Botox, which diminishes wrinkles; and dermal fillers in the cheeks, lower face and lips to restore volume. Microneedling and/or laser treatments rejuvenate collagen and clear the skin of hyperpigmentation, scarring and blemishes, and radiofrequency tightens lax skin.
KATE FILIBERTO
Owner
SKINTEGRITY
What are some dos and don'ts of facial cleanses?
For oily skin, a gel cleanser is suitable but avoid any with alcohol to avoid drying out the skin. For others, a cream or milky cleanser is ideal. Double cleanse nightly with a milk cleanser to remove all makeup and impurities from the day. If using miceller water or cleansing oil, follow with either a milk or gel cleanser to remove the film left behind.
Published (and copyrighted) in Suburban Family Magazine, Volume 10, Issue 3 (May 2019).
For more info on Suburban Family Magazine, click here.
For information about advertising in Suburban Family Magazine, click here.
To find out where to pick up your copy of Suburban Family Magazine, click here.