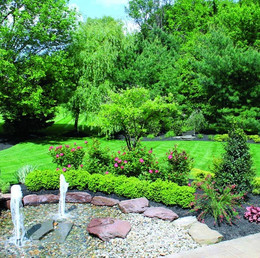 Word of Mouth
Customers are raving about these South Jersey home improvement companies.
When you need a project done at home, the first thing most people do is ask their friends and family for a recommendation. These are the people they trust most and their first-hand experiences can influence homeowners' decisions. Referrals and word of mouth also remain the top way for companies to garner business. Here are just some of the things people are saying about South Jersey's leading home improvement companies.
I highly recommend Brindisi Builders. Brindisi Builders is in a class by themselves. Beginning with the initial appointment in your home, they listen to you! They take the time to understand your needs! —Anne Marie
Brindisi Builders | BrindisiBuilders.com
I wanted to share with everyone what a great experience I had with AllSeason Solar. From the very beginning where they come to your home and explain all the benefits to having a solar system, to the installation and management of your new system, everyone was so polite and friendly. They explained the whole process, and took the time to answer any and all the questions we had. Their referral program is amazing! AllSeason Solar really takes pride in their work! We love how our solar racking was installed on our roof and the fact that you cannot see any of the wires running into the disconnects. I posted a picture of our backyard and received so many comments and compliments on our solar system. Our electric bill was nearly cut in half by going with AllSeason Solar! That's when you know you've chosen the right company! —Joy D.
AllSeason Solar | AllSeasonSolar.net
I cannot begin to tell you how happy we are with our new pond. Lisa and her employees were outstanding! They listened to everything we wanted. They gave us suggestions. They answered all our questions. We did have to wait to have it installed but it was well worth it. They were very quick to answer our questions, via text or email. They have come back to our home to check it twice because we had questions and again they responded quickly. They are very attentive. We sit out by our pond on a daily basis and a few times a day. Perfection! I can't say enough about them. They are a small family company but I love the fact that they pay attention to detail. Very respectful. Very honest. Very trustworthy. —Deborah G.
Landvista Aquascapes | AllSeasonSolar.net
What can you say other than they are simply the best! Their trucks are everywhere, they are always working hard and the end product speaks for itself. Love their work. It's a family-owned business and everyone is so nice to work with. I'd recommend them highly. You won't be disappointed. —April M.
Gill's Landscaping, Inc. | GillsLandscaping.com
It was a pleasure to work with Steve Matteo and team. Steve walked us through the process of choosing the counters and backsplash, and Dennis Foy did a masterful backsplash install. Very happy with our beautiful new kitchen! —Maria M.
Matteo Family Kitchens & Flooring | MatteoKitchens.com
I highly recommend MSD Contracting LLC. They did a beautiful = job on refurbishing my worn-out, old deck. I have had nothing but positive compliments about it. —Kathy Depman-Merget
MSD Contracting LLC | Facebook.com/MSDContractingLLC
This was my first time using Cousins. I did my research and met Steve Bombaro. I had interviewed a few landscapers and by far Steve was the best. He always responded to my text messages. His team showed up on time, and did an amazing job. Steve went over and above what was required. At the end I got my beautiful new backyard. I would recommend Steve and his team. They are first class all the way! Thanks Steve for exceeding my expectations! —Minder S.
Cousins Garden Design | CousinsGardenDesign.com
After many months of research and comparing different companies and products, there was only one company that provided excellent service and true professionalism. There [were] not additional charges, hidden fees, selling of last year's equipment or lack of understanding the business and warranties. Our roof looks great and our bill is as low as possible with us gaining SREC money. I would highly recommend this company to anyone, and of course if people are looking I try to save them time and money by sending them to Orbit. The company leadership sets the standard of putting the customer first and being highly trustworthy. —Dawn Lilly
Orbit Energy & Power | OrbitEnergy.us
Recently [had] work done with A&J for six rooms; sand and stain, refinish flooring and tile work. Highly recommend them if you are looking for a place to help you with finishing up home remodeling projects. Great people to work with and felt very comfortable recommending them to people who ask about my floors. —Minh N.
A&J Flooring | AJCarpet.com
We had a patio built in our backyard. Excellent workmanship and customer service. Attention to detail was appreciated. The job was not rushed in order to provide top-notch quality. On a couple of occasions, we made adjustments midstream. SLS was patient and accommodated our changes even as it resulted in more time to complete the work. Henry was especially helpful from a design perspective. SLS also graded and reseeded grass areas in need of repair after installing the patio. [I] would strongly recommend SLS landscaping for those looking to build a patio. —Vishal G.
SLS Landscaping, Inc. | SLSLandscape.com
From start to finish, was nothing less than perfect. The quality of the work is just outstanding. There isn't a person who walks into my house and doesn't immediately compliment the work I have done so far (three-piece build-up crown, window/door headers). Always clean, quick and polite and I can't wait to get my next two projects started. —Ross M.
Rykon General Contracting | RykonGC.com
I recently purchased a home in Cherry Hill that needed a lot of work. I reached out to Danny and Jeremy at Blademasters to help me design and implement my landscaping. They were in- credibly helpful with their suggestions. Once we decided what we wanted to do, they got to work immediately. They had to remove massive dead trees and clean up a big mess. They installed a brand-new fence around my property and beautiful new beds of plants and shrubs to beautify my front yard. We plan on using them to do more work for us throughout the year. This company is reasonably priced and will get the job done right. I highly recommend them! —Ethan Capri
BladeMasters Landscape | BladeMastersNJ.com
I can't say enough about Charlie and his crew at World Roofing. They replaced the roof and gutters on my parents' house and did an amazing job! Charlie came out when he said he would, did the work when he said he would and did everything he promised and then some. We found him to be very reliable, trust- worthy and professional with top-notch results! —Joann Meyeres Goodstein
World Roofing | WorldRoofingNJUSA.com
We interviewed several landscape architects in the South Jersey area. We hired Elite Landscaping to complete our outdoor patio project and they delivered not only incredible results, but an outdoor experience that we will enjoy for many years to come. Elite provided quality work and also excellent customer service during and after the project was completed. We highly recommend Elite for any outdoor project. —Jason and Leah Wolf
Elite Landscaping | EliteLandscaping.com
Published (and copyrighted) in Suburban Family Magazine, Volume 10, Issue 3 (May 2019).
For more info on Suburban Family Magazine, click here.
For information about advertising in Suburban Family Magazine, click here.
To find out where to pick up your copy of Suburban Family Magazine, click here.