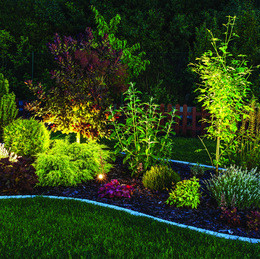 Five Trends in Outdoor Living
Elite Landscaping can transform any yard into a space for large family gatherings or daily relaxation.
THE WARM WEATHER IS FINALLY BACK IN SOUTH JERSEY, which means children will be out of school soon, invitations for graduation parties will start showing up in the mailbox and Will Smith's iconic song "Summertime" will be in rotation on the radio.
It also means that homeowners across the area will be looking to enjoy all that their property has to offer. Elite Landscaping, which specializes in creating stunning outdoor living spaces, can transform any yard into a space for large family gatherings or daily relaxation.
We spoke to Mike Pasquarello, degreed landscape architect at Elite, about the important features to include in an outdoor living space.
1. Home automation
These days, homeowners can control just about anything from a smartphone or tablet, from their thermostat to their alarm system. Not surprisingly, automation has carried over to the outdoor arena as well, and Pasquarello notes three main areas for its use: LED lighting, irrigation and audio systems. From the palm of their hand, homeowners can raise or dim the lights or change the music as their party is going on. As for irrigation, automation helps optimize water usage, as the system is typically tied into the advanced weather system of the nearest airport and will turn off when a certain amount of rain is projected.
2. Larger, slab-style pavers
A paver patio installed by the professionals at Elite can be the centerpiece of an outdoor space and add color and texture to the back- yard. Pasquarello has seen a recent push for larger pavers and believes they are an excellent choice. "I would say in the past five to 10 years or so, there's been a resurgence in people looking for natural stone," he says. "In response to that, the paver companies have started creating their own larger, slab-style pavers that resemble the natural stone. People are getting away from the standard 6-by-6 pavers and are using these pavers that can be 30 by 30 inches."
3. Pavilion roof structures
Some sort of shade option is a must-have in an outdoor space, and a pavilion roof structure that is either freestanding or attached to the house can include recessed lightings, fans, audio, a flat-screen TV and bar tops. "The pavilion roof structure makes it feel like a separate space or room," Pasquarello says. "We also do a lot of pergolas with fabric canopies that can be to- tally open to allow sunlight in or closed for shade. They are not weather-proof, however, which is why many people are doing pavilion roof structures, so they can enjoy the space in inclement weather or just escape the sun."
4. Fire features
A fire pit or fireplace can extend the use of the outdoor living space into the early spring and late fall months and give families and friends a place to gather. "Fire mesmerizes people," Pasquarello says. "If you ever look at people sitting around a campfire, they can sit around and say nothing and just stare in amazement at the fire burning. Fire features have become very highly sought-after options."
5. Health and wellness
A recent trend at hospitals and commercial buildings is to create an extensive rooftop or outdoor garden for calm contemplation and to reduce stress. Now similar areas are becoming part of home design. "Health and wellness is important to people, and not just being physically fit, but mentally fit as well," Pasquarello says. "These spaces create a more comfortable state of mind, and we achieve that by using certain types of plant material that appeal to the five senses, along with soothing audio through music or water features."
Elite Landscaping
8 Pineview Ave. | Berlin
(856) 753-1944
EliteLandscaping.com
Published (and copyrighted) in Suburban Family Magazine, Volume 10, Issue 2 (April 2019).
For more info on Suburban Family Magazine, click here.
For information about advertising in Suburban Family Magazine, click here.
To find out where to pick up your copy of Suburban Family Magazine, click here.