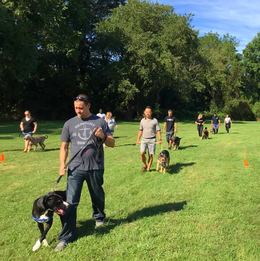 Top 5 Ways to With Your Dog Achieve Lifetime Success
Alpha & Omega Working Dogs will personalize your training package to address your individual concerns.
ALPHA & OMEGA WORKING DOGS WILL TRAIN YOUR DOG TO BE A POLITE, OBEDIENT FAMILY MEMBER THAT IS A JOY TO LIVE WITH.
Everyone loves being around a well-behaved dog that listens to commands and follows them happily. Sadly, most people think this can never happen with their beloved family pet. Alpha & Omega Working Dogs can turn your table chewer, counter surfer, jumper, barker or leash puller into that calm, happy and obedient dog you always dreamed of having.
As a high-quality, reputable dog training company, Alpha & Omega Working Dogs will personalize your training package to address your individual concerns. By educating you and your dog they will help you achieve the training goals and relationship you desire. They will let you know approximately how long this training will take, because all dogs and owners are unique. Alpha & Omega Working Dogs will work with you until you and your dog have mastered the basics and are ready to graduate to more advanced training.
1. START EARLY
A strong foundation is essential to creating a well-balanced, happy family dog. Alpha & Omega encourages all dogs, no matter the age, to start training as soon as possible. This provides the fundamental structure and guidance which helps you and your dog understand what behaviors are acceptable and, more importantly, what are not. Starting this process early ensures that your dog is confident in her place in the home, and develops much-needed trust between the dog and the family members.
2. CONSISTENCY
Simple mistakes like allowing your dog to jump on visitors occasionally, or allowing your dog to pull you on certain parts of your walks causes confusion for your dog. Dogs don't understand "sometimes" and "maybe"—they only understand "always" and "never." Setting proper boundaries and sticking to them will teach your dog exactly what you expect un- der every circumstance. At Alpha & Omega Working Dogs' Moorestown facility, they challenge your dog to react correctly even through distractions.
3. PROPER SOCIALIZATION
A dog that is properly socialized will be better prepared for all of life's challenges. Things like cars, vacuums, other dogs and people should not frighten your dog or cause him to become aggressive. Alpha & Omega strongly recommends their professionally staffed classes that introduce your dog to new environments, activities, sounds, and other dogs and people, instead of uncontrolled and potentially unsafe dog parks. At Alpha & Omega Working Dogs, safety and structure come first. They don't overwhelm your dog so socialization remains fun and free from any negative experiences.
4. READ YOUR DOG, SPEAK THE SAME LANGUAGE
Dogs are not humans; they don't get jealous or act out of revenge for something we said or did hours ago. They also speak a completely different language than we do. In order to communicate, you need to learn what your dog's body language is telling you. Alpha & Omega will teach you how to master "dog speak" so you can understand when your dog is not happy and how to safely react to and make appropriate changes to his behavior.
5. BUILD A LONG-TERM STRONG BOND
The most rewarding way to gain your dog's love and respect is through play and positive interaction. Your furry family member looks forward to sharing time with you every day. Through activities like training and playing, you can cement that bond that every dog craves. Take a few minutes every day to play fetch using a ball or Frisbee. Training your dog in short intervals during the day creates more than an obedient dog. It establishes confidence and trust, which further forms that relationship we all strive to have with our four-legged family members.
Alpha & Omega Working Dogs
876 N. Lenola Road
Building 3, Suite C
Moorestown | (856) 441-2425
AOWorkingDogs.com
Photography courtesy of Alpha & Omega Working Dogs.
Published (and copyrighted) in Suburban Family Magazine, Volume 10, Issue 2 (April 2019).
For more info on Suburban Family Magazine, click here.
For information about advertising in Suburban Family Magazine, click here.
To find out where to pick up your copy of Suburban Family Magazine, click here.