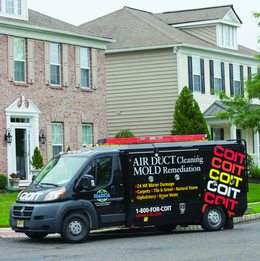 It's Everywhere
COIT Cleaning & Restoration advises on mold remediation and prevention.
MOLD! It's not the most exciting topic up for discussion, however maybe it should be because it's every- where. We've all seen it in one form or another or in several colors from orange, green to purple and slimy black spots on tile in the shower or fuzzy white patches in the basement. Mold can also enter your home from the outside through doorways, windows, vents and heating and air conditioning systems. Most of us know that mold grows in places where there is moisture present—leaky roofs, windows, pipes or if you've had a flood. However, it can also be found on paper and wood products and grow in carpet, fabric and upholstery.
What is mold anyway? It's a fungus made up of small organisms that thrives in moisture and reproduces in tiny spores that travel through the air. Whether you can see mold or not it emits a musty smell. Small amounts of mold spores are usually harmless, however if they are in damp areas of your home they can grow and begin releasing into the air you breathe. Mold can cause serious issues especially for allergy or asthma sufferers. You don't have to be allergic to molds to have it cause irritation to your eyes, skin, nose, throat and lungs.
COIT Cleaning and Restoration in Somerdale has been on the side of home and business owners in South Jersey in the fight against mold for over 20 years. "We step in and identify the areas of your home or business affected with mold and come up with a customized, detailed plan of action to decontaminate," says Bill White, restoration manager.
COIT follows industry recognized procedures to safely remove all mold and mold-contaminated surfaces. If furniture or other personal belongings have been affected, COIT take those items off-site for cleaning and decontamination. In the case of a flood or where moisture is constantly present COIT technicians create a detailed drying plan to safely reduce moisture to their predetermined levels. "We'll use dehumidifiers and air movers to continue the drying process until target equilibrium moisture content (EMC) has been reached," says White. Cleanup is a big part of the process with COIT. They pride themselves on restoring homes or businesses back to normal conditions. COIT uses a HEPA vacuum on all surfaces which can remove the tiniest of particles. If necessary, COIT will do a complete cleaning and sanitization of the air duct systems. Sanitizers, disinfectants and anti-microbial products are used to remove any possibility of residual mold. "We'll put back any flooring surfaces, complete painting where necessary and reinstall your furniture," says White.
MOLD PREVENTION TIPS
• Keep humidity levels as low as possible.
• Use exhaust fans that vent outside your home in the kitchen and bathroom to be sure your home has enough ventilation.
• Make sure your clothes dryer vents outside your home are working properly.
• Have your home or business cleaned and dried out within 24-48 hours after flooding.
• Clean bathrooms with mold-killing products.
COIT Cleaning and Restoration
Serving South Jersey
(856) 566-0700 | COIT.com
Published (and copyrighted) in Suburban Family Magazine, Volume 10, Issue 2 (April 2019).
For more info on Suburban Family Magazine, click here.
For information about advertising in Suburban Family Magazine, click here.
To find out where to pick up your copy of Suburban Family Magazine, click here.