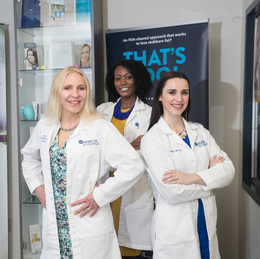 Radiant Results
The Warmuth Institute of Dermatology offers a wide variety of services and customized treatment plans for each patient.
THE WARMUTH INSTITUTE OF DERMATOLOGY STRIVES TO PROVIDE THE UTMOST CARE FOR ITS PATIENTS BY OFFERING THE MOST ADVANCED MODALITIES AND CUSTOM TREATMENT PLANS. Led by Dr. Ingrid Warmuth, medical director and board-certified dermatologist, she and her staff—including Lauren Hartman, certified physician assistant and Brittany Davis, certified physician assistant—create a peaceful and educational environment for their patients to revitalize their mind and body.
Body contouring methods at the Warmuth Institute of Dermatology include CoolSculpting, Ultrashape and VelaShape III. CoolSculpting is the only non-invasive, FDA-cleared treatment that uses cooling technology to eliminate and destroy stubborn fat.
"It is the most proven technology in the noninvasive, fat reduction market," says Dr. Warmuth. "This treatment delivers cooling technology to gently target fat cells under the skin without harming the surrounding tissues. Over the 90 days following treatment, your body processes those dead fat cells; this leaves behind a new and improved you."
Dr. Warmuth says this treatment is FDA cleared and has been proven to be safe and effective. Additionally, The Warmuth Institute of Dermatology is a CoolSculpting-certified practice, as both the staff and providers have attended and graduated CoolSculpting University.
Ultrashape uses ultrasound technology to eliminate fat in as little as three treatments. Velashape III utilizes radiofrequency technology to target stubborn cellulite and reduce the appearance of dimpling on the skin. All three treatments are comfortable and do not require downtime.
"They are all innovative and more importantly, effective," says Dr. Warmuth.
The Warmuth Institute of Dermatology offers free consultations to create a custom treatment plan for every patient. Results vary for every patient; eating a well-balanced diet and exercising is encouraged to see optimal results. Weight gain will prevent you from being able to appreciate your full results.
Benefits of body contouring include improved self-esteem, as well as motivating patients to live a more well-balanced lifestyle. Receiving treatment encourages patients to eat healthier as well as work out more consistently to see the best results for their body.
"All treatments are great for both men and women looking to feel good about themselves and experience a new and improved body," Dr. Warmuth says.
A new addition coming to the Warmuth Institute of Dermatology is platelet-rich plasma, also known as PRP therapy. Dr. Warmuth says it is a great option for full-face rejuvenation and for hair-loss restoration.
"It involves a three-step medical treatment in which an individual's blood is drawn, processed and then injected into the face or scalp," Dr. Warmuth explains. "Platelet rich plasma promotes healing, accelerates tissue healing and regeneration, and forms new cell growth. The benefits of facial treatments with PRP are vast, but the most beneficial aspects include reducing the appearance of scarring, fine lines and sun damage. This process ultimately stimulates new collagen, which leaves you with a glowing and more youthful complexion. Three treatments can be done four weeks apart. Over the next several months, the platelets will stimulate new cell growth and accentuate each patient's facial tone and appearance. For best results, maintaining treatments every three to six months is recommended.
"The primary drive of using PRP in hair restoration is to stimulate inactive hair follicles into an active growth period. As with facial rejuvenation, the hair restoration includes three treatments that can be done four weeks apart," Dr. Warmuth continues. "Maintenance for optimal results includes a treatment every six months. Hair loss improvement can be seen in as little as three to six months; patients may start to see the improvement of hair texture and thickness within the first few weeks after treatment. This innovative treatment will offer new alternatives for facial rejuvenation as well as hair growth. However, results will vary among patients."
The Warmuth Institute of Dermatology is excited to share its newest cosmetic modalities, which include eyelash extensions, eyelash lifts and eyelash tints. Eyelash extensions are semi-permanent enhancements in which one synthetic lash is individually applied to one of your natural lashes. Eyelash extensions can be customized to as natural or as full as you would like and last through a full growth cycle of natural eyelashes. This is typically around six weeks, although individual lash growth is variable. An eyelash refill is recommended every two to three weeks for optimal results.
Eyelash lift is a semi-permanent treatment since it is essentially a perm for your lashes. This procedure lifts and curls your lashes giving it an upward shape with a flattering curl. This treatment lasts up to six to eight weeks depending on an individual's eyelash growth cycle.
The eyelash tint deepens the color of lashes and brows by adding a special dye, and it can also be added to the eyelash lift treatment for a more dramatic effect. This is a great option for patients who have sensitive skin and adhesive allergies and cannot receive eyelash extensions.
All three modalities are completed in a serene environment and offer a relaxing atmosphere to enjoy the process of having your optimal, rejuvenation treatment performed.
The Warmuth Institute of Dermatology
Locations in Elmer, Salem and Swedesboro
(856) 358-1500
WarmuthInstitute.com
Photography by Tim Hawk
Published (and copyrighted) in Suburban Family Magazine, Volume 10, Issue 2 (April 2019).
For more info on Suburban Family Magazine, click here.
For information about advertising in Suburban Family Magazine, click here.
To find out where to pick up your copy of Suburban Family Magazine, click here.