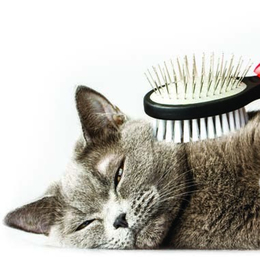 Everything Pets
Experts offer tips on all aspects of your pet's well-being, from vaccinations and grooming to training and healthy habits.
In today's families, pets are considered near and dear, even referred to as a sibling of human children. When it comes time to take that holiday family photo, pets are almost always included (and sometimes better behaved than the kids). They give us so much joy, and in return, owners want to make their life the best it can be with proper training, annual checkups, exercise and a fresh haircut every now and then. We asked professionals from all walks of the pet care industry for their tips on caring for our four-legged family members and here's what they had to say.
HEALTH CARE
Q: What shots does my pet need?
At Pennsauken Animal Hospital, we believe prevention is the best form of protection when it comes to common pet disease. Pet vaccinations are an important tool to prevent illness and are recommended for all dogs and cats, even the ones that are mostly indoors. Viruses and bacteria can be spread a variety of ways and there is no way to prevent transmission simply by keeping your pet inside. Puppies and kittens start their vaccines at eight weeks and get boosters at 12 and 16 weeks. Some vaccines provide coverage for one year while others provide it for three years. The veterinarian will discuss your pet's specific vaccinations at their annual visit but below are the vaccinations we recommend:
DOGS:
• Rabies
• DHPP (distemper, hepatitis, calicivirus, panleukopenia)
• Bordetella
• Leptospirosis
• Lyme
• Influenza
CATS:
• Rabies
• FVRCP (feline viral rhinotrachetitis, parainfluenza, parvovirus)
• FeLV (feline leukemia virus)
Gennifer Kelling, practice manager
Pennsauken Animal Hospital, Pennsauken
PennsaukenVet.com
Q: What can I expect at an annual check-up/wellness visit?
At this visit, doctors will discuss any questions or concerns that you have about your pet, perform a comprehensive physical exam and administer any recommended vaccinations that are due. Any concerning findings, such as dental disease, abnormal heart sounds or unusual growths will be discussed, as well as proper nutrition and preventative measures for your pet's current stage of life. A fecal exam to check for gastrointestinal parasites and a blood test that checks for heartworm and the most common tick-borne diseases are also recommended annually. For senior pets, a more comprehensive bloodwork may be suggested so that doctors can detect any disease processes in their early stages and can then initiate treatments with more success and less expense.
Dr. Andrew Massaro
Village Vet, Medford
VillageVetMedfordNJ.com
Q: How does walking benefit my dog?
Walking your dog is important for his or her overall health and well-being. Not only does it provide physical exercise but also mental stimulation. Healthy adult dogs will benefit from at least two 15- to 30 minute walks a day. Keep in mind, every dog is different and owners should consult with their veterinarian if there are age or health concerns. During walks, the safest leash option for your dog is a 46-foot standard leash. Don't forget to bring water on extended walks and in temperatures exceeding 80 degrees. In the summer months, be sure to feel the temperature of walkways; if it is too hot for your hand, it is too hot for their feet.
Danielle Pellecchia, owner
Dee's Pet Service
DeesPetService@gmail.com
GROOMING
Q: What should I expect from a groomer?
Dog owners should expect a good groomer to greet them and their pet with a warm welcome. Also they should be knowledgeable to assess your pet's grooming needs. Here at Floss' we go a step further; we use a blueberry facial to leave your pet's skin and coat looking and smelling fresh. For a deeper clean we offer our micro bubble bath, which works especially well for pets with skin issues. Lastly, your pet's finished look will be topped off with bows or a bandana and a spritz of cologne.
Floss Gerst, owner
Floss' Grooming, Somerdale
FlossGrooming.com
Q: How often does my dog need to be groomed?
All dogs should be groomed every four to six weeks depending on hair length, even dogs with short hair. A bath and brush-out not only keeps your dog clean, but prevents skin and hair follicle problems, along with preventing hair matting for dogs with longer hair. Regular grooming will stimulate new hair growth and better blood circulation to the skin, along with keeping your dog healthy, happy and smelling amazing.
Robin Tenuto, groomer
Camp Bow Wow, Cherry Hill
CampBowWow.com
Q: How should I maintain (bathing/cleaning) my pet between professional groomings?
Our first suggestion for maintaining a pet's groomed coat starts at home with brushing and then combing. This helps our fur babies get used to being handled, and learning that brushing and combing is a good thing. We al- ways tell pet owners if you want to maintain a longer haircut, maintenance is the key. We recommend bringing in your pet every five to six weeks for a full grooming service and also a bath, brush out and nail trim in between that appointment. Nail trimming is a very important step between grooming. It helps to keep the quick (vein) in the nail very short.
Millie Santarpio, owner
Millie's Jiggles and Wiggles Pet Grooming, Voorhees
JigglesWiggles.com
BEHAVIOR
Q: What are the qualities of a good dog trainer?
A good dog trainer will personalize your training package to address your concerns and help you and your dog understand proper behaviors. Your dog should be taught simple tasks first, like how to sit, down, place and come to you on command.
A professional dog trainer will let you know approximately how long this training will take, because all dogs and owners are unique. Your trainer should be willing to work with you until you and your dog have learned the basics and are ready to graduate to more advanced training, if that is what you want.
Karli Harris, owner, business operations manager
Alpha & Omega Working Dogs, Moorestown
AOWorkingDogs.com
Q: How will socialization help my dog through- out its life?
It is critical within the first 18 months to properly socialize puppies, introducing them to many different stimuli and environments to avoid developing phobias later in life. Proper socialization includes interacting with dogs ranging in both size and age. This helps ensure each puppy will become well adapted as they grow older as well as help eliminate future fear, aggression and other neurotic behaviors. Older dogs exhibiting fear or aggression can be rehabilitated through proper behavior modification training and socialization.
Nicole Buck, owner
Buck's Dog Training, Mantua
BucksDogTraining.com
Q: Which housetraining methods do you recommend for success?
• Never punish by pointing, hollering, smacking or rubbing noses in poop or pee.
• Supervise your dog and keep him with you in the house. If you cannot, put him in his crate with some toys.
• Feed your dog twice a day.
• Keep a log that lists the day and time your dog eliminates or has an accident.
• Take dog out on a leash and walk to an appropriate spot.
• Give your dog a special treat within a half-second.
• If your dog gets distracted, put him in his crate with a positive attitude. Take him back out in 15 minutes.
Renee Premaza, owner
Jersey Dog Trainer, Serving South Jersey
JerseyDogTrainer.com
BOARDING
Q: What are the different options for boarding my pet?
The canine services industry has undergone a massive transformation over the last decade. In traditional boarding, usually a pay-to-play option, dogs typically have an indoor/outdoor run of the facility. Open play is more like doggie daycare and is ideal for the dog who has maintained its social skills. Veterinary clinics are great if you have a medically needy or senior dog. An in-home service should be used with a reliable company. Relying on a one-person private operation poses insurance risks and puts all your eggs in one basket. The "at their home" option has gained popularity. Think Airbnb for dogs. While there are some great caregivers operating in their homes, dog owners should do research to be sure they are getting quality, reliable service.
Pat Quinn, owner
Champ's Dog House, Medford
ChampsDogHouse.com
Q: What services can help me feel better about leaving my pet?
The biggest concern a pet parent has when they're away is that their dog is in a safe and happy environment. Dogs should have the ability to play in a social environment under supervision. A web cam can provide the chance for owners to check in on pets during the day. Pets staying overnight should have their own "cabin" where they can eat and sleep comfortably. Prices should be all inclusive, without extra charges for feeding, giving treats or medications.
Heidi Duffy, camp director
Camp Bow Wow, Cherry Hill
CampBowWow.com
Published (and copyrighted) in Suburban Family Magazine, Volume 10, Issue 2 (April 2019).
For more info on Suburban Family Magazine, click here.
For information about advertising in Suburban Family Magazine, click here.
To find out where to pick up your copy of Suburban Family Magazine, click here.