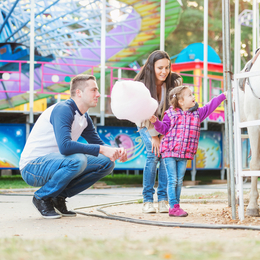 Family Bulletin
April 2019
COMMUNITY CONNECTION
News from around South Jersey
By Sarahjane Massaud
The Burlington County Sheriff's Department will be on high alert for motorists distracted by their handheld devices. Over 3,000 people were killed in distracted driving accidents in 2016 alone. With New Jersey being one of four states that receives federal grant funding, local law enforcement and the Sheriff's Department will be working in tandem to keep drivers' eyes off their phones and on the roads.
Eight Washington Township schools are looking at a possible $3.2 million floor replacement project in school gyms due to mercury levels in the rubber flooring. Because the weather will be getting warmer and the heat's effect on mercury levels, school officials decided to relocate before- and after-school programs immediately.
Next Mount Laurel Zoning Board Meeting: May 1, 7 p.m. at the Municipal Court Room
Next Moorestown Planning Board Meeting: May 9, 7:30 p.m. at the Council Chambers
Next Cherry Hill Township Council Meeting: May 13, 7:30 p.m. at the N. John Amato Council Chambers, Room 208
School Dates
May 4 SAT Testing, Lenape, Shawnee and Cherokee, 8 a.m.
May 17 Moorestown Teacher in Service/Early Dismissal
May 23 Washington Township Early Dismissal/Senior Prom
May 24 Washington Township Memorial Day Break, School Closed
May 27 Memorial Day, All Schools Closed
May 28 Evesham Township Teacher-in-Service, Two-Hour Delayed Opening
Police Blotter
By Sarahjane Massaud
A 19-year-old babysitter was held at gunpoint in Medford by a 24-year-old Philadelphia man. The man allegedly came to the front door armed, demanding the young woman tell him where the homeowners keep their money. The man was taken into custody for numerous offenses, and the babysitter and 2-year-old child were left unharmed.
A Moorestown resident and owner of Italian restaurant Marco Polo in Elkins Park, Pa., is facing federal court charges after being accused of failing to collect federal taxes for his workers. The owner has allegedly been paying employees some or all of their pay in cash and faces up to five years in federal prison.
A wildfire consumed more than 11,000 acres of Penn State Forest in Burlington County. Investigators concluded human activity was the cause, but haven't yet determined whether it was intentional.
Bulletin Board
Updates and announcements about your local schools
By Sarahjane Massaud
Evesham Township's Kids Rule event helps give children a better idea of the ins and outs of running the school district. Four middle school students from the township spent a day with Evesham Superintendent John Scavelli. From shadowing Scavelli in meetings to visiting classrooms, it was another successful year for the annual event.
The Lenape Regional High School District along with six K-8 school districts in the area will lose about $24 million in school funding over the next seven years. Because of the upcoming reductions, academic programming, social and emotional learning and support, personnel and school facilities are at risk of being altered.
Haddonfield Public Schools will be considering a new block system structure for student schedules. The principals hope this system will allow students more time to learn from the district's new mission statement for a more inclusive and comprehensive education.
Roster Beat
Team, player and coach news
by Matt Cosentino
For the first time since the early 1990s, the vaunted Moorestown girls lacrosse team had a new head coach on the sidelines when it opened the season on March 27 against Ocean City. Colleen Hancox, a 2002 Moorestown graduate, replaced the legendary Deanna Knobloch following her retirement last year. The Quakers gave Hancox a victorious debut as they defeated the Red Raiders, 19-11.
Ryan D'Imperio and Jesse Cooper, former teammates on the Washington Township football team and now members of the coaching staff, were among 13 new inductees to the Gloucester County Sports Hall of Fame during its annual ceremony in March. Gary Fauntleroy, a standout running back at Kingsway in the 1990s was also inducted.
Jason Speller, the new head coach of the Cherry Hill East baseball team, picked up his first victory with the Cougars as they defeated Cherokee, 3-1, on Opening Day. Speller, who replaced longtime coach Erik Radbill, helped the Cougars start the season with four wins in four games.
Sister schools Lenape, Shawnee, Cherokee and Seneca kicked off their first official varsity seasons in girls golf in April.
Published (and copyrighted) in Suburban Family Magazine, Volume 10, Issue 2 (April 2019).
For more info on Suburban Family Magazine, click here.
For information about advertising in Suburban Family Magazine, click here.
To find out where to pick up your copy of Suburban Family Magazine, click here.