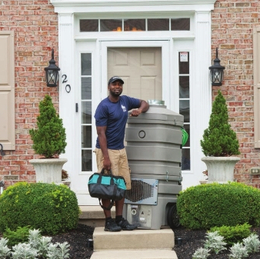 COIT
Why professional cleaning matters for air ducts and dryer vents.
INDOOR AIR QUALITY IS NOT ALWAYS TOP OF MIND FOR HOMEOWNERS; however it is one of the main culprits in homes for the cause of allergens. According to Lori Topiel, owner of COIT Cleaning and Restoration of South Jersey, bacteria, dust, pet dander, pollen, lint and other potentially harmful debris can collect and live in your home's air ducts.
"The cool or warm air blowing out from the vents all over your home is coming from those air ducts and could be compromising your home's air quality," she says. "The most important reason for having your home's air ducts cleaned is that it can help improve the air you breathe in your home and help reduce symptoms of asthma, allergies, headaches and other respiratory conditions."
Energy efficiency is another reason to have your air ducts cleaned regularly by professionals. When your HVAC system is clean it also runs more efficiently, saving you money on your energy bills. The same is true for dryer vents—an area often overlooked by homeowners. "Your clothes will dry in less time and the dryer will run less often," says Topiel.
COIT cleans approximately 10,000 clothes dryer vents each year. In a typical home with average clothes dryer use, approximately a half pound of lint is removed after a cleaning. If you find that your clothes are taking too long to dry, lint is falling out of the dryer when removing clothes or that the exterior flap barely opens when the dryer is running, the dryer vent is likely clogged.
"But perhaps the most important reason for cleaning clothes dryer vents is to prevent housfires," says Topiel. Approximately 15,000 home fires occur each year in the United States as a result of clothes dryer fires. In many cases the dryer fire spreads and damages other parts of the home or can potentially cause a total loss of the home. "Peace of mind is an essential reason to have your home's air ducts and clothes dryer vents cleaned by a professional," she adds.
"You cannot control the air quality outside your home the way you may want, however you can take control to breathe cleaner, healthier air inside your home by ensuring the air ducts are clean."
COIT Cleaning and Restoration of South Jersey
Serving South Jersey
(856) 566-0700
COIT.com
Published (and copyrighted) in Suburban Family Magazine, Volume 10, Issue 1 (March 2019).
For more info on Suburban Family Magazine, click here.
For information about advertising in Suburban Family Magazine, click here.
To find out where to pick up your copy of Suburban Family Magazine, click here.