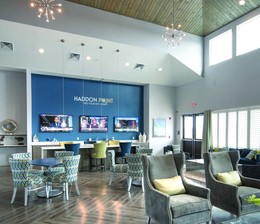 A Brand-New Community
Haddon Point Apartments are South Jersey's newest luxury apartments, located at the site of the Old Pennsauken Mart.
HADDON POINT APARTMENTS ARE THE NEWEST LUXURY APARTMENTS IN SOUTH JERSEY, but Tom Juliano, president and CEO of Delco Development who was the visionary for this redevelopment project, says Haddon Point is not just apartments— it's a community.
"The community is like this little island, but an island that is within minutes of everything," Juliano says. "It's 15 minutes from downtown Philly and just five minutes from the Cherry Hill Mall. My goal was to create a community; create a lifestyle."
Conveniently located on Routes 130 and 73 in Pennsauken Township, Haddon Point Apartments is located at the former site of the Pennsauken Mart. To create a new community, Delco Development added more buildings and created space for residents to interact with one another. The community clubhouse features a resort-style pool and a patio area with an outdoor grill and fire pits. In the future, they will have a walking/jogging path around the property, as well as a dog park.
"We have an amenities building that consists of a game room, 24hour fitness center, a yoga room, and a resort-style pool," adds Nina Beacher, director of residential development for Delco Development. "We are hosting monthly events for our residents in the clubhouse to enhance the community feel. We just did Wine Down Wednesdays the last two months and with warmer weather coming, we'll have nights where we grill outside. We're working on cross-marketing events with Double Nickel Brewery across the street, as well as Macy's to host a shopping experience at the clubhouse. Since Haddon Point is a pet-friendly atmosphere, we are looking to partner with a local animal shelter for an adoption day. Overall, we're trying to create a lifestyle for people at Haddon Point."
Haddon Point Apartments consist of one-bedroom, one-bedroom and a den, and two-bedroom floor plans, with the prices ranging from $1,490 to $1,905. That includes basic WiFi and a trash valet service, Beacher says. Some of the amenities in the luxury apartments include a ceramic tile backsplash in all kitchens, quartz countertops and premium lighting packages.
Haddon Point also has the most technologically advanced features that are hard to find anywhere else. "We have state-of-the-art digital locks that allow residents to let someone in via their phone. Residents can control their heating and air with the phone," Juliano adds. "The list goes on."
Delco Development specializes in commercial redevelopment and building hotels. The hotel management company wanted to bring the hospitality of their hotel division to residential, offering residents the level of customer service they can expect from Delco's award-winning hotel portfolio. Offering luxury amenities and service is what sets Haddon Point apart from other apartmentstyle communities in this area.
"All of this was second nature to us due to our involvement in the hospitality business," Juliano says. "The only difference with Haddon Point is that we don't have the franchisors like Marriott or Hilton telling us what to provide and what to do. We were able to use our own imagination and create this awesome experience for our tenants. That is the coolest part for me. "Apartments are now a lifestyle choice. It didn't always used to be that way. And the new products being offered prove how far that industry has come."
Delco Development is in the first phase of this residential project with 120 apartments now available. Currently, three buildings are occupied by residents and two buildings are under construction. They are breaking ground on additional buildings in the near future with elevators. Ryan Homes is also breaking ground onsite in early spring to build townhomes.
The entirety of this project is exciting for not only Delco Development, but Pennsauken Township and other government officials who helped get this off the ground.
"This project would not have been possible without the township and some other government agencies working with us," Juliano says. "The site is the poster child of what a successful redevelopment is supposed to look like. I love redevelopment—taking an eyesore and turning it into something that everyone can be proud of."
Juliano is especially proud of redeveloping a historic site where he built lasting, childhood memories. "I grew up in South Jersey and my grandparents lived in Maple Shade," Juliano says. "My grandfather used to take me to get pretzels at the Mart. I saw Rocky IV at the Mart. It makes me proud that we are able to create something that everyone in the township can be excited about on such an iconic site in South Jersey."
Sales office hours are Monday through Friday 10 a.m.–6 p.m. and Saturday and Sunday, 10 a.m.–5 p.m. For more information about Haddon Point Apartments, please visit HaddonPoint.com.
HADDON POINT APARTMENTS
2100 Haddonfield Road | Pennsauken Township | (856) 671-1276 | HaddonPoint.com
Photography by GARY MATTIE
Published (and copyrighted) in Suburban Family Magazine, Volume 10, Issue 1 (March 2019).
For more info on Suburban Family Magazine, click here.
For information about advertising in Suburban Family Magazine, click here.
To find out where to pick up your copy of Suburban Family Magazine, click here.