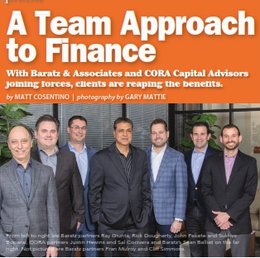 A Team Approach to Finance
With Baratz & Associates and CORA Capital Advisors joining forces, clients are reaping the benefits.
TEAMWORK IS OFTEN CITED AS THE KEY FACTOR IN ANY MAJOR SUCCESS STORY, whether it is a Super Bowl champion, a leading health care organization or even a thriving marriage.
Baratz & Associates and CORA Capital Advisors—two South Jersey firms with decades of experience in the financial services realm—have both accomplished a great deal on their own. But when the opportunity arose to join forces, it made perfect sense to become a team and find out what they could achieve together.
With Baratz & Associates specializing in accounting and tax services and CORA focused on long-term financial planning, the clients of both companies get the best of both worlds. "The tax code is very complex and there are a number of moving parts you have to consider when building and executing a financial plan, an investment plan and a withdrawal strategy in retirement," says Salvatore J. Cocivera, president of CORA Capital Advisors. "Having the tax team work in unison with the financial planning and investment group gives the client a big picture experience. We are still two entities that can work together or separately, and that makes us extremely unique in South Jersey."
With both companies now under one roof, clients can save valuable time by addressing all of their financial needs at the same location. Sean Balliet, a CPA/CFP at Baratz, notes a recent meeting he and Cocivera had in which a mutual client was able to discuss his 2018 tax return, ideas for 2019 and investment goals.
"That's what we try to do for all of our clients," Balliet says. "We can be everything in the financial world for them and offer every available service. If they feel comfortable and trust us, they know they don't have to go anywhere else."
In creating a forward-thinking model for financial services, Baratz and CORA are able to assist a wide variety of clients at different stages of their lives. But their expertise is particularly valuable for owners of closely held businesses, self-employed professionals like attorneys or physicians or high net worth executives from Fortune 500 companies.
"When they're successful in their business and create wealth, there are significant strategic and planning opportunities at that level that we can certainly help them with," says Raymond M. Giunta, managing partner of Baratz & Associates. "Working together, we can
provide that for them." No matter who they are working with, the leaders of Baratz and CORA share another important trait that made their alignment logical—a passion for the work.
"We love what we do and that comes across to our clients," Cocivera says. "It's a lot of fun to come in and team with professionals to help clients get through different stages of life and see them accomplish their goals and objectives."
5 reasons to choose Baratz & Associates/CORA apital Advisors
1. One-stop shop
Time is a resource for successful business owners and executives, and allowing their accountants and advisors to work collaboratively can save both time and money. With experienced professionals in all aspects of financial services, every situation that arises can be handled internally.
2. Professionals you can trust
Integrity has been at the foundation of both companies' leadership for decades. The CPA code of ethics dictates they always do what's in the best interest of the client, and CORA's financial advisors share that philosophy. "Not only do we have responsibility to act as the trusted advisor on the CPA side but also embody a fiduciary responsibility in financial planning. So, we always have to put the client first in anything we do," Giunta says. "Clients realize we're not looking for a product sale; we're really trying to give them peace of mind."
3. A comfortable retirement
The No. 1 concern people have about retirement is outliving their money, but your CPA and financial advisor can alleviate that stress by helping you anticipate future needs. Sound investments, utilization of capital assets and strategies for health care are all pieces of the plan. "In the next year, we will have three clients reach their 100th birthday," Cocivera says. "The idea of living long is not a pipe dream anymore—it's a reality."
4. Focus on small businesses
While small business owners are often overlooked in today's economy, they receive the attention they deserve here. With professionals looking out for their financial future, they are able to focus on the day-to-day operations of their business. "We focus on the big picture—from looking to grow their top-line revenue to helping with their financial planning," Balliet says.
5. Stay local
Baratz & Associates has been serving local clients since 1982, and while the company has grown since then—includ- ing its alignment with CORA—it continues to maintain the personal service and attention to detail it was founded on every day.
Baratz & Associates, PA
Marlton | (856) 985-5688 | BaratzCPA.com
CORA Capital Advisors, LLC
Marlton | (856) 513-8600 | CORACap.com
Photography by GARY MATTIE
Published (and copyrighted) in Suburban Family Magazine, Volume 10, Issue 1 (March 2019).
For more info on Suburban Family Magazine, click here.
For information about advertising in Suburban Family Magazine, click here.
To find out where to pick up your copy of Suburban Family Magazine, click here.