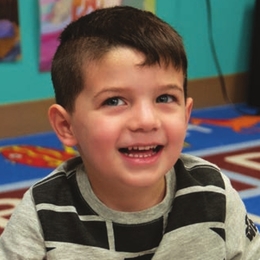 Where Every Child is Accepted
Little Ambassadors Preschool offers a Christ-centered environment with a strong focus on academics and nurturing staff.
DECIDING WHAT PRESCHOOL YOUR CHILD SHOULD ATTEND IS ONE OF THE MOST IMPORTANT DECISIONS YOU MAKE EARLY ON AS A PARENT. Getting the best early childhood education is critical to your child's development and preparation for kindergarten and grade school. You want a safe facility with a strong academic program and a caring staff, not to mention the option for full-day preschool for working parents. Little Ambassadors Preschool in Glassboro, serving Gloucester County and South Jersey for nearly 50 years, offers all that and much more—it is a Christian preschool inside Calvary Hill Church, offering a Christ-centered environment.
"Our Christian background is part of our distinction. Kids come here and they experience the love of Christ," says director Kathy Lamastra, who's been with the school for 17 years. "What we provide in a Christian environment is love and acceptance. We focus on character development. Everything we teach benefits their child."
And their school is open to every child—coming from a Christian background is not mandatory. "Anyone is welcome to enroll at Little Ambassadors," Lamastra says. "They don't have to be a church family. They don't even have to be a Christian family; all are welcome."
The caring and welcoming atmosphere Lamastra and her staff provide is second to none, as they make sure each child knows they are accepted and loved.
"We have staff that is invested in nurturing; [children] are accepted and cared for. We focus on academics—we have a very strong academic program—but also want to provide a safe place where kids can grow and develop, feel loved and secure," she says.
They use phonics-based programs, including the ABeka language arts curriculum which focuses on reading. "The idea is that they graduate preschool with a strong foundation of reading; we have 4-year-olds reading books the second half of the year," Lamastra says. "If you can learn to read, you can learn anything. This foundation helps you throughout your entire educational career."
Small class sizes—the biggest class size is 15 to 16 students—mean individualized attention for each child, and they provide hands-on learning.
"Everything we do is hands-on, or active hands-on learning we call it," Lamastra says. "Kids love going to school and don't want to go home at the end of the day. It's a great environment for them, and the smaller class size helps. We minister to the whole child, not just academically. Spiritual character development is very strong here.
"All of our teachers are certified to teach in New Jersey or at least have a degree in early education. Some of our aides are nearby Rowan University students who are majoring in education."
There is a full gymnasium, which Lamastra says is great for the winter months for the students to have fun and play, and security in the building.
And if you need more reasons to consider Little Ambassadors Preschool, it offers convenience and reasonable pricing. They are open 6:30 a.m. to 6 p.m. and operate 12 months of the year; they are only closed the week between Christmas and New Year's. It costs $175 per week with no charge for extended hours.
"We are located right off Route 55 and convenient for people going to work," Lamastra says. "You don't have to live near here but passing through, it's a good drop-off point. We have students from Camden and Cumberland counties, as well as Atlantic and Salem counties."
At Little Ambassadors Preschool, your child is in the best possible hands with those who want them to grow into strong, loving individuals who are excited about learning and growing. Lamastra sees firsthand every day the joy and excitement in each child's face and is grateful to instill so much joy into their lives.
"I just love to see the kids, their smiles are amazing. They can light up the day," Lamastra says. "It's neat to be around them all because they are full of life, curious to learn and excited. I get to watch them grow and develop."
Little Ambassadors Preschool
535 Mullica Hill Road | Glassboro
(856) 881-3669, ext. 102
Facebook.com/LittleAmbassadorsPreschool
Published (and copyrighted) in Suburban Family Magazine, Volume 9, Issue 12 (February 2019).
For more info on Suburban Family Magazine, click here.
For information about advertising in Suburban Family Magazine, click here.
To find out where to pick up your copy of Suburban Family Magazine, click here.