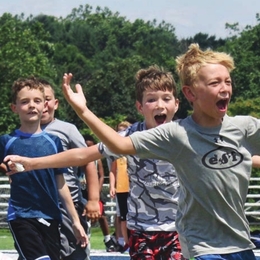 Building Character Muscles
ESF Camps & Experiences adds an exclusive partnership with Under Armour to its cutting-edge summer programs.
When a camp puts the words "Education, Sports and Fun" into its name, you can count on every program fulfilling those qualities. For 37 years, ESF Camps & Experiences has been creating summers filled with programs for kids, ages 315 that provide opportunities to explore different interests, think creatively and develop character traits they will carry into adulthood. A summer at ESF feeds passions and powers potential.
Michael Rouse, executive director and co-founder of ESF, says the camp provides a safe space for children to have fun while challenging themselves. "Summer represents a season of hope," says Rouse. "ESF is a place where kids develop friendships, teamwork skills and independence, and find new passions in an environment without a scorecard. We're giving kids permission to be themselves, free from expectations."
Over the years, ESF has created exclusive partnerships with organizations such as the Philadelphia Phillies, Philadelphia Union, and new for this summer, the Philadelphia 76ers. Additional programming partners include The Franklin Institute, Philadelphia Zoo, Jack Welch Management Institute and Vetri Community Partnership. These programs give campers authentic, hands-on experience with educators and coaches from these organizations, helping them dive deeper into their interests.
"These partnerships are special to us and something we're very proud of," says Rick Jacobs, director of business development. "We're connecting these professionals and experts to our campers. Instead of us going to them, we bring them to us, so no matter a child's age or interest, we'll likely have something to inspire them to learn."
Summer 2019 will see the launch of ESF's newest collaboration, the SportsLab with Under Armour—a reimagining of ESF's multi-sports camp, that has been running since 1989. SportsLab will allow campers, ages 614, to more fully explore a range of sports, taught by coaches, former and current athletes, and educators. ESF staff will be certified in the UA Training Methodology and will deliver this exclusive, one-of-a kind program, built on principles and backed by science, to campers. The partnership has been three years in the making and will feature the same platform used by Under Armour in its West Coast innovation hub, where high-level athletes are taught best practices not only for performance on the court or field, but with sleeping, hydration, nutrition, screen time, stretching and more.
"The same best practices for professionals are what we're designing for youth," says Rouse. "We've been working with one of the most renowned sports psychologists, Dr. Jim Loehr, who has helped some of the world's greatest athletes build what are called 'character muscles' to help them be the best versions of themselves. This methodology helps build a better human being, which in turn creates a better athlete."
Campers will be exposed to top thought leaders in the world of human performance and sports, as well as coaches from different levels of competition, former pro athletes and more, who will provide tips and recommendations through guest speaking events.
Throughout the program, ESF's core character virtues are reinforced. "In order for an athlete to get stronger, they must not only develop physically, but mentally and emotionally, according to Loehr. People must be resilient and grateful, practice kindness, and flex those character muscles," says Jacobs.
"Whether we have your child for a couple of weeks or the entire summer, there is nothing we take more seriously than their safety and security," say Jacobs. ESF's safety record is impeccable, adds Rouse, and is reinforced by the adult staff comprised of teachers, graduate students, coaches and others who all have experience working with children professionally. "The ESF difference is in our staff and he people," concludes Jacobs.
ESF's 8 Character Virtues
Gratitude
Respect
Kindness
Positivity
Trustworthiness
Effort
Resiliency
Community
DID YOU KNOW?
ESF offers a wide variety of Camps at William Allen Middle School including:
• Mini Camp, Age 3
• Day Camp, Rising Prek-3rd Grades
• Sports Lab, Rising 1st – 9th Grades
• Senior Camp, Rising 4th – 10th Grades
• Tennis Camp, Rising 1st – 10th Grades
• Specialty and Technology Camps, Rising K - 8th Grades
SportsLab Weekly Sports
CORE SPORTS
Baseball
Basketball
Soccer
Lacrosse
Flag Football
CHOICE SPORTS
European Team
Handball
Street/Floor Hockey
Daily Swimming
ESF Camps & Experiences
Located at: William Allen Middle School, 801 N. Stanwick Road, Moorestown, N.J., (856) 235-5300, ESFCamps.com/Moorestown
Published (and copyrighted) in Suburban Family Magazine, Volume 9, Issue 12 (February 2019).
For more info on Suburban Family Magazine, click here.
For information about advertising in Suburban Family Magazine, click here.
To find out where to pick up your copy of Suburban Family Magazine, click here.