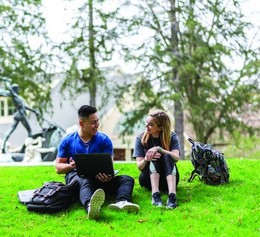 Careers on the Rise
Specific fields are growing in popularity as the new generation makes its way into the workforce.
THE NEWEST GENERATION OF EMPLOYEES IS STEPPING FOOT INTO THEIR CAREERS AND CHANGING THE DAY-TO-DAY OFFICE ATMOSPHERE. For the first time in about 10 years, the workforce is making way for a new generation, Generation Z, who were born after 1996. Unlike any of the generations before them, many Gen Zers grew up on the latest technology such as smart phones and want to be connected with not only their friends and family, but their employer.
Before the next generation hits their career, they set the groundwork in their studies at college and Georgian Court University is at the forefront of universities in the country offering unique programs— and values—that students won't be able to receive anywhere else.
Criminal Justice
In New Jersey, one growing field in particular is criminal justice, and Georgian Court offers students a program that will prepare them for an array of careers within the legal profession, law enforcement or international areas of work. Anna King, Ph.D., associate professor and chair of the department of criminal justice, anthropology, sociology, and human rights says this area of study is growing because students "want to do meaningful work and they want to make a difference."
At this age, students are more cognizant of global context, whether it's in terms of threats such as cyber crime, terrorism or human rights such as genocide and migration. Criminal justice allows students to explore these aspects of society.
"Students are more savvy today, better critical thinkers and they realize how much of what we do (programs, policies, practices) in criminal justice are not based on evidence," Dr. King says. "They want to make it better."
Health Profession Studies
Another emerging area of study is health profession studies, which is geared toward students who want to work in health care but not in the clinical sector. Careers in this field provide administrative and supportive options for students who want to help people but don't see themselves as a doctor or nurse. Carolyn Bergman, Ph.D., associate professor of biology and interim director of the health sciences and health profession studies programs, says graduates of this program will ultimately make life easier for the patient. For example, if a patient needs to get imaging and see a couple different specialists, having one person to coordinate and make sure the process is done in the correct order so that each specialist receives the data and images required for a diagnosis makes the process seamless.
"Having one person whose main focus is making the process go smoothly for a patient ends up being more cost effective and a more efficient use for all of those medical resources, which makes the patient feel less overwhelmed and less vulnerable. As we're recognizing how important that is, there are more and more positions in hospitals," Dr. Bergman says.
Integrative Health
The holistic health studies program at Georgian Court is another practice gaining popularity. Students get the opportunity to learn how to treat the body as a whole through courses such as Energy Therapy, Native American Medicine, Integrative Women's Health, and Mindfulness for Life that are only offered at a few programs in the nation.
"The increased popularity of the holistic and integrative health program is a direct reflection of the increasing interest and use of complementary and integrative health practices among the general public in this country," says Sachiko Komagata, Ph.D., chair and associate professor of the Department of Holistic Health and Exercise Science. "More people are looking into natural, cost-conscious, environmentally conscious, and side-effect-free ways of living, which translates into being well with optimal quality of life throughout our lifespan."
Psychology
Psychology programs have been growing in popularity since the 1990s, but there's a focal point now on multicultural and social justice in psychology that students are gravitating toward. "There's a big shift, it's like a paradigm shift that's happened over the last several years where we're definitely understanding that there's a necessity to have inclusive ideas wrapped around psychology," says Sherritta Hughes, Ph.D., assistant professor of psychology.
"When someone majors in psychology, it prepares them for a wide range of opportunities in the social sciences. … With the psych degree you can go into research; you're definitely more prepared to enter a doctoral program to become a psychologist," Dr. Hughes says. "You can work as a paraprofessional in mental health facilities like inpatient institutions for people with mental illness who are being hospitalized. [Students] are really preparing themselves for case management when it comes to an aspect of advocacy; working with diverse cultures and multiculturalism—those are some of our major forefronts in psychology and counseling right now."
Social Work
Out of all the occupations expected to grow, social work will be the fastest growing due in part to the variety of career paths. "Social workers can work within a macro setting for example creating policy, working in government, pursuing political office or serving as organizational leaders and administrators," says Megan Callahan Sherman, Ph.D., chair and assistant professor of social work. "Social workers also work on a more micro level. Here, they work with individuals, groups, families and communities. Social workers may serve as clinicians, community organizers, political activists and resource brokers for marginalized individuals."
At Georgian Court, the social work program speaks to the university's core values including commitment to service, social justice, dignity and worth of the individual. Of the several reasons Dr. Sherman loves Georgian Court, the one that stands out is how well the values of the school align with the convictions of social work practice.
Georgian Court University
Lakewood | (732) 987-2700 | georgian.edu
Published (and copyrighted) in Suburban Family Magazine, Volume 9, Issue 12 (February 2019).
For more info on Suburban Family Magazine, click here.
For information about advertising in Suburban Family Magazine, click here.
To find out where to pick up your copy of Suburban Family Magazine, click here.