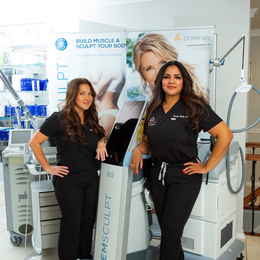 Top 5 Ways to Look and Feel Younger
Dr. Pooja Malik is a board-certified, outstanding physician, but Dr. Malik's skills extend beyond traditional medicine to include a special interest in medical aesthetics.
LET'S BE HONEST, most people don't find laugh lines too funny. A lifetime of emotions whether laughing, crying, smiling and even anger can leave their evidence behind on our faces. However, those lines can be erased and Malik Medical Aesthetics will tell you how they can help you look as young as you feel. Dr. Pooja Malik is a board-certified, outstanding physician, but Dr. Malik's skills extend beyond traditional medicine to include a special interest in medical aesthetics.
Dr. Malik is a member of the International Association for Physicians in Aesthetic Medicine, the American Academy of Cosmetic Family Medicine, associate member of the American Academy of Cosmetic Surgery, the Botox Cosmetic Physicians Network and the American Society of Laser Medicine Surgery. She has been extensively trained in the aesthetic use of lasers for hair and vein removal, wrinkle/sun and age spot removal as well as laser lipolysis liposuction. She's also had extensive training in Botox cosmetic and dermal fillers and facial fat transfer. Most recently, Dr. Malik has become a fellow in anti-aging, regenerative and functional medicine which is affiliated with the American Academy of Anti-Aging. She is committed to helping patients address their specific skin concerns with safe and effective procedures. Her quality of care is uncompromising and equaled only by her compassionate demeanor and bedside manner. Dr. Malik offers the top five ways clients can look and feel younger.
1. Laugh lines and wrinkles. Decades of emotions show on your face. Years of laughing, smiling and even surprises can result in wrinkles, making you look years older. Malik Medical Aesthetics will help with those issues and make you look and feel your best. The practice offers Botox and Dysport cosmetic treatments to reduce the appearance of lines and wrinkles. A few strategically placed Botox injections can minimize the appearance of crow's feet, frown lines and other annoying wrinkles around your eyes and forehead. Dysport is another option. As we age, facial muscles have stretched, resulting in the displeasing reality. But, thanks to today's technology, it can significantly reduce their appearance on your face. With Dysport for injection treatment, you will be able to see a visible improvement to the wrinkles on your face—and you'll have smoother skin for up to four months.
2. Volume and hydration for your skin. Over time, the natural volume of our youthful skin starts to lose its luster and fullness. But, Malik Medical Aesthetics can help you get back that youthful volume with hyaluronic acid (HA) fillers such as Juvederm products, collagenbased products such as Radiesse and long-lasting fillers such as Bellefill. They instantly restore your skin´s volume and smooth away facial wrinkles and folds, such as "smile lines" or "parentheses" (nasolabial folds—the creases that run from the bottom of your nose to the corners of your mouth).
3. Lip enhancements. A sure sign of aging is thinning lips and wrinkles around your lips. The ideal answer to this problem is adding volume to lips while reducing or eliminating the wrinkles around them. With HA fillers, your natural look will return. Their unique formula stimulates your face and produces new collagen, which gives you increased volume and reduces wrinkles. HA fillers promote the body's own tissue growth adding volume to the lips. They are used for soft tissue augmentation and help treat folds and wrinkles. A very small needle is used to inject fillers into the lips, allowing for natural tissue growth for natural-looking voluminous lips.
4. Taking care of your skin. Dr. Malik offers two specific skincare lines, Jan Marini and ZO Obagi products. Caring for your skin is of the utmost importance. Cleansing, toning, exfoliating, hydrating and moisturizing are keys to keeping a youthful look and glow. Her staff will recommend specific products and design a skincare routine especially for you.
5. Coolsculpting. Finally, and perhaps most importantly to many people, is getting rid of those extra pounds. Sometimes, diet and exercise are not enough to get the lean look you desire. Malik Medical Aesthetics offers Coolsculpting. Using science-based technology, this treatment freezes fat cells at higher temperatures than surrounding tissues. CoolSculpting technology safely delivers precisely controlled cooling to gently and effectively target the fat cells underneath the skin. The treated fat cells are crystallized (frozen), and then die. Over time, your body naturally processes the fat and eliminates these dead cells, leaving a more sculpted body.
Malik Medical Aesthetics
201 Bridgeton Pike | Mullica Hill
(856) 478-4700
Published (and copyrighted) in Suburban Family Magazine, Volume 9, Issue 12 (February 2019).
For more info on Suburban Family Magazine, click here.
For information about advertising in Suburban Family Magazine, click here.
To find out where to pick up your copy of Suburban Family Magazine, click here.