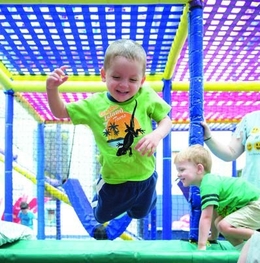 Summer Camp Guide
A look at the region's camps that will keep your kids active and engaged when school lets out.
We're in the bitter cold of winter and although it's nice to stay indoors and sit by the fire, cabin fever sets in and we all get the itch to be outdoors—especially the little ones. When summer does approach, we want you to be ready to give your kids the best experience they can have and make sure they're in good care while you're at work. From dance to STEM to robotics, these summer camps offer unique experiences for your children that will help them grow when school is out.
Camp Ambassador, 535 Mullica Hill Road, Glassboro, (856) 881-3669 ext. 102, Facebook.com/CampAmbassador
Camp is filled with eight weeks of hands-on fun. Each theme is carefully selected to engage the campers' imaginations, and allow them to learn through exploration.
Moorestown Friends School Summer Programs, 110 E. Main St., Moorestown, (856) 914-4493, Summer.MFriends.org, MFSScholars@MFriends.org
Moorestown Friends offers a variety of summer programs for families throughout South Jersey. With full- or half-day flexibility, children ages 3 to 17 will find unique one-week offerings incorporating the arts as well as engineering, robotics, sports and more.
Early Childhood Camps at the Katz JCC, 1301 Springdale Road, Cherry Hill, (856) 424-4444 ext. 1242, KatzJCC.org/ECCCamps
Play this summer in their enchanted forest-themed camp with STEAM, Zumbini, swimming, nature and so much more. "Play gives children a chance to practice what they are learning." – Mr. Rogers
JCC Camps at Medford, 400 Tuckerton Road, Medford, (856) 751-1666, JCCCampsAtMedford.org
Campers spend summers as part of camp's family, in an amazing outdoor environment, growing through values-based education. Campers stand taller at summer's end, with confidence and friendships that last.
Bright Beginnings Academy
Cherry Hill location: 1600 W. Chapel Ave., Suite 200, Cherry Hill, (856) 438-5321
Sewell location: 315 Fries Mill Road, Sewell, (856) 582-1144
BBANJ.net
Bright Beginnings Academy offers a fun and exciting 10-week summer adventure that inspires campers to explore, create, interact and stay active. They offer a wide variety of activities in four, two-week themed units, including their famous cooking classes, STEM/science, field trips, arts and crafts and more.
ISC, 650 Kresson Road, Cherry Hill, (856) 428-8588, ISCCherryHill.com
ISC Summer Day Camp is the place to be this summer. Their low staff-to-camper ratios ensure that your camper is safe and having fun. For parents, they offer flexible scheduling and weekly tuition payments.
Merion Mercy Academy, 511 Montgomery Ave., Merion Station, Pa., (610) 664-6655, Merion-Mercy.com
In addition to several coed options, many of Merion Mercy's summer offerings are just for girls. Prospective students get to know MMA's beautiful cam- pus, meet faculty and coaches, and experience the school's programs firsthand.
St. Joseph's Preparatory School, 1733 West Girard Ave., Philadelphia, Pa., (215) 978-1950, SJPrep.org/PrepU
St. Joseph's Prep's Prep U Summer Program offers rising seventh-and eighth-graders a "high school" experience while gaining close-knit friendships and the "Philly" experience that makes the Prep so special.
ESF Camps & Experiences, William Allen Middle School, 801 N. Stanwick Road, Moorestown, (856) 235-5300, ESFCamps.com/Moorestown
ESF's award-winning traditional, sports and specialty camps for boys and girls, ages 3-15, combine education, sports and fun and offer 60-plus activities for every interest at William Allen Middle School.
Lightbridge Academy
Mount Laurel location: 4518 Church Road, Mount Laurel, (856) 552-2808
Cherry Hill location: 10 Grove St., Cherry Hill, (856) 662-8200
LightbridgeAcademy.com
Lightbridge Academy offers the perfect "my first camp" program for young children bringing camp to kids in the safety of their center. They arrange a wide range of camp experiences bringing guests to the center to share fun experiences, from theater to live animals to outdoor activities.
Tiny Tutus Dance Center, Multiple Moorestown locations, 301 Union St., Moorestown, (856) 638-5451, 115 W. Main St., Moorestown, TinyTutusDanceCenter.com
Join them for eight weeks of summer fun and dance. Offering eight week courses, ages 1 to7 years old, their popular Princess Camp (ages 3-5) and Summer Camp Series (ages 5-10). Register now, spots fill quickly.
Haddonfield Friends School, 47 N. Haddon Ave., Haddonfield, (856) 429-6786, HaddonfieldFriends.org
They use creativity and imagination to explore the environment, community and world. HFS Summer Camp thrives on artistic expression, mindfulness, music, physical recreation and hands-on learning opportunities.
Our Lady of Mercy Academy, 1001 Main Road, Newfield, (856) 697-2008, OLMANJ.org
Our Lady of Mercy Academy is offering its Summer at OLMA Series of academic and athletic camps for girls entering grades six through nine. From Robotics to Courage and Leadership to eight athletic camps, girls can try something new, sharpen their skills, make new friends and have a fantastic time exploring campus.
Gaul's Nursery & Arts Centre, 528 E. Main St., Maple Shade, (856) 779-0802, GaulsNursery.com
Staffed by experienced teachers, Gaul's summer program is a hit with children ages 2 through 6. The program features weekly units and groups explore each subject with music, projects, story and free play.
Published (and copyrighted) in Suburban Family Magazine, Volume 9, Issue 12 (February 2019).
For more info on Suburban Family Magazine, click here.
For information about advertising in Suburban Family Magazine, click here.
To find out where to pick up your copy of Suburban Family Magazine, click here.