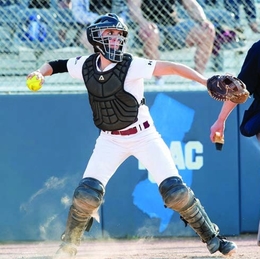 More than a Game
At Ramapo College of New Jersey, student-athletes score big but save the best performances for off the field.
BRIDGETTE QUIMPO KNOWS THAT THINGS HAVE EVOLVED TO THE POINT WHERE HIGH EXPECTATIONS ARE BECOMING THE NEW NORM. AND SHE WOULDN'T HAVE IT ANY OTHER WAY.
Quimpo, who is entering her sixth season as head softball coach at Ramapo College of New Jersey, has steadily built the program into a perennial contender of the New Jersey Athletic Conference (NJAC) championship. Along with her dedicated group of assistants, the 2017 NJAC Coach of the Year knows there's a lot at stake, and not just on the field.
That's because Quimpo isn't simply putting a winning team on the field, she's leading a group of young women. And with that comes the responsibility to not only help sharpen their skills on the diamond, but to prepare them for after their playing days are over.
"I take my role as coach very seriously because it is such a privilege, yet a major responsibility because we are in a position where we are empowering young women into society," says Quimpo.
And it's not only important for Quimpo to connect with her players outside of softball, but for the players to connect on a more individual level with one another as well. Often they will gather to share personal stories about their life and background in an effort to allow their peers to see a side of them they might not regularly.
The team also frequently volunteers their time to work with numerous causes like Relay for Life and Susan G. Komen. And when one player's mother was recently diagnosed with a rare and fatal disease, the team rallied to raise money and awareness.
Working together as a team in this variety of ways helps solidify a familial bond that will last well after they trade in their uniforms for caps and gowns and leave Ramapo.
"We intentionally work on building trust and a relationship [and] it has created a family atmosphere filled with gratitude. Teammates have become more like sisters that are selfless because they take care of each other and have each other's back. They understand they are a small part of something much bigger than themselves," says Quimpo.
It's all part of the winning culture that can be found at Ramapo. Thanks to not only the softball team's recent string of success, but also that of the men's basketball squad and the baseball, track, men's soccer and women's volleyball teams, there's a definitive buzz on campus. In fact, Ramapo was ranked No. 45 out of 323 in the Learfield Directors Cup standings—which recognizes the nation's best overall collegiate athletic programs—for Division III schools. It was the school's highest ranking ever.
"Those successes have generated a growing amount of excitement," says Harold Crocker, director of athletics.
And part of what makes Ramapo's athletic program so special is not only the win and loss records, but the student-athletes who work just as hard to reach new heights in the classroom. Division III athletes are not eligible for scholarships, so the competition is just as fierce academically.
"Division III athletics is all about balance," says Crocker. "Student-athletes must juggle their rigorous academic commitments as well as a competitive schedule, with many also engaging in extra-curricular activities and employment. Our student-athletes are encouraged to pursue their interests and passions beyond the classroom and field of play … to discover themselves.
"Academics are always the No. 1 priority and I am most pleased that our Roadrunners have consistently maintained academic success in the classroom, often complementing their teams' above-average performance on the field," Crocker adds.
To that end, Quimpo says when she's recruiting that she looks for students first and players second, citing those with high GPAs tend to demonstrate enhanced focus and strong work ethic.
"Academics will always come first because at the end of the day, they understand when they graduate they are not going to make a living out of being a softball player," she says. To help practice what she preaches, Quimpo regularly monitors her team in study hall and holds monthly meetings to get reports on how they are progressing for the semester. She also takes the proactive approach of helping freshmen by mapping out their plan for graduation and has instituted an open-door policy where her players can seek guidance and support. The results are undeniable, as the softball team posted a 3.3 GPA last fall.
Now with the softball team poised for what is sure to be another exciting season, Quimpo is looking forward to seeing her team continue to grow as both players and as people.
"They learn a lot about self-awareness, their strengths and weaknesses, so they can identify who they are and who they can become," says Quimpo. "As coaches, we are in a position where we can help shape their character in life."
Ramapo College of New Jersey
505 Ramapo Valley Road | Mahwah
(201) 684-7500
Ramapo.edu
RamapoAthletics.com
Published (and copyrighted) in Suburban Family Magazine, Volume 9, Issue 11 (January 2019).
For more info on Suburban Family Magazine, click here.
For information about advertising in Suburban Family Magazine, click here.
To find out where to pick up your copy of Suburban Family Magazine, click here.