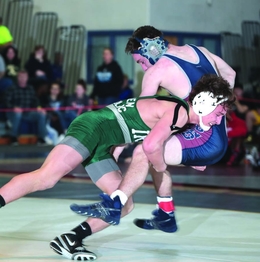 Winter is Coming
Suburban Family's annual seasonal sports preview highlights the names and teams to know this year in basketball, wrestling and swimming.
IN THE HIT TELEVISION SHOW GAME OF THRONES, the phrase "Winter is coming" is meant as an ominous warning; a reminder to be prepared for bleak times on the horizon.
When it comes to the winter sports season in South Jersey, however, the outlook is not so gloomy. In fact, those words are something to get excited about, as the outstanding high school athletes and programs in the area give local fans reason to cheer year in and year out.
This season is no different. Whether it's the Haddonfield boys basketball and Moorestown girls swimming te ams hoping to repeat as state champions, or Camden Catholic senior wrestler Lucas Revano looking to reach the top of the podium in Atlantic City once again, there are plenty of stories to follow.
The winter season officially kicks off this month, and Suburban Family gets thi ngs started with a look at the players and teams to know in South Jersey.
BOYS BASKETBALL
After winning the sixth state title in school history last year, Haddonfield has the talent to make another run in 2019. Senior Mike DePersia—a standout shooter, ball handler, decision-maker and defender—has been the starter at point guard since he walked into the gym as a freshman. Three other senior starters are also back: Aiden Blake, Dan Fleming and Dylan Heine.
Shawnee added to its collection of state championships last year as well, winning Group IV for the sixth title in school history. Several key players graduated— including South Jersey Player of the Year Dean Noll— but the Renegades bring back senior guard Connor Deveney, who scored the winning basket in the state final.
Moorestown came up just short of a sectional title, losing to Nottingham in overtime in Group III. The Quakers have the potential for another big season thanks to the dynamic duo of senior guards Jagger Zrada and Nick Cartwright-Atkins, who both averaged more than 12 points per game.
Big men will lead the way for two other traditionally strong programs. Baba Ajike, a 6-foot-5 forward, and Uche Okafor, a 6-6 center, led Camden Catholic to the South Jersey Non-Public A title and an appearance in the state final last year. At Bishop Eustace, 6-6 senior Mattia Morini, a native of Italy, is being recruited by several Division I colleges.
Paul VI joins Bishop Eustace and Camden Catholic in the highly competitive Olympic Conference National Division. The Eagles are paced by seniors Tyshon Judge and Hartnel Haye and sophomore Wisler Sanon.
In the Olympic American, Cherokee will look to earn at least a share of the division title for the third year in a row behind senior guard Anthony DiCaro, a three-year starter. Eastern graduated its top four scorers but will reload behind seniors Ryan Ems and Andrew Heck, while Lenape was also hit hard by graduation and saw highly successful coach Chuck Guittar step down after winning 218 games and a state title in 12 seasons. Cherry Hill East returns two senior standouts in Carl Gibson and Sam Serata, and Washington Township figures to be much improved with Billy McCrae and two other starters back.
Seneca is coming off the best season in program history—when it won 17 games and reached the sectional final—and hopes to keep the momentum going under new head coach Jeff Weiler. Cherry Hill West, also in the Olympic Patriot, made a lot of progress last year and returns guards Jordan Lipford and Ty reke Huff.
In the Tri-County Conference, Gloucester Catholic has one of South Jersey's best shooters in senior guard Conor Regan. Kingsway will look to win its third straight Royal Division title but should be challenged by Clearview, which is led by junior forward Just in McNichols.
Moorestown Friends has a terrific senior center in Jack Ste rn, w ho scored his 1,000th career point last year, and the Foxes hope to compete in the Friends Schools League.
GIRLS BASKETBALL
Next year at this time local hoops fans will be able to watch Gloucester Catholic senior Azana Baines on ESPN as she continues her career at Duke. But they should seize the opportunity to see her play in person, as her ability to impact a game with her scoring, passing and defense is a sight to see.
Baines—the reigning South Jersey Player of the Year—and sophomore Jada Williams will keep Gloucester Catholic among the top teams in the area, but the Rams did lose junior guard Bella Ste idle to Clearview. The transfer should help the Pioneers stay competitive in the Tri-County Conference Royal Division.
Also in the Royal, Kingsway has a new coach in Lamont Robinson, and he will lean heavily on senior point guard Morgan Robinson, who can score, dish and play excellent defense.
Cherokee has been South Jersey's best team the last two years and that should not change this season. The Chiefs, led by sisters Ava and Alexa Therien, went 25-3 and reached the sectional final last year.
They will be challenged by several teams in the Olympic American, including Lenape. The Indians bring back three starters, including senior point guard Shannon Mulroy, a Cornell recruit. Junior center Emily J ohns averaged 14 points and 10 rebounds last year for Washington Township, and new Eastern coach Ke ith Wert inherits a veteran team led by seniors Ga briella Payne and Anna Acca rdo and junior Ke lli McGroarty.
Change is in the air at Camden Catholic, as legendary coach Chris Palladino retired after winning 660 games—second-most all-time in South Jersey— in 34 years on the bench. Christine Matera, who played and served as an assistant under Palladino, takes over for a team that went 18-10 and won the Olympic National title last year.
Speaking of the Olympic National, Paul VI has one of the best players in the division in senior Carly Stroemel, who will continue her career at Division I Sacred Heart, and Bishop Eustace is paced by sophomore sharpshooter Katie Kempter.
Shawnee looks like a contender in the Olympic Pat riot with senior forward Sierra Sanson leading the charge. She averaged a team-high 13.1 points last year. Seneca is hoping to keep improving behind juniors Kelse y Carter and Erin Wi lliams.
Moorestown Friends reached the final of the Fr iends Schools League and brings back one of South Jersey's premier talents. Junior guard Bella R unyan has been a starter since her freshman year and averaged 1 8 points as a sophomore.
WRESTLING
Camden Catholic's Revano had been knocking on the door of a state championship, placing in the top six each of his first two seasons. Last year he broke through with the 132-pound title and will look to defend the crown this year before moving on to the University of Pennsylvania.
Revano is joined by several other talented wrestlers at Camden Catholic—including senior Anthony Croce, a three-time district and two-time region champion— and the Irish will once again be in contention after winning a sectional title in 2018.
Kingsway and Seneca both saw the greatest wrestlers in school history graduate last year in Quinn Kinner and Joe Manchio, respectively. Yet both are excited about their returners.
Kingsway junior 113-pounder McKe nzie Bell has won at least 30 matches in each of his two seasons, capturing district titles and finishing second at regions each year. Sophomore Nico Bogardus leads the returners for Seneca after placing second at districts.
Cherry Hill West is c oming off a 21-5 season in which it lost a close match to Highland in the sectional final. The Lions are paced by senior Max Sullivan, who bounced back from an injury-plagued sophomore season by winning a district title and placing fifth at regions.
Carmen Giumarello has high hopes for his senior season at Clearview after earning district and region titles at 106 pounds last year and winning two ma tches at states. Eastern also returns a state qualifier in senior Ant hony Franden, who has placed in the top three at districts every season of his career. He will look to lead the Vikings to the Olympic American title, although defending champ Cherokee is also talented and returns a 32-match winner in Co oper Pontelandolfo.
Haddonfield went 20-4 last season and wrestled for the South Jersey Group II title for the second year in a row. The Bulldawgs are led by former district champions Ga be Klaus and Lu ke Benedict.
Shawnee's Bryce Dunleavy and Washington Township's Daimere Wilson-Turner are other returning district champions. John Dalmass leads a young squad at Moorestown, and junior Jesse Keesal will look to build on a 20-win season at Cherry Hill East.
Paul VI graduated a strong senior class but is happy to welcome back senior Kevin Johnson and junior Nick Arena. Lenape is also rebuilding under new head coach Chris Easlick.
GIRLS SWIMMING
Last season was a memorable one for Moorestown, which turned the tables on rival Ocean City. After falling to the Red Raiders in the sectional final three years in a row, the Quakers earned the title this time and went on to claim the state championship to cap a 13-1 record. Winter is Coming
Moorestown should be in contention again thanks to the return of swimmers like junior Emily Wisniewski and sophomore Allie Waggoner. Wis niewski placed eighth in the 200 free and 12th in the butterfly at states, while Waggoner took sixth in the 500 free.
Cherry Hill East al so reached the state final after securing its second straight sectional title and fourth in the last seven years. The Cougars return a h ost of standouts, including junior Grace Yoon, who repeated as the state champion in the breaststroke and added a state title in the IM. Sophomore A nnie Behmalso starred at the state meet with a fourth-place finish in the backstroke and a seventh in the 200 free.
Erin Cavan agh's impressive rookie season at Bishop Eustace featured a third-place finish at states in the 200 free and a 10th in the 100 free. She helped the Crusaders advance to the state final for the fourth year in a row.
Gloucester Catholic graduated a strong senior class but is excited to welcome back state qualifiers Emily Jones, a senior, and Emma Chambers, a sophomore. Jones took fourth in the 500 free and 1 2th in the 200 free.
Junior Ava Berzanski plac ed ninth at states in the IM and is the leader for Haddonfield, which captured its fourth co nsecutive sectional title and reached the stat e final.
Clearview is coming off a 7-2 season and is paced by senior Kelsey McNamara, last year's Gloucester County champion in the 100 free. Moorestown Friends returns a pair of double winners from the Friends Schools League Ch ampionships in C hristina Levins and Allison Fenska.
Other notable swimmers to keep an eye on are Eastern's Sophia Sinibaldi, Abigail Mill er of Kingsway, Paul VI's Carly Stroemel Lenape's Brianna Shaw and Zora Vujovic, Seneca's Abbey Miskiewicz, Cherry Hill West's Maggie McMillan, Callie Reed and Linds ey Monaco of Shawnee, Washington Township's Maria McMahon, Mollie Crumpton of Camden Catholic and Paul VI's M aura McGowan.
BOYS SWIMMING
The Fong family has had quite an impact on the Moorestown swimming program, and Josh Fong will look to add one more exciting chapter in his senior season. The younger brother of former Quaker standouts Zach and Andrea, Josh has made a name for himself by placing third in the state in the butterfly each of the last two seasons.
The Quakers reached the sectional final last year and coach Jeff DeNick will look t o earn his 200th career win in his 18th season.
Senior J ack Watson and junior Jackson Brookover lead a group of seven state qualifiers ret urning for Cherry Hill East. The Cougars extended their streak of sectional titles to 10 in a row last year and did not lose a meet unti l the state final, finishing with a 12-1 record.
Brian Nasielski is primed for a big senior season at Lenape before continuing his career at Lehigh. He placed 12th at states in the 500 free and competed in the 200 free as well.
Another top senior is Washington Township's Alex Chiu, who claimed titles in the butterfly at the South Jersey Invitational and Gloucester County Championships and qualified for states in the fly and 200 free.
Juniors Kyle Hare, Andrew Taylor and Jack Artis all competed at states in multiple events and highlight a solid Shawnee squad.
Gloucester Catholic returns a terrific pair of competitors i n juniors Matt Murphy and Jacob Narvid. Murphy placed ninth in the breaststroke and 12th in the IM at states, while Narvid finished seventh in the 500 free.
Haddonfield reached the state final after securing its fourth sectional crown in a row and is led by senior Sa m Taffet. Down the road at Paul VI, senior Matt Watts hopes to return to states in the 50 and 100 free.
Many other local swimmers are sure to leave their m ark this season, including Bishop Eustace's Mike Gozdan, Seneca's Mike Schmidling, Evan Fenska of Moorestown Friends, Kingsway's Nathan Jess, Eastern's Andre Pham, Dan Porter of Clearview, Cherokee's A ndrew Palmer and Matt Lang of Cherry Hill West.
Published (and copyrighted) in Suburban Family Magazine, Volume 9, Issue 9 (November 2018).
For more info on Suburban Family Magazine, click here.
For information about advertising in Suburban Family Magazine, click here.
To find out where to pick up your copy of Suburban Family Magazine, click here.