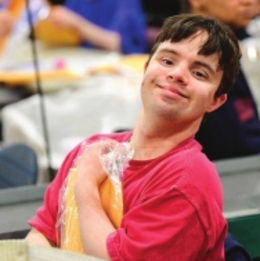 Growing Through Opportunity
At Occupational Training Center of Burlington County, adults with disabilities can find the job training and support they need to become successful members of the community.
PARENTS AND GUARDIANS OF CHILDREN WITH DISABILITIES MAY FIND COMFORT IN THE SECURITY AND FAMILIARITY OFFERED BY THE SCHOOL SYSTEM. Everything is in one place, the faces are recognizable and children have a support system working around them. But when children start to age out of school, the unknown can be overwhelming.
"When students hit the 20- to 21-year-old mark, parents often refer to it as falling off a cliff," says Lauren Goldner, outreach coordinator at Occupational Training Center (OTC) of Burlington County. "They are going from the secure world of school, everything they've known and working within a confine, to going out into the world."
In order to find out what programs are available, parents and guardians should start exploring options while their children are in their final/senior year. Gold ne r says the Division of Vocational Rehabilitation or the Division of Developmental Disabilities are both valuable resources to start with. But it's not just about finding a good fit developmentally; it's also about replacing that support system that falls away with graduation.
This is where OTC fills the void. Started in 1964 by a group of parents who wanted to create employment programs for adults with disabilities, OTC went from serving eight adults in a school basement to more than 500 clients annually in multiple facilities. Whether it's vocational rehab, job placement programs or day and residential services, OTC has a diverse mix of options to fit the specific needs of any individual with disabilities.
Specifically for those interested in employment, OTC has a range of training and job pla cement programs, including custodial maintenance at Burlington County's municipal buildings, recycling for the county, janitorial and food service for Joint Base MDL, to name a few.
Programs run the gamut of skills and interests. In OTC's Benchwork Program, adults who may need more hands-on training will learn the basics of simple assembly, from packaging and folding to weighing and collating. In Crew Labor, adults can help maintain county and municipal roads, commercial business parks and residential lawns. In the Janitorial Program, teams work with a supervisor to clean corporate offices and government agencies. The OTC's Recycling Program is one of the most efficient in New Jersey, providing single-stream recycling and bulk waste recycling to homes in Burlington County and military installations around South Jersey.
No individual is placed in a position where they are not meant to succeed. "We offer vocational case managers who can set goals and communicate the job needs to the client, and we make sure to find out their individual likes and dislikes so we can match them up with the right job," says Goldner. There are also employment specialists who can work with individuals and help them transition to private employment at companies like Wawa, Virtua Hospital, Sam's Club and more.
More than giving these adults an opportunity to earn income and contribute to the community, OTC offers a warm and supportive environment with kind and expertly trained staff. "Our staff is continually trained and understands the challenges," says Goldner. "We are truly a family environment where everyone ca res."
The changes in people speak for themselves. "When they first come in, families will often tell us their child is shy, but we see th em blossom in this warm environment," she says. Their confidence soars, they gain independence, earn money, make friends—all valuable asp ects of being an adult. Goldner hears from families all the time who can't believe the difference in their loved one. "We have a ton of parents who will reach out and tell us these great stories," she says. "Most recently, an individual with high-functioning autism, who had had a tough time in social situations, traveled to Europe with his family and they said it didn't have a drastic effect as in previous years. His work in our network of janitorial contracts has contributed to these social improvements."
To find out more about how Occupational Training Center may be able to give new opportunities to a disabled adult in your family, visit OTCBC.org.
Occupational Training Center of Burlington County
2 Manhattan Drive | Burlington Township | (609) 267-6677 | OTCBC.org
Published (and copyrighted) in Suburban Family Magazine, Volume 9, Issue 8 (October 2018).
For more info on Suburban Family Magazine, click here.
For information about advertising in Suburban Family Magazine, click here.
To find out where to pick up your copy of Suburban Family Magazine, click here.