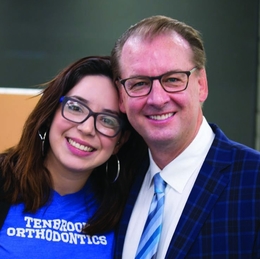 The Top 5 Reasons Why Patients Love T1
Practicing orthodontics for more than two decades, Dr. James TenBrook has treated over 20,000 patients in South Jersey.
TRADITIONALLY, BRACES ARE EXPENSIVE AND INCONVENIENT. TenBrook Orthodontics has changed all that. Practicing orthodontics for more than two decades, Dr. James TenBrook has treated over 20,000 patients in South Jersey. He is the creator of the T1 TenBrook Self-Ligating Technology, which drastically lessens the time patients need to wear braces while providing more comfort than traditional braces. With convenient locations in South Jersey, the staff at TenBrook Orthodontics always strives to provide all their patients with the best customer service and quality of care they deserve. Here are the top five reasons why patients love T1.
1. Cost
Oftentimes, even regular braces cost upwards of $6,000. Because of T1, TenBrook Orthodontics is able to offer more affordable braces that start at $3,800. An average of $2,000 per patient is saved wearing braces using the T1 technology. This can add up to a significant savings for families with more than one child needing braces.
2. Convenience
The average time spent in braces is two-and-a-half years, a nd 23 visits to the orthodontist. TenBrook Orthodontics wants braces to be more convenient for busy families. That's why Dr. TenBrook developed his own braces. The T1 technology moves teeth faster than traditional square braces. In fact, the average patient at TenBrook Orthodontics is in braces for approximately 12-18 months, with only about 10 visits.
3. Technology
Dr. TenBrook is an inventor. The foundation for the T1 technology started at Harvard University where he studied. Dr. TenBrook says that Harvard gave him an education in bone physiology and biomechanics that enabled him to develop new technologies and help advance the profession. TenBrook Braces work on a principl e of lower forces that deliver less pain and fast tooth movement.
4. Comfort
Think about what traditional braces look like: square or rectangular chunks of metal that have spikey things sticking up, making them uncomfortable to patients' cheeks and lips. TenBrook Braces are rounded ovals. This shape creates a more comfortable feel in the mouth.
5. Hygiene
The oval shape of TenBrook Braces not only looks cool, they also have a function. These braces are much easier to keep clean. No more spots that catch food and plaque, which are the principal cause s of puffy gums and unsightly stains on teeth. TenBrook Braces with T1 technology most definitely help patients' mouths stay cleaner than traditional braces.
TenBrook Orthodontics
Marlton
1-877SMILE10
TenBrookOrthodontics.com
Published (and copyrighted) in Suburban Family Magazine, Volume 9, Issue 8 (October 2018).
For more info on Suburban Family Magazine, click here.
For information about advertising in Suburban Family Magazine, click here.
To find out where to pick up your copy of Suburban Family Magazine, click here.