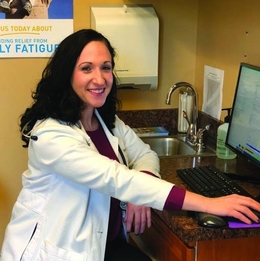 A Unique Approach to Medicine
Mullica Hill's newest physician assistant is integrating internal medicine and a family environment for her patients.
Medicine is constantly moving forward and the internal medicine office of Stacy Warren, PA-C, MS, is on the forefront, finding new w ay s to incorporate different practices under one roof. Warren, a board-certified physician assistant, integrated a primary care facility allowing personalized care to patients with a broad range of symptoms to receive treatment.
Warren's approach to patient care is quite unique. She emphasizes disease prevention and integrates holistic methods with conventional medicine. "This leads to improved compliance and better outcomes with my patients often with fewer side effects," says Warren, who has been in practice for eight years. She educates patients about their disease process and devises a customized care plan that is patient specific. Warren welcomes her patients from the moment they walk up to the front desk. Her team consists of a medical assistant and two front desk personnel who treat the patient as one of their own family. She is the only internal medicine provider in her office and that means that patients will only see her every time. This allows for continuity of care for the patient which translates into better outcomes.
For Warren, the little things matter, and if a patient doesn't feel comfortable enough with their health care provider, they aren't going to explain a small issue, which can t urn out to be vital information. "[By] me getting to know a lot about their personal lives and their family, they feel more comfortable and it also helps me to be able to, as time goes on, pinpoint what's going on because I get to know the patient as a person as well," Warren explains.
Warren uses many approaches to medicine, comprehensive being one; looking at all physical and mental symptoms of the body and then coming up with a conclusion. "Everything works together so there's no way you can fix a problem, especially a complicated one, and make people feel good as a whole if you're not treating comprehensively," she says. However she also specializes in the treatment o f musculoskeletal and autoimmune disorders and is skilled in administering joint/tendon/ligament and trigger point injections to various areas of t he body if needed. Additionally, she performs minor office procedures such as skin biopsies and a host of cosmetic procedures all in one office.
Complicated is a term Warren has become rather accustomed to, referring to herself as an investigator of health and biology, having solved complicated medical cases. "The entire time I've been practicing, I listen, I research and I look things up until I get answers that lead to a patient's diagnosis. I'm delving that much into it," she says. "I've had the opportunity to see a lot of the less common diseases along with the more traditional ty pe of ailments." Warren states this has helped her in quickly arriving to a diagnosis during her day-to-day medical practice.
Along the same lines of patient comfort, Warren will listen to her patients' wishes when it comes to treatment. Some people prefer a more integrative and holistic approach to medicine due to fewer side effects. The pr actice beli eves in a team-oriented treatment approach in which Warren discusses all options in detail with the patient and executes a treatment pla n that is effective yet comfortable for the patient. Warren feels firmly that a patient is more likely to comply with a treatment pl an that is comfortable for them. This ultimately leads to improved outcomes and a better provider-patient relationship. Medicine often t imes is not tailored to the patient's genetic make- up, and Warren understands that although people have the same symptoms, they can be caused by completely different factors. "Every single person is different so two people could come in with the exact problem [an d] a lot of places will give those patients the same treatment," Warren says. "Medically, it is so much more complicated than that because people are complicated beings." This is where Warren's expertise in personalized medicine comes in as she treats the patient as a whole taking into account not only medical factors but also psychosocial factors as well. She integrates all factors a patient possesses and often thinks outside the box and treats the patient from all angles, leading to a successful treatment strategy.
In the end, it's abou t giving her patients the best possible care with a personal touch. Warren is able to spend the time she needs with her patients, unlike o ther practices she's worked at, and combine different services to diversify the practice.
"We really genuinely care about our patients and [make] them feel like family," she says. "We're not trying to get them in and out the door, which is hard to find in a lot of practices these days."
Stacy Warren PA-C, MS
4 Burton Lane, Suite 100
Mullica Hill
(856) 241-3838
Published (and copyrighted) in Suburban Family Magazine, Volume 9, Issue 8 (October 2018).
For more info on Suburban Family Magazine, click here.
For information about advertising in Suburban Family Magazine, click here.
To find out where to pick up your copy of Suburban Family Magazine, click here.