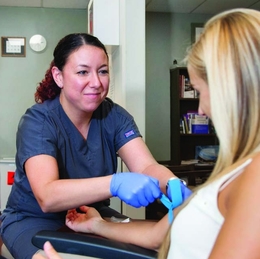 A Progressive Path to Care
Patients with neurological conditions will find a second home at South Jersey MS Center at Bromley Neurology.
Dr. Steven Bromley has a profound passion for helping people, especially those with complex medical problems who need extensive and personalized care. That is why he chose neurology with a specialization in treating patients with multiple sclerosis (MS)—a disabling disease of the central nervous system that affects the brain and spinal cord. Along with a team of doctors and staff, his office is a state-of-the art medical center known as the South Jersey MS Center at Bromley Neurology.
Dr. Bromley has trained in places like UPenn, Jefferson an d Columbia University, and previously worked in local places such as Cooper Health Care, followed by Virtua Health where he was the director of outpatient neuroscience. He moved on to open the standalone South Jersey MS Center in 2015 and enjoy s a clos e relationship with all surrounding South Jersey hospital systems. The regional doctors embrace what he and his staff are doing with MS patients because these patients are so medically complex and difficult.
"These patients require so much time and energy to take care of," Dr. Bromley says. "This is time that hospitals, urgent care centers and most outpatient physicians do not have. The beauty of having a practice not owned o r opera ted by a large organization is we are able to maintain complete control and remain focused on what's best for the patient. We'll never compromise quality and we will remain specialized in our approach.
"We want it to be almost like a second home for them," he continues. "When you have MS, at any given moment it can beat you up and take you away from your ability to function in life. When that happens, patients typically need more than what any emergency department or urgent care can provide. In general, these places are not the best choices for MS patients because their problems are typically too complex and require individualized attention. Our cent er actually functions like urgent care for all our patients allowing them to simply call and come into the office for infusions and other immediate therapies."
Many specialized tests and procedures are available at the South Jersey MS Center to help diagnose and monitor progress. Although the center focuses on conditions associated with neuro-immunology— where the nervous system and the immune system cross—other patients with a wide range of severe neurological diseases such as Parkinson's, Alzheimer's, migraines, epilepsy, neurological infections and others are welcome.
One aspect that makes South Jersey MS Center unique is its Infusion Suite, which can hold more than 20 patients at a time in multiple locations across S outh Jersey. "It's the largest, independent private infusion in the state of New Jersey," Dr. Bromley explains. "We provide infusions that are typically cutting-edge biologic therapies like monoclonal antibodies for MS and other neuro-immunological disorders. In recent years, we have advanced tremendously with these disease-modifying options and patients do very well.
"In many of the conditions we treat, the immune system is activated to cause harm to one's own body, and the newer therapies are very efficient at getting the associated inflammation under control— even changing the course of the disease permanently."
Additionally, Dr. Bromley says his center is among the first certified in New Jersey to use several new biologic therapies that can have a tremendous impact on patients. "This approach is putting us on the map," he says. "We are proud to say it's leading to great outcomes for our MS patients , the kind of outcomes never seen before."
These therapies are giving patients with MS and other neurological conditions a whole new outlook on life, where many things that weren't possible, are now achievable.
"In previous years people would tell patients with MS things like, you can't get pregnant; you can't get vaccinated and you'll definitely end up in a wheelchair—none of these things are true any more," Dr. Bromley says. "With access to modern therapies, there's no reason to not live a long, happy, normal life. As I tell my patients, if you remain on top of things and do what you need to do to take care of your body, you can do well. I want them to take control of t he disease and not let it control them. The only way to do that is to have access to the modern tools available to treat it."
With two convenient locations to serve you in Audubon and their newest office in Linwood, combined with the passion of Dr. Bromley and his team for helping as many people with MS, there is truly no practice like South Jersey MS Center.
"I've never been happier going to work," Dr. Bromley says. "It's just pure joy to see people do this well."
South Jersey MS Center at Bromley Neurology
739 S. White Horse Pike
Audubon | (856) 546-2300
SJMSCenter.net
Photography by Alison Dunlap
Published (and copyrighted) in Suburban Family Magazine, Volume 9, Issue 8 (October 2018).
For more info on Suburban Family Magazine, click here.
For information about advertising in Suburban Family Magazine, click here.
To find out where to pick up your copy of Suburban Family Magazine, click here.