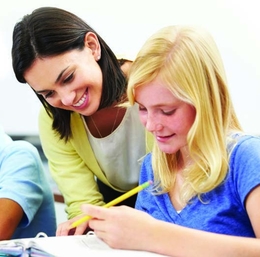 Five Reasons Why Huntington Works
Founded in 1977, Huntington Learning Center is the longest-standing tutoring service of its kind.
LOCATED IN CHERRY HILL AND TURNERSVILLE, HUNTINGTON LEARNING CENTER IS THE ONLY ACCREDITED TUTORING SERVICE IN SOUTH JERSEY. ST UDENTS BETWEEN THE AGES OF 5 AND 17 CAN RECEIVE HELP IN A VARIETY OF SCHOOL SUBJECTS. Tutoring is available in reading, writing, math, phonics and study skills, as well as specialized preparation for high school and college entrance exams.
Founded in 1977, Huntington Learning Center is the longest-standing tutoring service of its kind. The staff works with students to achieve remarkable improvements in their grades, test scores and self-esteem. Richard Bernstein, director of the centers, says the success of the programs lies in the one -to-one attention students receive and the expertise of the caring, certified teachers. Certified, highly trained tutors teach students to think, learn and succeed on their own. Here are the top reasons why Huntington will work for your child.
1. Students Going to the Center vs. a Tutor Going to Students
All instruction at Huntington is supervised in a clean, professional environment with private or semi-private rooms that are conducive to learning. This is in contrast to unsupervised tutoring at a coffee shop or tutoring in-home with all of the usual distractions. The full-time staff at Huntington is always observing instruction and making sure k ids are being taught the "Huntington Way." It is very important to the staff at Huntington to ensure they put kids in an environment wh ere they are getting the best instruction they can. Huntington is an accredited center that offers a broad curriculum of over 850 different pieces of curricula—something you cannot find with traditional tutoring.
2. Ease of scheduling sessions
This is a major facet of Huntington that separates it from traditional tutors. It is much easier to schedule a session thanks to Huntington's extensive list of instructors. If a student must reschedule an appointment due to a soccer game and his or her regular tutor is not available, someone else can step in and know exactly where the student is in his or her development. So in the circumstance where a student needs to change the schedule and a different teacher is involved, that teacher knows exactly where to pick up the instruction without missing a beat.
3. A Belief in Starting SAT Prep Early
Huntington believes it is a great idea to get kids started on SAT prep early. Since so many students are involved in sports, music, theater and other activities, they should get started sooner rather than later. Students can expect to take a practice exam to determine what areas they should be focusing on. A thorough report on that practice exam doesn't just explain that t h e student is better at math than English, it breaks down in detail his or her strengths and weaknesses. It delves deep into what Hunting ton really needs to accomplish and getting started early can make all th e difference in the world in scores.
4. Evaluation Most students receive an academic evaluation when they first come to Huntington to see where they are with their reading, writing, math and study skills. From that a plan is developed to meet individual needs with a goal of getting students at least to their grade level. Huntington will co me up with a plan of what they think is going to be necessary as far as goals to accomplish and scheduling needs. Retesting is also don e to access students' overall progress. Huntington has a very sophisticated software package that allows them to track exactly the strengths and weaknesses of students. It shows what kind of feedback they need and where students are in their progress. Regular meetings with parents to see the students' progress in both the home and academically are part of the "Huntington Way." With parent permission, Huntington will also visit with teachers and guidance counselors as needed.
5. Results
After three months the average improvement in grade equivalents for math is approximately 1.2. After three months the average improvement in grade equivalents for reading is approximately 1.8. On average, Huntington improves kids' SAT scores by 226 points. Huntington proves that if you invest a little money, students can not only get into the school of their choice but can get $52,000 on average in scholarship money. Huntington offers documented, observable, measurable results not offered by traditional tutors.
Huntington Learning Center
Cherry Hill: (856) 751-1848
Turnersville: (856) 227-0033
HuntingtonHelps.com
Published (and copyrighted) in Suburban Family Magazine, Volume 9, Issue 8 (October 2018).
For more info on Suburban Family Magazine, click here.
For information about advertising in Suburban Family Magazine, click here.
To find out where to pick up your copy of Suburban Family Magazine, click here.