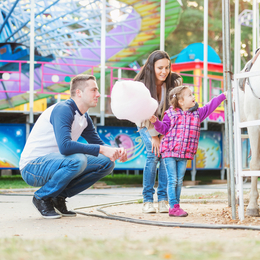 Family Bulletin
October 2018
Star Student
JAMES GALLICCHIO
WASHINGTON TOWNSHIP
Gallicchio, a Washington Township High School senior, was chosen as one of 16,000 semifinalists in the 2019 National Merit Scholarship Program. The semifinalists represent the highest-scoring of about 1.6 mi llion juniors nationwide, each of whom took the 2017 Preliminary SAT/ National Merit Scholarship Qualifying Test.
Star Athlete
REBECCA ASHTON SIRKO
WOOLWICH TOWNSHIP
Sirko, a 14-year-old, won back-to- back competitions in 2017 and 2018 at the NJ State 4-H Championship Horse Show in the equestrian event dressage. Dressage is when the horse an d rider perform a routine, where the horse is essentially dancing with the rider on its back. The 2018 event took place at Dream Park in Logan Township in August. Sirko and her horse Wenonah (Nona) train at Eddis Farm and are members of the county organization Salem County 4-H Hoofbeats.
School Dates
Nov. 3 SAT Testing, locations vary
Nov. 8-9 Schools Closed, NJEA Convention
Nov. 21 Cherry Hill High School East and West Early Dismissal
Nov. 21 Washington Township High School Early Dismissal
Nov. 22-23 Schools Closed, Thanksgiving break
Bulletin Board
By Dylann Cohn-Emery
Updates and announcements about your local schools
The Moorestown High School girls swim team hosted their annual fundraiser at the high school. The state champion swimmers raised money by partnering with Holman Ford/ Lincoln o f Maple Shade and letting people test drive brandne w Ford or Lincoln cars.
Seneca High School was closed from Sept. 26-28 after mold wa s found in 17 of the 98 classrooms. The school has gone through a full cleaning and remediation and has been cleared by an environmental consultant for reopening.
Delran High School will be opening their digital fabrication laboratory, or Fab Lab, around October of next yea r. The Fab Lab will have digital and designfocused technology like laser cutters, 3D printers and woodw orking equipment. Construction i s set to start in December.
COMMUNITY CONNECTION
News from around South Jersey
Camp bell's Field in Camden is expected to b e demo lished so on. The $ 35 millio n b aseb all field has been around fo r 17 years, but the Camden Riversharks lost their lease in 2015. A high-rise tower is said to take the stadium 's p lace. During a late September Moorestown Township Council Meeting, a plan was introduced to publish a list of all the abandoned ho uses in Moorestown. This is the first step in a process that will allow the township to provide proper upkeep and maintenance on the a b andoned homes. The list includes about 50 homes throughout the town.
Next Cherry Hill Planning Board Meeting: Nov. 5, 7:30 p.m. a t the N. John Amato Co uncil Chambers, Room 208
Next Washington Township Council Meeting: Nov. 7, 7 p.m. at the Washington Township Mu nicip al Building
Next Voorhees Township Committee Meeting: Nov. 12, 8 p.m. at the Voorhees Township Courtroom
Next Mount Laurel Council Meeting: Nov. 13 , 7 p.m. at the Municipal Court Room
Police Blotter
Evesham Township Police are nvestigating an allegedly stolen bike and crossbow after a bicylist was struck by a vehicle in the area of Route 70 and Route 73. A 22-y ear-old male was arrested for possession of a weapon by a prohibited person.
A Cherry Hill woman was sent enced o 364 days in Burlington County Jail or stealing almost $191,000 from the Riverton Country Club over a five-year period. She was the office manager at he country club.
A Moorestown restaurant called Wing King was burglarized twice recently b y the same man who stol e $168. The Moorestown Police are asking for the public's help to identify him.
The Locker Room
Sta r Team
CHERRY HILL EAST FOOTBALL
The Cougars have endured tough times in recent seasons but never stopped giving everything they had to the program. Their res ilience finally paid off on Oct. 6 when they defeated Cum- berland, 32-0, to snap a 32-game losing streak dating back to Week 2 of the 2015 season. Senior quarterback Mitch Donovan threw two touchdown passes to senior wide receiver I saac JeanBaptiste and also ran for a score in the victory.
Star Tea m
WASHINGTON TOWNSHIP GIRLS TENNIS
The Minutemaids, s parked by the s econd doubles tandem of Dais y Marrero and Lexie Wells, captured the team title at the Glouces ter County Girls Tennis Tournament for the first time since 2012. Marrero and Wells won the county doubles championship with a 7 -5, 7-6 (8-6) victory in the final over teammates Diana Chan and Kylee Jones, Washington Township's first doubles pair. The Minu temaids also received key points from Laurel DiStefano, who placed third in singles.
Roster Beat
Team, player and coach news
Deanna Knobloch has retired as the girls lacrosse coach at Moorestown after a legendary 27-year tenure. Knobloch owns the state record for career wins, ending with a record of 580-46-4, and guided the Quakers to 16 state titles. Her husband and assistant coach, K.C., also stepped down.
Several leaders in the local field hockey community have come together to form the South Jersey Field Hockey Coaches Association. The club is run by Pitman head coach Tracey Pinque, the president, and Clearview head coach Britney Ewan, the vice president. It will release an all-South Jersey team and host a senior all-star game on Nov. 18 at Rowan.
Moorestown Friends junior Renna Mohsen-Breen claimed the singles title at the South Jersey Interscholastic Girls Tennis Championships. Haddonfield's Anna Sw artley and Stella DeMarco won the doubles crown.
The Cherokee boys cross country team placed first at the 33rd Suffern Invitational in New York. Junior Chris Spisak clocked a 15:38.4 for the fastest time of the day and earned the Outstanding Performer Award.
Two of the top athletes in South Jersey recently made their college decisions. Azana Baines, a senior on the Gloucester Catholic girls basketball team, will continue her career at Duke. Kelli McGroarty, a junior on the Eastern girls soccer team, committed to La Salle.
Published (and copyrighted) in Suburban Family Magazine, Volume 9, Issue 8 (October 2018).
For more info on Suburban Family Magazine, click here.
For information about advertising in Suburban Family Magazine, click here.
To find out where to pick up your copy of Suburban Family Magazine, click here.