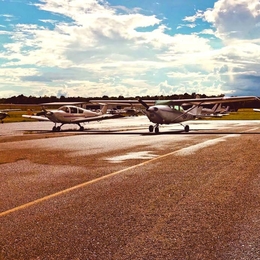 Five Ways to Make Your Flying Dreams Take Off
Now in its second year, Windwalker—run by Michael Bonto, John Scannell and Tom Borgers—is a club that's committed to keeping flying fun, and to providing easy and affordable ways to get in the air.
FLYING IS ONE OF THOSE THINGS that so many people dream of, but few ever get to do. That grows truer each year, as the number of licensed pilots continues to drop, thanks to increased costs and dwindling resources. But three local fly ing fanatics have made it their miss ion to get people of all ages and abilities back in the air through the Windwalker Aero Club. Now in its second year, Windwalker—run by Michael Bonto, John Scannell and Tom Borgers—is a club that's committed to keeping flying fun, and to providing easy and affordable ways to get in the air. Here, Bonto and Scannell go over five way s Windwalker helps you reach new heights:
1. Breaks the Mold
Windwalker isn't your traditional aviation club. Located at South Jersey Regional Airport, Windwalker Aero Club is a gen- eral aviation and social club, going beyond traditional planes to welcome all different elements of flight. That includes traditional flying as well as taildraggers, light sport aircrafts and even paragliding. There is no experience level required for their monthly membership, and Windwalker invites all ages into their clubhouse.
2. Provides a Social Outlet
Finding others who share you r love of flight is as rewarding as it is benefici al. Windwalker doesn't have a waiting list and is open to all, giving everyone who wants to learn about flying the chance. That includes p eople working toward their pilots' licenses, veterans and active duty military who want to enjoy flying recreationally, people who love t he science behind aeronautics and more. Windwalker reaches out to non-traditional people who might be intimidated by a more buttoned-up air club to motivate and encourage people in a safe and social setting.
3. Makes Flying Affordable
Flying by yourself can become very expen sive very quickly, especially when you take in the cost of plane and material costs, maintenance and extra hours spent in individual trai ning. Because of its club atmosphere, Windwalker can drastically cut the costs of flying. This applies to all levels of experience. The m embership fees are paid on a month-to-month basis—$30 for unlicensed club members and $40 for licensed members—so those who travel or could be deployed aren't left with hefty costs. Windwalker hosts events in their unique space to offset the fixed costs of the operation , returning those savings back to the club. And because plane rentals, maintenance and even lessons are done through the club, the individual costs to fly are also reduced.
4. Creates a Space for Growth
Nothing worth having is easy, but that doesn't mean that the work it takes to fly isn't attainable. Bonto takes pride in Windwalker's camaraderie, because it motivates all experience levels to push themselves. Taking off, or just flying straight the first time is not easy and can be discouraging. But having friends behind you to encourage you makes your dream a reality. Bonto say s that this energy can even progress your training further and make earning a pilots' license a bit easier.
5. Develops the Community
Scannell mentions that the local airport was a hub of local communities for a long time, and Windwalker is working tirelessly to bring the neighborhood back to their clubhouse. Windwalker supports outreach activities in the area like the Boy and Girl Scouts, the Young Eagles Flying Program, and Girls in Aviation (part of Women in Aviation). They also host events for the pub lic right at the clubhouse. Through their passion and dedication, Windwalker Aero Club is dedicated to getting people back at the air port and fascinated with flying.
Windwalker Aero Club
68 Stacy Haines Road | Building 2 South
Lumberton | (609) 491-3061
WindwalkerAeroClub.com
Published (and copyrighted) in Suburban Family Magazine, Volume 9, Issue 7 (September 2018).
For more info on Suburban Family Magazine, click here.
For information about advertising in Suburban Family Magazine, click here.
To find out where to pick up your copy of Suburban Family Magazine, click here.