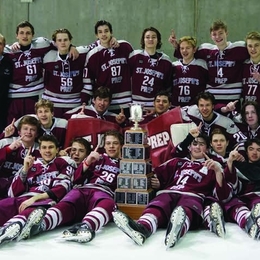 Building Young Men of Character
With a focus on serving others, St. Joseph's Prep develops graduates who make a difference in their families, careers and communities.
ON A TRIP TO PUERTO RICO THIS SUMMER WITH SEVEN STUDENTS FROM ST. JOSEPH'S PREPARATORY SCHOOL to aid in the recovery from Hurricane Maria, Rev. Chuck Frederico, S.J., was not just impressed with the young men's charitable efforts. What really amazed him was their ability to take in the devastating situation, reflect on the exp erience and relate it to their everyday lives.
"I've seen how these kids are transformed by service trips," says Fr. Frederico, the senior director of mission and ministry at the Prep. "It's really a rich, profound experience to watch their eyes and hearts be opened. Then they come back home and they want to continue to respond because we've made it a part of them. We figure out together how we can make a difference in the world."
St. Joseph's Prep, an all-boys school founded in 1851 and affectionately referred to simply as "the Prep," is well-known for its sterling academic reputation, its renowned list of alumni, its location in the heart of Philadelphia and its athletic programs, including a nationally-ranked football team.
But those associated wit h the school are most proud of its work with students outside of the classroom, especially with a commitment to community service, following in the Jesuit tradition of building young men with a strong sense of self who also work for and with others.
"I think the academic piece and what we expect from our students in the classroom is certainly commendable, and our guys really rise to the occasion," says Bryan Ghee, director of student activities. "But we're also a mission-based school and we try to include our mission in everything we do . We appreciate that our alumni become successful lawyers, doctors and businessmen, but more important is that they have a sense of service and giving back to the community."
Making a dif ference just becomes part of the students' identity. Whether it's the football team building a playground at an impoverished school; the strategic gaming club hosting a gaming marathon and donating the proceeds to Children's Hospital of Philadelphia; or the Black and Latino Culture Club serving as mentors for students from a local grade school, everyone contributes.
"It's all about recognizing God in the other," Fr. Frederico says. "Whether it's tutoring or working in a nursing home or writing to prisoners, we want them to be at peace with the encounter and learn from it and see the face of Christ in it."
Activities and athletics also play an integral role at the Prep. The school has 48 clubs and some of the most popular ones are the theater program, speech and debate, the stock market club and the student broadcast team, which does live broadcasting of sporting events.
Speaking of sport s, St. Joseph's Prep continues to thrive across the board, but victories are not the only ways in which success is measured.
"I know th is sounds cliché, but the coaches really don't care about the numbers in the win column," Ghee says. "Of course they want to win and see the kids succeed, but it's more about bringing the kids together and learning life lessons week in and week out."
All of these aspect s and more are what first drew Howie Brown to the Prep when he was in middle school. The Washington Township native had been leaning toward attending public high school in his hometown, but that all changed when he at tended an open house at the Prep with his parents.
"We had zero connections to the Prep—I knew no one who went to school there before that," Brown recalls. "We walked in and we were blown away. We were inspired by the openness of the community, because up until then we would have thought a prep school was very stuffy. It wasn't that at all; it was super warm, super welcoming and they not only did a lot of things, but they did a lot of things well."
Now the direct or of admission, Brown says the Prep draws students from Harrisburg to Millville and everywhere in between. Twenty percent of them come f rom South Jersey, like he did, taking advantage of the school's bus system.
Brown believes going to school across the bridge broadened h is horizons and led to experiences and relationships he otherwise would not have formed.
"You learn that the city isn't just downtown; that it isn't just a place that your parents take you to see the Liberty Bell," he says. "Although that's important and awesome too, the city is a lot of different things that you get exposed to in a very real way and a way you feel comfortable learning about."
Brown made lifelong bonds during his time at the Prep, including one of his best friends who went on to become a priest and served at his wedding. Bu t no matter what their futures hold, graduates of the Prep are sure to be changed dramatically by their education both inside and ou tside of the classroom.
"We tell them all the time that we're training them to be men for and with others," Fr. Frederico says. "When they walk across the stage at graduation, we hope that all of their experiences over the course of the four years lead to a more holistic young man who is able to make a difference in the world after they leave."
St. Joseph's Preparatory School
1733 W. Girard Ave., Philadelphia
(215) 978-1950 | SJPrep.org
Published (and copyrighted) in Suburban Family Magazine, Volume 9, Issue 7 (September 2018).
For more info on Suburban Family Magazine, click here.
For information about advertising in Suburban Family Magazine, click here.
To find out where to pick up your copy of Suburban Family Magazine, click here.