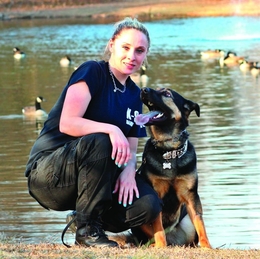 The Guardian
Dana Hoffman of Guardian K-9 Training transforms dogs into obedient and happy members of your family.
IF YOU'RE A DOG OWNER, YOU KNOW THAT MAN'S BEST FRIEND ISN'T ALWAYS PERFECT. THEY REQUIRE A LOT OF WORK AND MANY TIMES, SIMPLE TRAINING TECHNIQUES CAN TURN A PROBLEM DOG INTO A GOOD BOY. But if you don't have time or are unsure of what type of training your dog needs, who do you turn to? Insert: Guardian K-9 Training. Owner Dana Hoffman has been working with animals in some capacity since 2001 and ha s made it h er mission to connect with the dogs she handles to enhance and expedite their learning process.
Having founded Guardian K-9 T raining on the principles of honesty, trust, respect and happiness for all of her clients, Suburban Family spoke with Hoffman about the ins and outs of her business, the services she provides and much more.
How did you get into this business?
I've worked with animals for 17 years now. I started working in kennels, advancing to pet stores for small and large corporations and then later became a full-time veterinary technician as well as a part-time dog groomer. A local dog trainer was impressed with how I handled his dogs at the veterinarian's office and offered to teach me his dog training techniques. After completing a student course in K-9 training, I opened up Guardian K-9 Training.
What services does Guardian K-9 provide?
We offer in-home dog training for all breeds. We work with people inside their homes and also in public places where training actually matters. We want to teach people the right ways to work with their dogs so they know how to handle their dogs and be able to put their dogs into situations where they might be uncomfortable now—or as they age—an d teach their owners what's appropriate and what's not appropriate.
What specific training programs do you offer?
We can teach you and your dog how to walk in harmony at the right pace for both of you with no pain or straining. Basic obedience like sit, stay, attention heeling, down and come when called can be taught. On the advanced side of obedience, this can all be taught off leash. In-home behavior is sues like house breaking, aggression, jumping up, counter surfing, door darting and excessive barking can also be addressed, as well as others.
What types of dogs do you work with?
All dogs. Big, small; it doesn't matter what breed or age, we work with puppies to adults. All dogs need training whether they are 2 pounds or 225 pounds.
How does the new client process work?
I'll talk on the phone with the owner and find out where they're located, what breed of dog they have, its age, what problems they are having and what their goals are. From there, I set them up with an evaluation so I can meet the dog and see the scenario for myself. I can then inform the owner of any potential problems, which may require a more in-depth extensive training program.
Where will my dog's "classroom" be?
We don't have a classroom because anyone can come into a classroom and teach a dog to walk between cones and sit on mats and things like that. What that becomes, in my opinion, is repetition for the dog to learn that room. Once that dog leaves that setting, it thinks it's free time and you lose those behaviors and obedience skills outside because they're not associating that same obedience in the classroom as they are in the real world. It's an in-home service so we come out to the dog but also go out to public places such as Cooper River Park. That allows the dog to learn how to be social and experience those places with distractions: people, kids, cars, bikes, etc. It's more helpful rather than keeping the dogs away from distractions. They have to be able to break ou t of their comfort zones if you want them to be fully trained.
Why should someone choose Guardian K-9 over another business?
We work on the principle that our clients are family—not just a number. Every single one of my clients—we have each other's cell phone numbers where we call, text and communicate instead of everything being done through a third party or a separate answering service. When you call Guardian K-9 Training, you get me directly. My clients work one-on-one with me and we work on a big system of trust and happiness.
You have to treat people the way you want to be treated, running a family business is something we are losing in the world. Everything is so cut and dry and all about proper protocols and procedures—everything here is done as if it is a family and friends business. What you see i s what you get: openness and honesty.
Guardian K-9 Training
Serving South Jersey | (856) 449-6910
Info@GuardianK9Training.net
GuardianK9Training.net
Follow them on Facebook @NJGuardianK9
Published (and copyrighted) in Suburban Family Magazine, Volume 9, Issue 7 (September 2018).
For more info on Suburban Family Magazine, click here.
For information about advertising in Suburban Family Magazine, click here.
To find out where to pick up your copy of Suburban Family Magazine, click here.