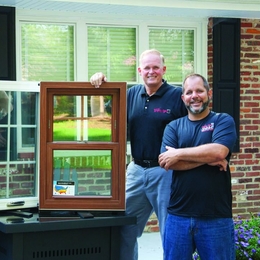 Just Like Family
The Window Place Plus Exteriors keeps its customers close and creates lasting results in the process.
WITH SCHOOL BACK IN SESSION AND THE BEACH TRIPS DWINDLING, CHANGE IS IN THE AIR. If you're still feeling the chill of last year's frigid fall and winter it might be time to consider home improvements.
Just ask Mark Anderson, owner and operator of The Window Place Plus Exteriors. Anderson has been helping families breathe new life into their homes for the last 27 years through window installations, doors, siding and more.
Anderson began h is career in installation in 1977, and began what he calls his "American success story" with The Window Place Plus Exteriors in 1991. Having watched his dad all his life, Anderson's son Mark Jr. joined the family business, and the two have worked side by side to deliver optimal customer service and skilled installations all across South Jersey.
"Between myself, my son Ma rk and my installation foremen Hugh, Scott and Rory, we offer customers over 70 years of experience in the window industry," says And er son.
The Window Place Plus Exteriors has built its reputation around providing customers with a wide range of products built around the ir budget. "When people really do their homework, when they look at the products on the market and the customer service offered, we find that they tend to come back to work with us," says Anderson Jr.
Whether you have a classic, historical home or a modern build, The Window Place Plus Exteriors has something that will fit. That includes fiberglass-insulated security doors, foam-backed insulated siding, woo d and fiberglass windows, and their best-selling Preservation windows.
Owner Mark personally handles every customer, and has focused on giving customers the freedom through a unique, hassle-free sales model.
"When we meet with a customer, one of th e most important things we tell them is: Do not sign any paper just because a company tells you this deal is only good at the time of the initial appointment. This is a common example of an unnecessary, high-pressure sales tactic, and nobody should have to feel pressured to make such a big decision so quickly. You should be allowed to get your estimate and discuss it privately and then call us back with the window or siding order," says Anderson. "We don't need to trick customers because th e company with the best story, the best products, th e best installation methods and the best price should always get the job."
With fall around the corner, many are asking i f their windows are ready for the next big freeze. Anderson Jr. notes that many people like to have their installations done in the fall to prep for winter. With that in mind, The Window Place Plus Exteriors has a unique system in place to keep your home as undisturbed a s possible through the installation.
"Our installers do not take out every window in your home like most subcontracting companies will. In stead, we take a window out, and immediately install the new window in its opening," says Anderson Jr., who notes that this method allows installations well into the winter without the risk of losing heat. "We do all of our installations with our own installation teams. Our team takes precautions with drop cloths and plastic over the window's interior, sealing off th e opening and preventing dust and paint ch ips from coming in the house. No need to take down draperies and shades, or move furniture. We will help with that."
The entire Anderson family is dedicated to the success of Th e Window Place Plus Exteriors. "I have been extremely proud of starting a family-owned and -operated business from scratch," says Mark. "My son Mark, my wife Patricia and my daughter Lauren all take part in running and help with the business. The men that come to work each and every day doing the very difficult job of installing these high-performance products are the key to our success."
The results speak for themselves. A search on Angie's List—the popular home improvement site where customers rate and review local companies—reveals over 100 reviews and an A rating.
"I am proud of the success that we've had offering people a great value on the finest home improvement products I can get my h ands on, and quite honestly that shows in the type of thing s people are saying about us in the reviews found on sites like Angie's list," says Anderson. "You may not know it right now, but we ar e the company you've been looking for."
The Window Place Plus Exteriors
Serving South Jersey
(856) 216-1888 | WindowPlacePlus.com
Photography by Alison Dunlap
Published (and copyrighted) in Suburban Family Magazine, Volume 9, Issue 7 (September 2018).
For more info on Suburban Family Magazine, click here.
For information about advertising in Suburban Family Magazine, click here.
To find out where to pick up your copy of Suburban Family Magazine, click here.