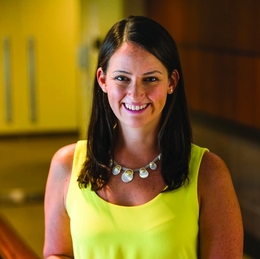 Many Happy Returns
Nurse practitioner Hayley Eichlin is happy to be back at the world-renowned Reproductive Medicine Associates of New Jersey as the practice enters a new era.
WHETHER IT IS A PHOTO FROM A FIRST BIRTHDAY PARTY, NEWS OF A SIGNIFICANT MILESTONE OR EVEN A FACE-TO-FACE REUNION WITH A FORMER PATIENT, Hayley Eichlin is constantly being reminded about the lives she has helped change for the better. And it never gets old.
"Patients defini tely keep in touch with us," says Eichlin, a nurse practitioner at Reproductive Medicine Associates of New Jersey (RMANJ). "They love to share their families with us and send us pictures and updates and things like that. It's really neat to see. That is absolutely the most rewarding part of what we do."
RMANJ was founded in 1999 and has emerged as a world-renowned leader in its field, with pregnancy rates th at are well above the national average. It utilizes innovative procedures, technological advancements and patient-centered care to cure infertility, which affects approximately one in eight couples in the United States.
Eichlin, who previously worked for two years at RMAN J's Basking Ridge location in North Jersey, recently rejoined the practice at its Marlton office. She is happy to be working side by s ide with Drs. Jason Franasiak and Daniel Kaser during an exciting time for RMANJ, as its brand-new, state-of-the-art facility is slated t o open in early 2019 in Marlton.
"It's great to be back and working with a great team here," she says. "I knew both Dr. Franasiak and Dr. Kaser back when I was in Basking Ridge and loved them both. When the opportunity came up to work with them down here in Marlton, I couldn 't pass it up. I just thought we would make a great team, and we have. We all get along really well and they're both super smart and inno vative. We're all so excited to get into that new office together."
A native of Pennsylvania, Eichlin grew up with a love for babies and a desire to enter the medical field. It is no surprise that she wound up under the maternal/child umbrella of health care.
Her career beg an with a six-year stint as a NICU nurse at Children's Hospital of Philadelphia. Eager to get her certification as a nurse practitioner and experience outpatient care, she went on to earn her master's degree from Thomas Jefferson University, joined RMANJ in B asking Ridge f or her clinical rotation and ended up staying for two years.
Eichlin left RMANJ in 2017 to gain experience in obstetrics and gynecology at St. Luke's University Health Network in Wind Gap, Pennsylvania. During that time she also graduated from Duke University with a doctorate in nursing practice.
When the chance to return to RMANJ presented itself, it was the perfect fit.
"Both Dr. Franasiak and I are thrilled that Hayley is back at RMANJ and pleased that she is joining us in South Jersey as we grow the program there," Dr. Kaser says. "She is a wonderful resource for our patients, who absolutely love her. She is very knowledgeable and approachable.
"It is important to have the experience and background that someone like Hayley can bring to our collaborative approach to care. At RMANJ we're all about offering first-rate pregnancy and delivery rates and doing so in a personalized manner. Hayley is very much a key part of that. She makes you feel at ease when talking to her and has really grown into being an expert in the field."
Dr. Kaser adds that Eichlin's influence is not just felt locally, but across the country.
"It's just recently that nurse practitioners have started to work more closely with physician colleagues in the obstetric and gynecology specialties, like reproductive endocrinology. Hayley is a leader in that specific area," he says. "She goes to national meetings and is doing first-rate research and regularly publishing articles. She is not only a great benefit for our patients but is raising the benchmark for other nurse practitioners in our field."
During her previous stint at RMANJ, while pursuing her doctorate at Duke, Eichlin submitted a manuscript on the benefits of music therapy during a hysterosalpingogram (HSG), which is a radiology procedure to test female fertility potential.
"Normally women hate that exam because it can be painful," she says. "There was a study done before in Africa that looked at music therapy and they found that it reduced pain anxiety ratings for women. So we did a limited quality improvement project in Basking Ridge and it went over very well. They're still using the music there today and we're hoping to use it when the new office opens in Marlton."
The new facility—located on the site that was formerly home to Olga's Diner—will feature 30,000 square feet of space on three floors. It will include an in vitro fertilization (IVF) lab, a surgical center and radiology suites. "It will allow for all aspects of infertility care to be delivered under one roof," Dr. Kaser says. "The center will anchor RMANJ in the south and serve patients not only in South Jersey and Greater Philadelphia but also neighboring states like Maryland and Delaware as well." Eichlin adds, "Finally South Jersey will have full operating capacity, so we'll be able to do egg retrievals and embryo transfers closer to home, a great convenience to our patients."
Eichlin's major responsibilities will continue to include performing ultrasounds, inseminations, saline sonograms and HSGs. She also meets with new patients and develops a plan for care, and it's critical to offer support for women and men going through a trying time in their lives.
"That can be a big part of what we do, just empathizing with patients and trying to understand how it is from their point of view," she says. "This might get routine for us, but it's never routine for the patient. You have to put yourself in their shoes and realize that every patient is different and everyone is going to react a different way."
Because the path to a healthy pregnancy can be a roller coaster of emotions, it is fulfilling for Eichlin to be able to offer hope to her patients.
"We just celebrated the 40th anniversary of IVF and it has changed a tremendous amount in that time," she says. "RMANJ, in particular, has played a huge role in that advancement. I recently read that every year the percentage of success goes up a little bit, and it's been trending up now for a very long time. I guess you can say that every day we get a little bit better at what we do; not too many fields can say that.
"The patients' successes are always our successes. It's an unbelievable feeling when we send them back to their OB with a healthy pregnancy. It doesn't compare to anything I've ever done before."
Reproductive Medicine Associates of New Jersey
767 E. Route 70, Building B101, Marlton | RMANJ.com
To make an appointment call RMANJ's centralized scheduling line: (973) 656-2089
Published (and copyrighted) in Suburban Family Magazine, Volume 9, Issue 7 (September 2018).
For more info on Suburban Family Magazine, click here.
For information about advertising in Suburban Family Magazine, click here.
To find out where to pick up your copy of Suburban Family Magazine, click here.