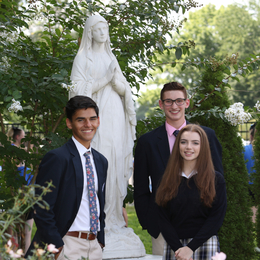 Educating the Modern Student
Paul VI High School provides cutting-edge academics in a faith-based environment.
Like everything else in our world, education moves at a fast pace. Schools are adapting by introducing curriculum that taps into these changes and reflects the shift in interests. Paul VI High School, a Catholic co-educational college preparatory school, has always recognized this, as its mission is to provide a "broad, balanced and relevant" education experience. Course offerings are specifically tailored to prepare students for the modern world, and in recent years, a great emphasis has been placed on expanding STEM programs.
"In today's world, [curriculum] must include both courses and methods that acknowledge the complexity of the technological landscape, and prepare students to use, and perhaps even advance technology," says Sister Marianne McCann, principal.
Sister Marianne notes that there will always be something new for students returning in the fall, and this year is no different; a classroom has been equipped with new work stations, specifically for the expanded robotics and new computer science program called Project Lead the Way Computer Science Pathway (PLTW).
Michael Kelly, a Paul VI math teacher and instructor for PLTW, says this program is geared toward real-life software development. "While learning how to use code to solve real-life problems using a defined development process, students have the opportunity to participate in pair programming and scrum teams. Pair programming is a great collaboration strategy that has shown benefits in both industry and education. Scrum teams work as a team to accomplish larger or more tasks than otherwise possible for a single person or pair alone," he says.
Paul VI also hopes to give more students a chance to explore robotics. "Students learn how to build and control the robots quickly, which gives us opportunities to do some fun and exciting competitions. It is definitely my favorite class of the day," Kelley says.
One of the biggest advantages of a Paul VI education is the flexibility. STEM is just one path of interest. "Here at Paul VI you have the flexibility to explore your options— you don't have to commit to a highly specific course of study when you are 14 years old. We live in a technological society and so we use technology here at Paul VI, but we don't want to create a climate that confines students to a particular college major because they have had too many high school courses in one specific area," says Nick Markellos, Paul VI director of academic technology and faculty for Classical Studies course.
Classical Studies is a brand-new course offered as an elective to sophomores, juniors and seniors that blends various subjects: art, history, drama, literature, cinema and philosophy, providing what Markellos refers to as a "cultural roadmap" that is helpful for liberal arts students preparing for AP courses in English, history and art. "The Classics course provides both the academic material that students can reference as they move into even more advanced courses, and the analytical tools they need to flourish in classes that require in-depth treatment of a discipline. We anticipate that after taking this Classics course, students in our AP courses will have more 'Eureka!' moments, and come out of those courses with more than just an AP score—they're becoming educated, in the best sense of the word," says Markellos.
Investments do not only occur in the curriculum at Paul VI. One of the least visible improvements made recently is sure to be the most appreciated by students— full-school air conditioning. "The school has invested in a new system so that the entire school will be air conditioned, including the gym and the hallways," says Paul VI President Michael Chambers. "We chose a system that very few school buildings are fortunate enough to use; it's very quiet, it provides cleaner air than the traditional systems and it lets every teacher control the temperature in his or her own classroom. We anticipate that the students will be conscious of the difference for a few days, and then will probably take it for granted, which is exactly the point—we want them to stay focused and take advantage of the many opportunities our curriculum offers them."
Paul VI's dedication to the student in body, mind and spirit cannot be underscored enough. While students discover academic values, their roots in the Catholic faith are the foundation of who they are as people. Mass is offered daily before school, grace is said before meals and prayers begin each class session. Religion courses are also part of the curriculum, including rigorous classes for upperclassmen focusing on sacramental theology and systematic theology. "It's important to us to offer cutting-edge courses, so that our students will thrive in a technologically complex world, but it's more important to present that material in an atmosphere of Catholic philosophy so that students can grow as people," explains Sister Marianne. "Advancement is important, yes, but advancement coupled with the desire to use one's gifts and accomplishments to help others, that combination is what defines progress for Paul VI."
For information on admissions, programs or tours of the campus, visit PVIHS.org.
Paul VI High School
901 Hopkins Road, Suite B
Haddonfield
(856) 858-4900 | PVIHS.org
Published (and copyrighted) in Suburban Family Magazine, Volume 9, Issue 7 (September 2018).
For more info on Suburban Family Magazine, click here.
For information about advertising in Suburban Family Magazine, click here.
To find out where to pick up your copy of Suburban Family Magazine, click here.