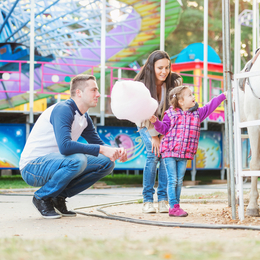 Family Bulletin
September 2018
Community Connection
News from around South Jersey
Moorestown's Challenger Baseball Program is a baseball league for individuals with physical and intellectual challenges. In this league, competition and scoring isn't as much of a priority so that sportsmanship and fun can take the foreground. The free program is the town's first baseball league geared toward those with disabilities.
Blenda Riddick, the director of corporate and government affairs for United Airlines, experienced the Sanitarium Playground of New Jersey firsthand and decided to subsequently donate $5,000 to be used for the Food Bank of South Jersey's Summer Meals program in Burlington, Camden, Salem and Gloucester counties. For 10 weeks in the summer, the program delivered nutritious meals to kids.
Next Cherry Hill Planning Board Meeting: Oct. 1, 7:30 p.m. at the Cherry Hill Township Municipal Building
Next Voorhees Planning Board Meeting: Oct. 10, 7:30 p.m. at the Voorhees Courtroom
Next Moorestown Township Council Meeting: Oct. 15, 7 p.m. at the Moorestown Council Chambers
School Dates
Oct. 3 Lenape High School's Back to School Night, 7 p.m.
Oct. 3 Shawnee High School's Back to School Night, 7 p.m.
Oct. 4 East ern Regional High School's Back to School Night, 6:30 p.m.
Oct. 4 Cherokee High School's Back to School Night, 7 p.m.
Oct. 4 Seneca High School's Back to School Night, 7 p.m.
Oct. 8 Moorestown High School Teacher In-Service, no classes
Bulletin Board
Updates and announcements about your local schools
Cherry Hill East was forced into a shelter-in-place drill after the school received an anonymous message from the STOPit app claiming another student made comments that would impact the school's safety. Cherry Hill Campus Police and the Cherry Hill Police Department concluded the investigation and w e re able to identify the student who made the false report.
Moorestown Friends School (MFS) welcomed its first female into the head of school position in o ver 200 years. Julia de la Torre started her position mid-summer after arriving at the opportunity in search of a school for her son. MFS upheld the same values as her first college, such as simplicity, kindness and integrity. —Dylann Cohn-Emery Police Blotter
A 29-year-old man from Hamilton was arrested for trespassing on school property at Cherokee High School. Police say this is not the first time he has been arrested for this offense. According to police and a further investigation, there was no connection between the subject and any individual at the high school.
A woman's purse was stolen by two males who fled on foot into a waiting car at the Garden State Pa rk shopping plaza in Cherry Hill. A citizen heard her cries for help and took the license plate of the getaway vehicle and notified po lice. Three Pennsauken men were arrested for robbery thanks to assistance from the Pennsauken police.
A man went into the Burlington County Courts on Aug. 31 for an unrelated matter and was arrested at the courthouse for a murder that took place in late March. A detention hearing is being scheduled and the motive of the shooting is still under investigation.
The Locker Room
by Matt Cosentino
Star Coach
RENEE TOLIVER
MEDFORD
The Shawnee field hockey team defeated Cherry Hill East, 5-0, to give Toliver her 200th career win in her 13th season leading the program. A former standout player at Rowan University— where she helped the Profs win a nation al championship—Toliver has been the Renegades' head coach since 2006. She led them to a state title and Tournament of Champions crown in 2007. Toliver's players presented her with balloons and a cake following the milestone victory.
Star Athlete
ANNIE BEHM
CHERRY HILL
Behm, a sophomore at Cherry Hill East, certainly had a summer to remember. The standout swimmer not only qualified for the Speedo Junior Nationals in Irvine, Calif., but she also advanced to the A final in the 200-meter backstroke and finished seventh. Her time of 2:14.56 set a new record for her club team, the renowned Jersey Wahoos. During her freshman year at Cherry Hill East, Behm placed fourth in the state in the 100 back, seventh in the 200 freestyle and was part of the 200 medley relay that place d second.
Roster Beat
Team, player and coach news
The NJSIAA—the governing body of high school athletics in New Jersey—recently announced its 2018 Hall of Fame class, which included Haddonfield graduate Erin Donohue. A cross country, track and basketball star for the Bulldawgs, Donohue went on to run in the Olympics.
Woodrow Wilson quarterback Nick Kargman, who grew up in Washington Township, set a South Jersey record with eight touchdown passes in a 62-6 win over Camden Catholic. The senior, who has a scholarship offer from Rutgers, also set a school mark with 424 passing yards in the victory.
The Cherry Hill East boys soccer team defeated Cherokee, 2-0, for its first win in the Olympic Conference American Division in nearly three years.
Jen Pfeiffer earned her first win as the head coach of the Lenape girls soccer team with a 2-0 shutout over rival Cherokee. Pfeiffer was a star player for the Indians and at St. Joseph's University and took over this year after the retirement of highly successful coach Kevin Meder.
Published (and copyrighted) in Suburban Family Magazine, Volume 9, Issue 7 (September 2018).
For more info on Suburban Family Magazine, click here.
For information about advertising in Suburban Family Magazine, click here.
To find out where to pick up your copy of Suburban Family Magazine, click here.