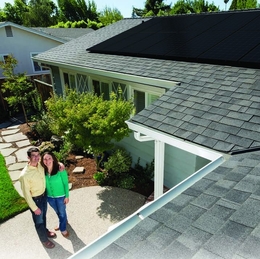 A Smart Investment
AllSeason Solar educates homeowners on the benefits of solar energy.
Using solar energy to power homes is a trend sweeping the nation. Not only is it a smart investment for our planet, but also for our pockets. However, figuring out if it's a good fit for your home can be challenging. AllSeason Solar has put together a few tips to help simplify it.
1. UTILITY RATES IN YOUR AREA—Depending on where you live, the cost you pay for electricity can vary. Customers with Atlantic City Electric are currently spending about 19 cents a kilowatt hour. PSEG customers are coming in at 18 cents. Rate increases are common. Atlantic City Electric petitioned the state Board of Public Utilities for an 8 percent increase that will cost the average customer an additional $10.66 per month. Solar rates can vary from 10 cents to 15 cents a kilowatt hour.
2. AVERAGE ELECTRIC BILL—While anyone can go solar, homes that average at least $100 a month are prime candidates, often reducing their bills by 30 percent or more.
3. INCENTIVES AND REBATES—There is an assortment of incentives and rebates for families looking to make the switch in New Jersey. There are tax credits, Solar Renewable Energy Credits, as well as no money out of pocket options. No matter which one you choose, the result is a lower electric bill and a greener planet.
4. SHADING ON ROOF—Sunlight obviously plays a huge role in how much electric your home can generate. Thankfully, due to the increased efficiency of panels, more people can go solar even if their roof has shade throughout the day. Some companies will even offer complimentary tree removal to help your system operate at its highest potential.
Getting more information about the solar program and which option would be the best fit for you is as simple as picking up the phone. AllSeason Solar offers free, no pressure, in-home educational sessions at your convenience. They will walk you through the differences in equipment, warranties and incentives to help you make the best choice for your home.
AllSeason Solar
(888) 832-5050
AllSeasonSolar.net
Facebook.com/allseasonsolar
Published (and copyrighted) in Suburban Family Magazine, Volume 9, Issue 6 (August 2018).
For more info on Suburban Family Magazine, click here.
For information about advertising in Suburban Family Magazine, click here.
To find out where to pick up your copy of Suburban Family Magazine, click here.