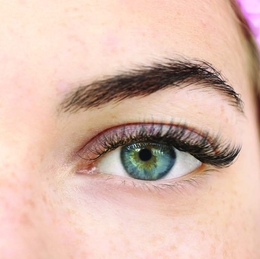 Top 5 Myths about Synthetic Eyelash Extensions
Eyelash extensions are this year's "must have" for women of all ages
IF YOU HAVEN'T HEARD BY NOW, eyelash extensions are this year's "must have" for women of all ages and have gained popularity—quickly, with lash studios popping up all over the country.
"Beautiful lashes are such an integral part of beauty," Nancy Kelly, owner of Amazing Lash Studio in Cherry Hill says, who is celebrating the studio's one-year anniversary this month. "They can be very natural looking or extreme—I think that's why they are popular, because you can customize them. There are few beau ty routines that every age can partake in. Lashes seem to reach across all generations which is nice, and when the eyelashes are done well, you have more confidence and it helps you through the day."
Between not having to deal with putting messy mascara on each day and the lashes making a noticeable difference on one's face, it's no surprise women are easily taken by this trend.
"There's really no denying that when it comes to making your eyes pop and your overall look shine— longer, thicker eyelashes really can make a huge difference," Kelly says. "And because you wake up with your eyelashes looking the same as they did when you went to sleep, your morning routine is quicker and easier. Many guests find they like the way they look with just lashes and feel they need less makeup."
But like most things, there are quite a few myths and concerns about synthetic eyelashes, and Kelly is here to debunk them.
1. Eyelash extensions make your natural lashes fall out
Not if they are applied correctly. It's all about your lash stylist not adding lashes that are too heavy or too long for your natural lashes to handle. "Your natural eyelashes have a growth cycle of two to four weeks before they start to shed, so that's the reason why if you put lashes on individually, they'll fall out naturally with your lash," Kelly says.
2. Eyelash extensions are too extreme for everyday life
Many women want to avoid a "fake" look, but there are many styles and lengths to choose from to give everyone the look they want without having to wear heavy makeup . "More conservative people are surprised about what you can achieve," Kelly says. "Eyelash extensions cater to anyone; they can be big and bold or more subtle and natural looking. When you look good you can't help but feel good, too. Knowing your eyes look great all d ay long gives you confidence without the fuss."
3. Anyone who is trained to apply lashes is qualified
The New Jersey Board of Cosmetology regulates technicians and salons, and has licensing requirements. With the dangers of working on sensitive areas like eyes, Kelly says be sure proper products and sanitation procedures are in place. Amazing Lash technicians are licensed estheticians and cosmetologists, and complete a comprehensive training course that includes more than 72 hours of instruction and oversight.
4. Only 'young' people are getting eyelash extensions
While they are popular among the younger generation, eyelash extensions are also an excellent solution to the problem of women having naturally sparse lashes as they age. "Many older women find Amazing Lash volume lashes give them a fuller, more youthful appearance," Kelly says.
5. They don't last very long and are high maintenance
Everyone sheds three to five natural lashes per day, and after two to three weeks, most people will have shed enough lashes that they need a refill. It is important to keep your lashes clean with proper home care to ensure they last.
Amazing Lash Studio
957 Haddonfield Road
Cherry Hill
(856) 249-0014
AmazingLashStudio.com