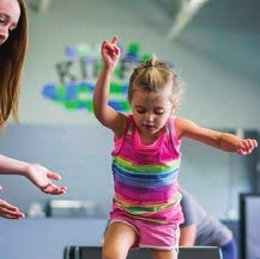 5 Ways to Stay Fit in the Fall at Kid Fit NJ
Kids need a place where they can have fun and be active, rain or shine, and Kid Fit NJ is the perfect place.
WITH TECHNOLOGY CREEPING FURTHER INTO OUR DAILY LIFESTYLE, IT'S INEVITABLE FOR IT TO TRICKLE DOWN TO OUR KIDS. The glow of the screen off ering cartoons, video games and the rabbit hole of YouTube keeps kids from leading a healthy, active lifestyle. Kids need a place where they can have fun and be active, rain or shine, and Kid Fit NJ is the perfect place. Located in the same building as the Garden State Discovery Museum, Kid Fit NJ's 4,400-squarefoot facility features a zipline, foam pit and tons of gymnastics equipment for children ages 1-10. Here, children will learn new techniques and develop their gross and fine motor skills in a safe and fun environment. Founder Br ian Hurley gave us the top five ways Kid Fit NJ can bring fun into your child's life:
1. Classes
Kid Fit NJ's incredible classes help build physical, social and emotional skills in a non-competitive and play-based environment. Classes are led by qualified, hands-on instructors who tailor each program for specific age groups. In these age-appropriate tumbling classes, children ages 110 develop their major mus cle groups while learning fundamental tumbling skills. Looking for a challenge? Kid Fit NJ offers Ninja and Superhero classes! The Ninj a class puts kids' strength, agility and coordination to the test with a customized ninja obstacle course. In the Superhero class, kids u se their imagination and work as a team to solve weekly missions. They will jump, climb and zipline on their way to save the day.
2) Birthday Parties
Kid Fit N J offers a one-of-a-kind party experience for you and your guests. Party families and guests get exclusive use of the facility and two hours of age-appropriate activities, all coordinated by trained party hosts. Kid Fit NJ staff will handle all setup, ser vice and cleanup, allowing the parents to enjoy the party. Their goal is to make the party experience as stress free as possible!
3. Open Play
Sometimes, kids just need a chance to run around and get some energy out. The freedom of Open Play offers the flexibility to drop in for individual sessions. Kids can climb, jump and roll in a bright, clean, open-air facility. During this unstructured time, Kid Fit NJ's staff is there to ensure that every one is playing safely. Open Play is available Monday through Friday with discounts available for Garden State Discovery Museum members.
4. Scout Trips
Kid Fit NJ welcomes local scout troops to the facility for team-building events. They offer 90-minute sessions for Boy Scout and Girl Scout troops to participate in obstacle courses, relay races and games to build confidence and a sense of unity. At the end of the event, scouts earn a special Kid Fit NJ badge!
5. Special Events
Each month, Kid Fit NJ hosts a variety of themed events that range from visits from princesses to dinosaurs! Another popular event is Nerf Night, where kids can participate in an all-out nerf battle, complete with customizable nerf guns, ammo and safety goggles. For upcoming events, check out the K id Fit NJ website, or follow them on Facebook.
Kid Fit New Jersey
2040 Springdale Road
Cherry Hill
(844) 4KIDFIT
NJ-KidFit.com