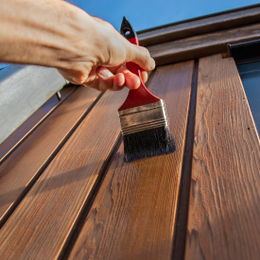 Brush of Greatness
Let the Professionals at TJ's Painting Company take care of your painting project and turn your space into a clean, seamless work of art.
THERE ARE SOME JOBS around the house that can be fun do-it-yourself projects, but there are others, such as painting, that can be more troublesome and frustrating. Blue tape everywhere, not happy with the color you came home with from the hardware store and a complete mes s in your house—those can all be avoided when you have professionals like TJ's Painting Company take care of your painting projects.
"The re's a difference between professional painting and do-it-yourself painting," owner Mike Brennan says. "I think everybody thinks, 'Oh, i t's just painting,' but when you see the look of a room after a professional is done, there are nice straight lines and a clean workspace ."
TJ's Painting Company can turn any bland space into a beautiful, clean end result and they a re there for all your painting needs—exterior and interior painting, as well as custom trim work, crown molding and shadow boxes to complete the finished look.
A family-run busin ess for almost 20 years, Mike Brennan runs TJ's Painting Company with his father, Tom, who founded the business in 1999. The company has grown substantially and the bulk of its work is high-end residential painting. They pride themselves on offering the highest quality product and developing a relationship with the client from the first phone call.
"If I'm unable to pick up a phone call, I'll call them bac k right away," Brennan says. "I set the of appointment to give a quote and we show up on time, every time, and usually within an hour or two they will have an estimate in their inbox. Everything we do is in a timely fashion."
Not only is their business run efficiently, they st and out from other companies because their staff doesn't just include painters—a color consultant assists in every project, helping homeowners choose the best color for their space.
"What really separates us is the fact that we have a color consultant on staff," Brenna n says. "She has her own business as an interior designer, but as part of our service, when clients give us the go-ahead; our color consu ltant contacts them and does a complimentary in-home consultation which really takes a ton of stress off the homeowner."
Brennan says pi cking colors is the hardest part for a few reasons. It's important to make sure they flow with the décor, flooring and especially the l ighting in their home because sometimes color samples happen to look different on their walls from what they saw in the store.
"I can't tell you how many people have a look of relief on their face when I tell them we have a color consultant," he says. "A lot of the house s I go into end up having 15 different samples on the wall and the main thing people say is it does not look like what they thought it wo uld; it looked diff erent in the paint store because the lighting is different in their house. We educate the home- owner and put them at ease."
And when it comes to the brand of paint, there is only one brand TJ's Painting Company trusts—Benjamin Moore. Brennan says they have many different lines of paint to choose from and it's the highest quality paint available.
"It's going to hold u p better over time," he says. "Some of the lower quality paint takes three or four coats to look like it's covered. If you have a two-st ory foyer that brings in a lot of light and you aren't using high-quality paint, it's going to take a beating from the sun and wear down a lot sooner."
They treat every home they paint as their own with the highest level of care, and earn clients' trust from the beginning of the process. So much so, Brennan and his staff complete many projects while the homeowners are not home.
"Most of our customers work full-time and feel completely comfortable with us in their homes while they're not there," says Brennan.
The dependability, attention to detail and highest quality of customer service TJ's Painting Company offers is second to none and just a few of the reasons why it should be first on your list to call when your home is in need of a fresh look.
"It's the little things that separate us," Brennan says. "Why would someone take on their own painting project? When quality and neatness count, I would have them call us instead."
TJ's Painting Company LLC Mount Laurel | (856) 912-2594 TJsPaintingCompany.com
Published (and copyrighted) in Suburban Family Magazine, Volume 9, Issue 4 (June 2018).
For more info on Suburban Family Magazine, click here.
For information about advertising in Suburban Family Magazine, click here.
To find out where to pick up your copy of Suburban Family Magazine, click here.