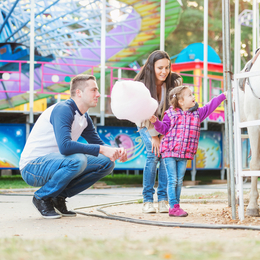 Family Bulletin
June 2018
Star Students
WTHS MUSIC TECHNOLOGY STUDENTS
WASHINGTON TOWNSHIP
The New Jersey Music Educators Association's 8th annual Music Technology Expo at Rowan University prov ed fruitful for Washington Township High School music technology students. Eighteen students were in participation and won various awards including "Best in Show."
Star Teacher
MIKE CONDURSO
MEDFORD
Condurso, who teaches woodworking and Project Lead the Way courses at Lenape High School, was selected to receive the New Jersey Techno logy & Engineering Educators Association Image Award. This award is given to an individual who makes a special effort that results in positive reflection technology education. Condurso has been a teacher in the Lenape District for seven years.
Star Athlete
NICK DECKER
SENECA
Decker got the call that every young baseball player dreams of when he was chosen by the Boston Red Sox in the second round of the MLB Draft earlier this month. The star senior outfielder at Seneca was selected with the 64th overall pick. De cker had seven home runs, 24 RBIs and 30 runs scored this season and led Seneca to the South Jersey Group III title for its first secti on al championship since 2011.
Star Team
GIRLS LACROSSE
MOORESTOWN
The Quakers defeated Ridgewood, 14-9, in the Tournament of Champions final to finish as the No. 1 team i n New Jersey for the first time since 2014. Kacey Knobloch, the daughter of head coach Deanna Knobloch, led the way with four goals and o ne assist, while Robin Panzarella and Kayla Frank each had a hat trick. Moorestown also won its first Group III state title since 2015 an d ended the year with a 23-2 record.
RosterBeat
The Gloucester Catholic baseball team claimed its second straight state championship and 19th overall—a New Jersey record—thanks to an 8-3 win over DePaul in the Non-Public B final. On the same day, St. Augustine captured the Non-Public A state title w ith a 1-0 win over Delbarton as Cole Vanderslice tossed a two-hit shutout.
Eastern sophomore Jewel Ash was one of several local athletes to bring home individual state titles at the state track and field championships. She won the Group IV crown in the 400 hurdles with a time of 1:01.71 and also took second in the 100 hurdles. Paul VI sophomore Aliya Rae Garozzo also notched a state title in the 400 hurdles during the Non-Public A competition. Haddonfield senior Seamus Glennon tossed the javelin 176 feet, 3 inches to win the Group II title, and Paul VI senior Antonio Tarantino ended his remarkable career by winning the 200 meters in Non-Public A and going on to wi n the event at the Meet of Champions as well.
The Lenape boys tennis team repeated as South Jersey Group IV champions with a 3-2 win over rival Cherry Hill East. Haddonfield took the South Jersey Group II title for its 16th sectional championship in a row.
COMMUNITY CONNECTION
News from around South Jersey
Virtua Health has agreed to Medical Center in Camden, Lourdes Medical Center of Burlington County, Lourdes Medical Associates and Lourdes Cardiology Services.
The Food Bank of South Jersey announced the resignation of president and CEO Valerie Brown Traoré. Although no reason was given for the top executive's departure, Traoré will leave the company effective June 30.
Next Cherry Hill Planning Board Meeting:
July 2, 7:30 p.m. at the John Amato Council Chambers, Room 208
Next Medford Town Council Meeting:
July 10, 7 p.m. at the Public Safety Building
Next Voorhees Township Planning Board Meeting:
July 11, 7:30 p.m. at the Voorhees Township Courtroom
School Dates
July 2-3: Rowan University Freshman Orientation Session IV
July 8-12: Lenape High School Class of 2019 Senior Portrait Makeup Sessions, 9 a.m.-2:45 p.m.
July 17: Advisors Planning Meeting, 8 a.m.-2 p.m.
July 18: Camden County College Summer Classes End
Bulletin Board
Updates and announcements about your local schools
The Cherry Hill School East principal issued an apology prior to the senior prom for "insensitive" language printed on the event's tickets that read "party like it's 1776."
Collingswood High School's football stadium—more specifically the grandstand/stadium structure—is pending demolition this summer. Due to "significant safety concerns," the school board voted to demolish the structure after discussing multiple options including repairs with a $1.4 million price tag.
Police Blotter
A Cherry Hill woman and her son were arrested at the beginning of the month on charges in connection with a drug trafficking ring that was allegedly distributing heroin, fentanyl, cocaine and marijuana.
Over 30 high school students received medical treatm ent after a can of pepper spray was dispensed at the Burlington County Institute of Technology cafeteria last month.
Police investigated the Collingswood High School/Middle School com plex earlier this month due to a bomb threat. No evidence was found at either of the schools.
Published (and copyrighted) in Suburban Family Magazine, Volume 9, Issue 4 (June 2018).
For more info on Suburban Family Magazine, click here.
For information about advertising in Suburban Family Magazine, click here.
To find out where to pick up your copy of Suburban Family Magazine, click here.