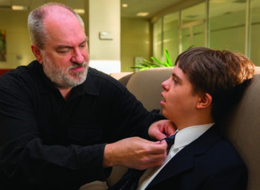 Making the Transition
How families can prepare their young adult children for life after graduation.
MAKING DECISIONS FOR THE FUTURE can be daunting for any parent. But when it comes to parents of students with special needs, decisions regarding the future can feel downright terrifying. Statistics show that the majority of adults with intellectual or developmental disabilities are unemployed or underemployed and it appears largely due to the fact that they were undertrained. This is where planning can make a tremendous difference. Parents who are planning ahead can help set their child up for a successful future.
The Individuals with Disabilities Education Act—or IDEA—is a law that requires schools to help students design "transition plans" for life after graduation. This means training and preparation for career opportunities. Contrary to what some might believe, these opportunities do exist.
Jeff Haines, executive director of the Occupational Training Center (OTC) of Burlington County, says that he is seeing growth in opportunities for individuals right out of high school. More colleges are providing specialized programs and workplaces are creating positions geared toward individuals with a range of needs.
"However, these opportunities can still be few and far between, which is why it's so important for parents and guardians to be educated about their options," adds Haines. "Organizations like the OTC offer a myriad of programs to accommodate individuals with a wide range of disabilities. We have tailored support and specially trained staff that work with consumers on their personal goals to help their skill set."
Haines says that a program such as theirs can be used as a stepping stone for graduates—or as a permanent employment solution.
Planning Ahead
Judith Brown, MS, leadership in teaching at Bancroft, a leading regional nonprofit provider of programs and services for individuals with autism, intellectual and developmental disabilities and those in need of neurological rehabilitation, says that it's never too early to start planning for the future.
"I think that parents should always be thinking of transition," Brown says. "Though the federal guidelines say that planning needs to start at age 14, the earlier parents are thinking about what life will be like postgraduation, the better prepared they will be—even from an emotional standpoint."
Brown says that students with special needs are entitled to education through age 21, which is when they would then go on to graduate from Bancroft. But even in public school, if parents believe their child could benefit from continuing their education past their senior year—and age 18—then they are entitled to continuing that education.
At age 14, planning and documented conversations will begin surrounding transition. Brown says that skills that the child possesses will be discussed in order to implement vocational training and workplace readiness. Though 14 is what federal guidelines dictate, Brown says that having unofficial conversations earlier on will only further help prepare parents.
"At our school, we begin to talk to parents very early on about who they'll want to contact and about making connections with agencies and resources in the community," adds Brown. "Though they can't actually make those calls until after the child turns 21 or is graduating from high school, it helps to be prepared and to gather all of the knowledge that you possibly can so that you don't feel overwhelmed when you reach that stage."
At Crescent Hill Academy in Pennsauken Township, Alfred Minicozzi, board president, says that they start as early as 10 years old to start looking at pre-vocational skills a child may possess. This may mean assessing whether they are good at putting things together or at assembly. Minicozzi says that many of the tasks are repetitive at this young age but still important to hone.
"The student would then graduate to something bigger when the skill set has grown," he explains. "In time, the student will have to be knowledgeable of workplace safety and able to communicate his or her wants and needs."
Minicozzi adds that parents should definitely ask themselves what they could see their child doing in the future. It's a thought process that is important to begin as early as possible.
"Each child has a different set of skills," he continues. "But since jobs are a lifetime thing, it's up to the educator or the school to truly find the best possible placement— where the student can use their skill set and also enjoy the work."
In this regard, parents' dreams for their student with special needs are no different from any other parents' dreams, says Brown.
The hopes and dreams of parents are not different just because the child has disabilities," she adds. "Of course, everyone dreams that their child will find a job that they can be successful at and that they love. Our families may just need to make some modifications to that dream in order to truly suit the child's abilities. But the ultimate goal is competitive employment whenever possible."
Opportunities in the Community
Various opportunities for students exist within the community as they look to make that transition. At Crescent Hill, Minicozzi says that they partner with local businesses in which students can be comfortable applying their skill sets—such as sorting, filing or collating. Positions in our local area that offer great training programs include Petco, Goodwill and ShopRite. Brown adds that Wawa has also employed a number of Bancroft graduates.
Haines says that the OTC provides a variety of programs and opportunities so that there is "something for everyone."
"These programs range from benchwork assembly, food service, janitorial service, crew labor and recycling," he says. "The OTC also provides day services such as day habilitation and community inclusion as well as permanent housing in our residential homes. For the individuals who do wish to use the OTC as a stepping stone into the traditional workforce, we are happy to provide pre-vocational training that teaches skills such as teamwork, following directions, problem-solving and more. We also offer a Supported Employment Program where our team seeks out full-time traditional employers and works with individuals on their job application skills."
In the end, "informed parents" may be what count the most, says Brown.
"Parents should be in tune to what supports the school is providing that will help round their child out and prepare them for the future," she says. "What we know is that most of these kids are not going to go to college and we exist in a very college-oriented system in this country right now. Being in-the-know about what programs exist in their school systems—wherever they are—is key. The more prepared that parents can be, the better."
Published (and copyrighted) in Suburban Family Magazine, Volume 9, Issue 4 (June 2018).
For more info on Suburban Family Magazine, click here.
For information about advertising in Suburban Family Magazine, click here.
To find out where to pick up your copy of Suburban Family Magazine, click here.