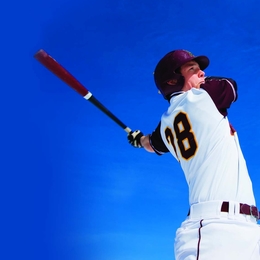 2018 Athletes of the Year
These 15 competitors left their mark in South Jersey and beyond in a variety of sports.
The last 12 months have been an electric time for local sports fans, from the Eagles' first Super Bowl victory and parade down Broad Street, to the emergence of the 76ers' young stars and the potential shown by the Phillies.
Closer to home, the scholastic athletes o f South Jersey have provided their share of highlights as well. We have been lucky enough to witness individual state champions in wres tling, swimming and track, along with area teams in sports like basketball and field hockey capturing state crowns against the best of the best in New Jersey.
Choosing the Suburban Family Athletes of the Year is never an easy task, and narrowing down this year's crop of con tenders was even more difficult than usual. But we are proud to present the following 15 selections, listed in alphabetical order.
Amanda Attanasi
WASHINGTON TOWNSHIP
When star midfielder Emily Gray left the Washington Township girls soccer program to join the U19 women's national team last year, many people thought the Minutemaids would struggle. Thanks to Attanasi, a freshman phenom, they didn't miss a beat. All she did as a rookie was set a school record with 29 goals and add 12 assists on her way to South Jersey Player of the Year honors. More importantly, she helped lead Washington Township to the first sectional championship in program history.
Azana Baines
GLOUCESTER CATHOLIC
Anyone who has watched Baines play basketball would have a hard time picking her best skill. She is a scorer who averaged 20.4 points per game this year as a junior and eclipsed the 1,000-point mark for her career. Yet she also has court vision and passing ability that would make Ben Simmons jealous. Also a top-notch rebounder and defender, it is easy to see why Baines was the South Jersey Player of the Year after leading Gloucester Catholic to a 24-win season.
Elaina Hansen
CLEARVIEW
Hansen has a pleasant nature away from the athletic arena, but once she steps between the lines it's hard to find a fiercer competitor. That mentality allowed her to leave a great legacy at Clearview in two programs. In basketball, Hansen finished with more than 1,300 points and more than 1,000 rebounds for her career after averaging 16.5 points and 11.7 boards as a senior. In softball, Hansen collected her 118th career hit this spring to become the all-time leader at Clearview. She also holds the program record with 26 home runs and wil l focus on softball next year at Holy Family University.
Kara Heck
EASTERN
In just two seasons, Heck has established herself as the latest in a long line of field hockey stars to come through Eastern. After scoring 55 goals as a freshman in 2016, she increased her total to 59 last fall to lead New Jersey and added 31 assists on her way to all-state first-team honors. Her prolific scoring helped the Vikings to a 24-1-1 record and the Group IV state title. This spring Heck is also one of the leading scorers for the Eastern girls lacrosse team, which is looking to repeat as the sectional champion.
Quinn Kinner
KINGSWAY
After posting a 43-2 record and winning his first state championship as a junior in 2017, Kinner had a high standard to live up to as a senior. Somehow, he was even better in his final campaign, as he went 44-0 and cruised to the state title at 138 pounds, becoming Kingsway's first two-time state champ. Ruling New Jersey was not enough for Kinner, however, as he was ranked No. 1 nationally in his weight class. The four-time district and region winner will continue his career at Ohio State University, one of the premier wrestling programs in the country.
Delaney Lawler
MOORESTOWN
As the niece of renowned Eastern coach Danyle Heilig, Lawler knows a thing or two about South Jersey field hockey. But she has made quit e the name for herself throughout her career at Moorestown. This past fall the junior midfielder had 20 goals and eight assists, led the Quakers to their first state championship since 2006 and was named to the all-state first team. Also a standout defender for Moorestown's girls lacrosse team—one of the best programs in the country— Lawler has committed to Ohio State University for field hockey.
Kieran Lees
MOORESTOWN FRIENDS
No matter what happened last Nov. 12, Lees was always going to be remembered as one of the all-time greats in the Moorestown Friends girls soccer program. She only added to her legacy by recording a hat trick in a 3-3 tie against Montclair Kimberley to give the Foxes a share of the Non-Public B state championship. It was the third appearance in the state final in four years for Lees and her fellow seniors, but their first title. Lees led the team in scoring for the third year in a row with 21 goals and finished her career with 74 goals and 27 assists. She is headed to Georgian Court University.
Joe Manchio
SENECA
Manchio accomplished so much during his unforgettable wrestling career at Seneca, including the first region and state championships in program history. But his senior season might be the most significant achievement of all. After suffering a torn ACL at the state tournament in 2017, he vbattled back from the devastating injury to prove to himself and the rest of the state that he could still be a dominant force on the mat. He went 45-1, captured his fourth district and region crowns and placed third in the state at 120 pounds. The Columbia University-bound Manchio ended his career as the all-time wins leader in Burlington County history with a record of 169-7.
Dean Noll
SHAWNEE
Noll, a senior guard on the Shawnee boys basketball team, might be a man of few words, but he does plenty of talking with his play on the court. A varsity contributor since his freshman season, he emerged as the consen- sus South Jersey Player of the Year as a senior, averaging 21.6 points, five rebounds and four assists to lead the Renegades to a 29-5 record and the Group IV state championship, the program's first in 11 years. Noll scored 736 points to break Shawnee's single-season school record set by Dan Earl in 1992, and he will play for Dan's brother Brian Earl next year at Cornell University.
Matt Orlando
BISHOP EUSTACE
Bishop Eustace's renowned baseball program has produced its share of outstanding players over the years, and Orlando has established himself as a worthy member of the group. As a sophomore in 2017, he not only led the team with a .519 batting average to go with 37 RBIs, but he also shined on the mound with a 6-1 record. He has picked up where he left off this spring, hitting over .400 while posting a 6-0 record and 0.46 ERA through early May for a Crusaders team with state title aspirations. The junior has already committed to the University of Maryland.
Antonio Tarantino
PAUL VI
Tarantino might come across as a nice, quiet young man in person, but on the track he leaves no prisoners. Last spring as a junior, the Paul VI sprinter won a sectional title in the 200 meters with a time of 21.21 seconds, leaving his mark in New Jersey history with the sixth-fastest time ever clocked in the state. He later claimed a state championship in the event and placed third at the Meet of Champions (MOC). This year as a senior, he has already won an indoor state championship in the 55 meters and taken fifth in the MOC. With his stellar career winding down, he is aiming to add more gold medals to his collection before moving on to Rutgers University.
Jake Topolski
LENAPE
In most cases nowadays, athletes pick one sport to focus on, maybe two, when they get to high school. That was not an option for Topolski, who excelled in football, basketball and baseball and never even considered giving one up. As a senior he was an all-South Jersey defensive back and Lenape's leading receiver in football, helping the Indians claim the first sectional championship in program history. In basketball, he averaged 11.1 points as Lenape earned a share of the Olympic Conference American Division title. And this spring he is having the best offensive season of his stellar baseball career. Topolski is headed to Duke University next year and will finally settle on one sport: baseball.
Colin Wetterau
SHAWNEE
The No. 44 jersey is a special honor bestowed upon a Shawnee senior football player each year, and Wetterau proudly donned it last fall. The quarterback set a school record with 2,168 yards through the air and capped his career with three touchdown passes in his final game, leading the Renegades to the South Jersey Group IV championship. This spring, the star catcher has already helped the Shawnee baseball team qualify for the Diamond Classic and hopes to lea d the Renegades to a sectional title. He will focus on baseball in college at St. John's University.
Shelby Whetstone
LENAPE
Whetstone made her first season with the Lenape girls track team one to remember last spring, as she claimed a state championship in the 400 meters by blazing to the finish line in 55.67 seconds, a school record. Not satisfied with just the individual success, Whetstone also anchored the Indians' 4x400 relay to a gold medal at sectionals and top-10 finishes at states and the Meet of Champions. It will be exciting to see what she can accomplish this spring as a junior.
Grace Yoon
CHERRY HILL EAST
What's better than winning an individual state swimming championship as a freshman? How about winning two as a sophomore? That's exactly what Yoon did this year for Cherry Hill East. After claiming the title in the 100-meter breaststroke as a rookie, she repeated in the event with a time of 1:02.73 to share the crown with Collingswood's Nora Woods. The 200 individual medley championship was all Yoon's, as she took first after clocking a time of 2:02.51. She also led the Cougars to a sectional team title and still has two more years of high school to add to her collection of victories.
Published (and copyrighted) in Suburban Family Magazine, Volume 9, Issue 3 (May 2018).
For more info on Suburban Family Magazine, click here.
For information about advertising in Suburban Family Magazine, click here.
To find out where to pick up your copy of Suburban Family Magazine, click here.