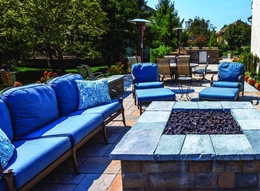 What's Trending Now
With the summer season knocking on our door, home improvement projects are already getting underway.
With the summer season knocking on our door, home improvement projects are already getting underway. Homeowners are looking for ways that they can renovate various spaces in their home in order to get more enjoym ent and value out of them now as well as into the future.
Considering that there are constantly new trends arising, you might be unsur e which ones are worth your time and money. Not only do you want to ensure that you're investing wisely, but you also want to feel confid ent that you're going to get the maximum use and enjoyment out of your newly renovated space.
Suburban Family reached out to some of th e area's top home improvement and landscaping experts to ask them what's trending now—and what home improvement projects they'd suggest homeowners consider tackling.
An outdoor oasis
In the yard, one of the hottest trends right now is the creation of outdoor living space s. An outdoor living space is essentially an extension of your home, giving you space outdoors to entertain or just spend time with your family. These spaces almost always include a hardscaped area like a patio and then added features that make that space even more usabl e—and enjoyable.
"One of the biggest outdoor living trends includes outdoor kitchen areas, fire and water features, night lighting and w ireless sound systems," says Ed Swietanksi, sales manager at Gill's Landscaping. "All of these features together make 'outdoor living spa ces.' Adding outdoor living spaces obviously adds usable square footage as well as increased property value. But it also creates a commu nal space for family and friends to gather—away from electronics. Anyone with kids knows how difficult it is to get them outside. Adding a comfortable space to interact can help."
In terms of what features can be added to an outdoor living space to make it even more entertai ning, Swietanksi says that outdoor pizza ovens and high-efficiency fire pits are trending. "These fire pits both reduce smoke and have ad d-on accessories like griddles, rotisseries and kettles," he adds.
Michael Pasquarello, degreed landscape architect at Elite Landscaping, says that he's finding fire features in general are really heating up the outdoor living trend. "Anything fire-related is now being inco rporated into outdoor entertainment spaces," he says. "Fireplaces, fire pits and even infrared heaters are changing the whole dynamic o f how these areas are utilized and how late into the colder seasons. What was once a secondary incorporation into a patio space has quick ly become the main focal point."
Pasquarello says it's important to consider how you plan to fuel your fire feature—deciding between woo d burning or gas.
"The ease of gas makes lighting up a fire feature very easy—even a novice outdoor entertainer can do it with the push of a button," he adds. "But some may like the traditional wood-burning fireplace or fire pit with the sound of crackling wood and the ar oma of smoked oak."
In addition to adding fire features, Steve Bombaro, owner of Cousins Garden Design, says that he is seeing increased interest in outdoor kitchens.
"Today's homeowners are entertaining more at home and they need to see what best fits their needs when they entertain," Bombaro says. "Cooking on the grill, having drinks by the fire or cooking pizzas in the outdoor oven are all ways that famil ies are using their outdoor living spaces to the fullest. All of these features are important to take into account when we are designing a backyard paradise."
Alexis Rettinger, co-owner of Rettinger Fireplace Systems, says the contemporary fireplace design continues to h ave a lasting effect on the hearth industry as more homeowners are opting to spend time outdoors.
"A linear gas or electric fireplace can be utilized in any design concept, from traditional or rustic with a log configuration to transitional or modern with glass, lighting, d riftwood or rocks," she explains. "They are climate-controlled, energy efficient and eco-friendly, and have the ability to customize ins tallation allowing folks to bring the indoor gatherings outside in any season."
Updating your interior
Of course, many homeowners are also looking to update the inside of their home. For Mike Brindisi, president of Brindisi Builders, he's seeing a noticeable trend toward mo re kitchen renovations. Homeowners recognize the value that their kitchen has to offer and want to get the most out of it. For many, that means making the space bigger.
"The kitchen is undoubtedly the most important room in a home," says Brindisi. "Not only can it be the major focal point, but kitchens are also the central hub for growing families. In 2018, we see homeowners ditching their small, closed-of f kitchens for wider, open-concept remodels that provide more space. Depending on the layout of your home, your contractor can help adv ise you of all the possibilities for extending your home in an efficient way." For some homes, that may mean taking down walls to open up the space with a supporting room—such as a dining room or a wha family room. These days homeowners are preferring that open concept rather than having a lot of smaller rooms, adds Brindisi.
Even updates to design can go a long way in improving your home and allowing you to get more enjoyment out of your spaces. Debbie Hall, owner and designer for Designer Draperies & Innovation, says that making updates to your window treatments can have a dramatic effect in completely changing a room.
Some of the biggest trends that Hall is seeing in window treatments include side panels hanging from metal or acrylic hardware, decorative banding down the leading edge of side panels, Roman shades with or without banding and trim, woven wooden blinds and bright colors and floral patterns making a huge comeback.
Hall says she is even seeing renewed interest in velvet, and of course there's always the classic linen that makes a nice choice. In addition, Hall is seeing a growing interest in cordless window treatments as these options are safer for both children and pets.
While making design changes can feel intimidating, Hall says it's easier than people ten d to make it. She offers some of the following tips to incorporate these hot window treatment trends in your own home.
"Change out your hardware that your existing panels are hanging from," Hall suggests. "Add colorful pillows and floral pictures to be on trend with bright colors and floral patterns. Switch out dated accessories and replace them with new, updated items—remembering that less is more. Or, reup holster your furnishings, updating with tufting, family-friendly fabrics like Crypton or nailheads."
Hall says that removing old, heavy window treatments and replacing them with updated woven woods, Roman shades or panels will also help a room look fresh and new. She adds t hat working with a window treatment specialist will help you make the right decisions for your new draperies, shades, blinds, bedding and more.
Choosing wisely
There's no question that there is a lot of choice involved in updating your home's interior or exterior. But by wor king with a professional, you can be guided toward the best possible decisions for your home. And by making some of these exciting change s, you'll be on your way to a space that you can truly enjoy to the fullest.
Photograph courtesy of Elite Landscaping
Published (and copyrighted) in Suburban Family Magazine, Volume 9, Issue 3 (May 2018).
For more info on Suburban Family Magazine, click here.
For information about advertising in Suburban Family Magazine, click here.
To find out where to pick up your copy of Suburban Family Magazine, click here.