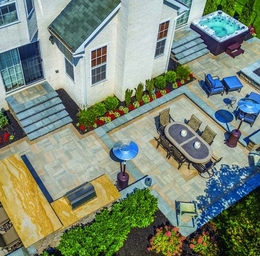 Elite Options
Elite Landscaping has over 30 years of experience designing and constructing vast landscapes for residential and commercial property owners alike.
WHETHER YOU ARE LOOKING TO REVAMP YOUR HOME'S OUTDOOR SPACE O R LIVEN UP THE LAND- SCAPE OF YOUR COMMERCIAL PROPERTY, Elite Landscaping, an award-winning design/build company, has a solution. Located in Berlin, Elite operates year-round, offering varied residential and commer cial services across the tri-state area. "We have a full staff of landscape professionals who can handle any type of outdoor project, de livering it on time and on budget," owner Dave Feast says.
At Elite Landscaping, you'll find a team of highly skilled and trained landsc ape professionals, backed by more than 30 years of experience. It is required that employees become members of many prestigious trade o rganizations and take part in continuing education classes and certification programs to ensure they will be able to offer clients an advanced degree of skill and service.
Michael P asquarello, a degreed landscape architect at Elite Landscaping, says the first step to an y project is highlighting any limiting factors which may be present on a home/commercial property that need to be considered in the over all plan. Dr ainage and water flow on the property, town building and zoning codes, soil status and the client's "wish list" for the pro ject are all things that need to be considered. The design team will analyze the property, determine all the environmental conditions a nd recognize the best use of space and materials. Clients are then presented with a conceptual plan and construction costs for their revi ew and approval.
Details are added to the conceptual plan and materials are selected for installation. "We want to know what the homeown er envisions for his or her outdoor environment," Feast says. "For example, you may love a certain type of plant, but your backyard is not conducive for th at particular plant to thrive. Our clients' wish lists are often extensive. … We can fulfill many of those wishes w hile educating the homeowner at the same time."
The sketch is converted into 3D imagery as the final s ite plan, thus creating a realistic v iew for the property owner. "The conceptual images are now drawn in at the exact dimensions of the proposed project. This is the plan wh ich will be used for construction, so precision is key," says Pasquarello. "All structures, hard surfaces, bed lines, plant material, et c., are specified on th ese plans."
So how have Elite's designs and landscapes climbed to the top of everyone's radar? Pasquarello says he strives for "straight F, F, Fs." These are food, fire and fluidity.
"Grills, warmers, side burners, refrigerators, sinks, ice makers, piz za ovens and even beer meisters can all come together within your [outdoor] space," says Pasquarello.
Incorporating fire into outdoor sp aces has sky-rocketed over the last five years making it more and more popular in Pasquarello's designs in th e form of outdoor fireplaces , fire pits or another element of fire. "Wood, natural gas or propane can all be used to fuel your inferno based upon preference," says Pasquarello.
And lastly, th e sound of flowing water has a calming effect which can be a tranquil addition to any outdoor space, says Pas quarello. "Waterfalls, fountains and ponds each have their own unique attributes in providing this soothing atmosphere," says Pasquarello .
But if you th ink landscape design and construction is where the buck stops with Elite, think again. While the firm is definitely know n for its vast designs of beautiful outdoor landscapes and constructing th em effortlessly, Elite is a full-service landscape firm. Offe ring continued property maintenance such as cutting, pruning and cleanups, irrigation systems, fertilization, outdoor LED landscape ligh ting, holiday décor and more, Elite is well-equipped to handle all of your outdoor needs.
The team even has a complete tree divisio n, consisting of certified tree experts, th at will diagnose tree and shrub problems or diseases, then quickly treat them. Cropping, pru ning and cabling are all part of the team's services, Feast says, in addition to removal services and stump grinding for trees past th e ir prime.
Wh ether your project is residential or commercial, overall trust in the landscape company you hire is essential, the company says, and Elite Landscaping is th e firm that can make it all happen. After all, your landscape is the first impression people see.
"Hom e improvement projects can be stressful," says Feast. "If you select the right professional landscape contractor, the only thing you'l l need to worry about is finding time to enjoy the finished product."
Elite Landscaping
8 Pineview Ave. | Berlin
(856) 753-1944 | EliteLandscaping.com
Published (and copyrighted) in Suburban Family Magazine, Volume 9, Issue 2 (April 2018). For more info on Suburban Family Magazine, click here.
For information about advertising in Suburban Family Magazine, click here.
To find out where to pick up your copy of Suburban Family Magazine, click here.