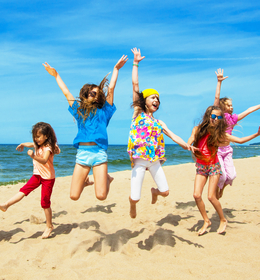 Ship to Shore Festival
Riverview Restaurant & Bar, in conjunction with the Greater Burlington Chamber of Commerce, is hosting an event for the entire family on May 12.
Riverview Restaurant & Bar provides a beautiful backdrop of the Delaware River for
many wonderful events including weddings, birthday parties and more. The restaurant also hosts many events of its own. On May 12, Riverview is hosting the special family event—the Ship to Shore Festival—at their location in historic Burlington City on the Delaware River. This event features New Jersey's official tall ship, the AJ Meerwald.
Beginning at 10:30 a.m. and running until 5 p.m., the event includes a free tour of the Meerwald, oyster shucking, a treasure map to discover historic Burlington, access to the Riverview event called Pirate's Cove with pirate-themed entertainment, live music, a bounce tent and a goodie bag of pirate swag for children. Each completed treasure map can be entered for a major raffle drawn by the mayor at 4.30 p.m.
Who
This event is sponsored by the Greater Burlington Chamber of Commerce and the Riverview Restaurant & Bar. Participants include members of the chamber of commerce and the AJ Meerwald.
Why
It's been said that pirates regularly frequented the areas around the Delaware River in the late 17th century. Conducting business, the pirates' presence fueled fears about the safety of the local waterways. In 1699, four men were arrested under the assumption they served under the notorious pirate, Captain William Kidd. The Pennsylvania Assembly tried their best to prevent the pirates from moving freely in their society and to keep them from collaborating with others. Some did tolerate the piracy because of the benefits it had on the economy because the pirates would spend freely in port cities like Philadelphia.
The Pirate's Cove event at the Riverview brings the pirate theme to life for families and connects the Shore theme to the event. The AJ Meerwald brings to life sailing history on the Delaware and connects the ship theme to the event.
About
Riverview Restaurant & Bar is an iconic modern American casual dining restaurant, bar and function center on the Delaware River in historic Burlington City. Featuring made-from-scratch, upscale and rustic food in a casual and welcoming setting, Riverview Restaurant is embedded in the community in which it serves and believes in bringing people in to experience the best of Burlington City. It is proud to be part of the revival of the historic town and host Pirate's Cove for families during the day and Davy Jones' Locker for adults following the event at 5 p.m.
Riverview Restaurant & Bar
219 High St.
Burlington
(609) 614-6624
RiverviewNJ.com