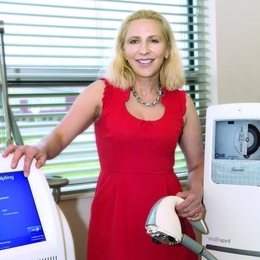 Cool for the Summer
Warmuth Institute of Dermatology offers several methods of non-invasive body contouring treatments, with little-to-no downtime—just in time for summer.
Today, there are a lot of misconceptions surrounding aesthetic non-invasive procedures, otherwise known as body contouring. Whether it's CoolSculpting or another non-invasive modality, Warmuth Institute of Dermatology's Dr. Ingrid P. Warmuth and Lauren Hartman, a board-certified physician assistant, are quick to quash any misconceptions or fears a patient may have and offer a safe space to learn about the options and determine which is best suited for their body type.
"A common misconception about CoolSculpting is that it is painful," explain Dr. Warmuth and Hartman. "Minimal to no discomfort at all is felt by the vast majority of our patients throughout this procedure, and it really is over before you know it. It is also important for prospective patients to understand that CoolSculpting is not a fix-all, weight loss modality, but rather a targeted fat loss modality. Although results are seen regardless, it is important to maintain a balanced diet coupled with regular exercise in order to achieve the best possible results."
The best outcomes are often the result of safe and effective treatments, coupled with a healthy lifestyle. "Among the many benefits of body contouring, perhaps the most valuable are the improved levels of self-esteem seen in a patient following the application of various modalities, as well as motivating a patient to live a more balanced lifestyle," say Dr. Warmuth and Hartman.
"Receiving non-invasive treatments often encourages patients to lead a healthier lifestyle to further improvements and results for their body and mind," they add. "Each respective treatment gives great results for both men and women in their own right, specifically for those looking for a quick and efficient way to improve their bodies.
"At the Warmuth Institute of Dermatology, we practice the safest, most effective techniques to eliminate stubborn body fat, reduce cellulite and achieve other contouring goals that are often difficult to obtain. Our body contouring procedures involve comfortable, non-invasive modalities that allow our patients to return to their everyday activities with little to no downtime, all while under the care of our experienced and well-trained staff."
Those techniques include CoolSculpting, an FDA-cleared, non-invasive, fat-eliminating treatment which rids fat cells through freezing them away, also known as cryotherapy. While it continues to advance and improve, its latest applicators now decrease treatment time, letting patients walk out in a short time and continue their regular activities without downtime.
"Patients will be assessed on how many cycles and re-treatments they will likely need in order to reach their desired outcome," explain Dr. Warmuth and Hartman. "The total number of treatments needed depends on how much volume a patient has at the time of the procedure, in addition to the results they wish to see."
Dual-Sculpting is another option, which enables experts to treat two separate areas at the same time, if need be. There's also Ultrashape, a treatment that targets fat cells utilizing ultrasound technology (high-frequency soundwaves) through as little as three treatments, and VelaShape III, which targets cellulite and reduces the appearance of dimpling on the skin using radiofrequency technology.
"Each of these three innovative treatments is highly effective and has led to high patient satisfaction rates in the past—both with their new appearance, and with our practice," say Dr. Warmuth and Hartman, adding that all procedures are FDA-approved. "They can all be performed in conjunction with one another as well. However, in order to determine which modality may be best suited for one's body, a complimentary assessment is provided for each and every patient upon request."
Interested patients can receive further analysis on a treatment, along with a complimentary 360- degree consultation at any of Warmuth Institute of Dermatology's three locations prior to committing to a treatment. When it comes to results, patients can expect to see a change in about 90 days, while Warmuth Institute's experts follow up within 30 days after the initial treatment.
"As has been the case in the past, patients may even feel better in their clothing at this time—along with having more self-confidence—but around the 90-day mark is when the results can truly be appreciated," note Dr. Warmuth and Hartman.
As for when to consider a treatment, Dr. Warmuth and Hartman suggest any time is the perfect time to start. However, if swimsuit season is your deadline, they advise getting a consultation now to give the body ample time to "process the fat cells and see the best results for your beach body."
Photography by Gary Mattie
Warmuth Institute of Dermatology
Locations in Elmer, Salem and Swedesboro
(856) 358-1500
WarmuthInstitute.com