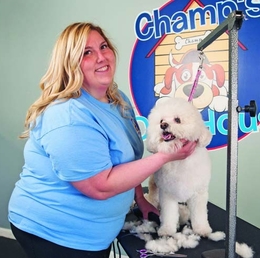 Grooming On the Go
Champ's Dog House in Marlton provides the most convenient grooming service in South Jersey—in store and on the go.
Whether your pup is in need of just a trim or head-to-toe pampering, you want a professional grooming service that will provide proper care while making sure your dog is at ease, and have them walk out looking their absolute best. Look no further than Champ's Dog House on Main Street in Marlton—a facility dedicated to grooming that is open seven days a week.
That's not all. They also offer a mobile groom-
ing service—Champ's K9 Party Bus—a convenient, hassle-free way to get your dog looking its best without making a trip to the store. They offer everything they do in-store on the go, and they are committed to serving every dog with the utmost care and making sure they are safe at all times. Suburban Family spoke with Jenna and Pat Quinn all about the ins and outs of their Marlton location.
How did you come up with the name of the business?
Our first dog together was the world's most special dog, Champion. We were two college kids who walked into the Humane League of Lancaster and adopted the 8-year-old boxer. We loved him with everything we had and we miss him every day. He passed away at 12 years old from cancer and our business is in memory of him.
Why open a Champ's location in Marlton?
There are a few reasons. We took over Sandy Lane Grooming Salon, which had been a long-term, family-run business and a staple on Main Street for close to 30 years. We are also a local family business and felt our service model would be a natural fit for that location. We knew that we already had customers in this area who would love the convenience and option to choose—Medford, Marlton or mobile.
Can you explain your mobile grooming service, Champ's K9 Party Bus?
Our mobile service is a spa day in your driveway. It is super convenient for owners and dogs who don't do as well with long car rides or in the salon setting. It works out really well for families that have multiple dogs. For owners of multiple dogs, it's the same fee; if you have two dogs, it's still the same fee for us to show up. If the dog is scared; if they had a dramatic experience at the groomer's previously or if they are unsocialized, this is a great service for them.
What does your full pet grooming service include?
It includes everything from bath, hand blow dry, brush out, ear cleaning, anal glands, deshedding and nail trim/grinding, and we give each dog a bandana or bow. A lot of places do add-ons; they like to get clients in the door at the lowest price possible and then "add on" this or that. We like to use a flat rate which includes everything and keeps pricing simple and fair.
What are some of the convenience factors you offer?
We offer 24/7 scheduling, seven days a week via text messaging. Clients can also call in or email us to set an appointment. We do our best to accommodate requests that come in such as "first appointment of the day" and evening appointments. Being open seven days a week also makes us a convenient choice.
What sets you apart from other grooming services in the area?
We are genuine and accountable. Our level of commitment to the clients and the dogs is second to none and we strive to have a long-term relationship with our clients. We're extremely relationship-driven. We not only love the dogs that come to us, but their owners, too!
Champ's Marlton
77 E. Main St.
Marlton
Facebook.com/ChampsDogHouse
@JennaFromChamps
@ChampionGroomers